Hi guys. My name is Michael. And I'm addicted to Football Manager.
I bought the game during a Steam sale. I think it was $7.99. I could be wrong. I'll look it up in my credit card statement when I get the chance.
I usually play with England, Spain, Germany, Italy, and France (all of which I set to the top-level and playable, except for England, which is set to League 1 in case I get frisky and want to make my way to the top). I almost forgot, I also play the game with Brazil selected, but only with View-Only. I'll probably never get to managing a club there.
So far, I've invested 171 hours of my life into this game. The last time I've played it, however, was on September 5th. That reminds me, September sounds like Septerra. And Septerra Core is a game that I used to play a long time ago and it totally rocked my world, but never got to beat it because of some dumbass bug that prevented me from leaving a level.
Right now, I've been playing as Northampton Town. In my other save, I'm playing as Liverpool. I've sold a bunch of the players there, but I've managed to keep ahold of the Uruguayan vampire, Luis Suarez. Here's a screenshot of who've I've managed to buy.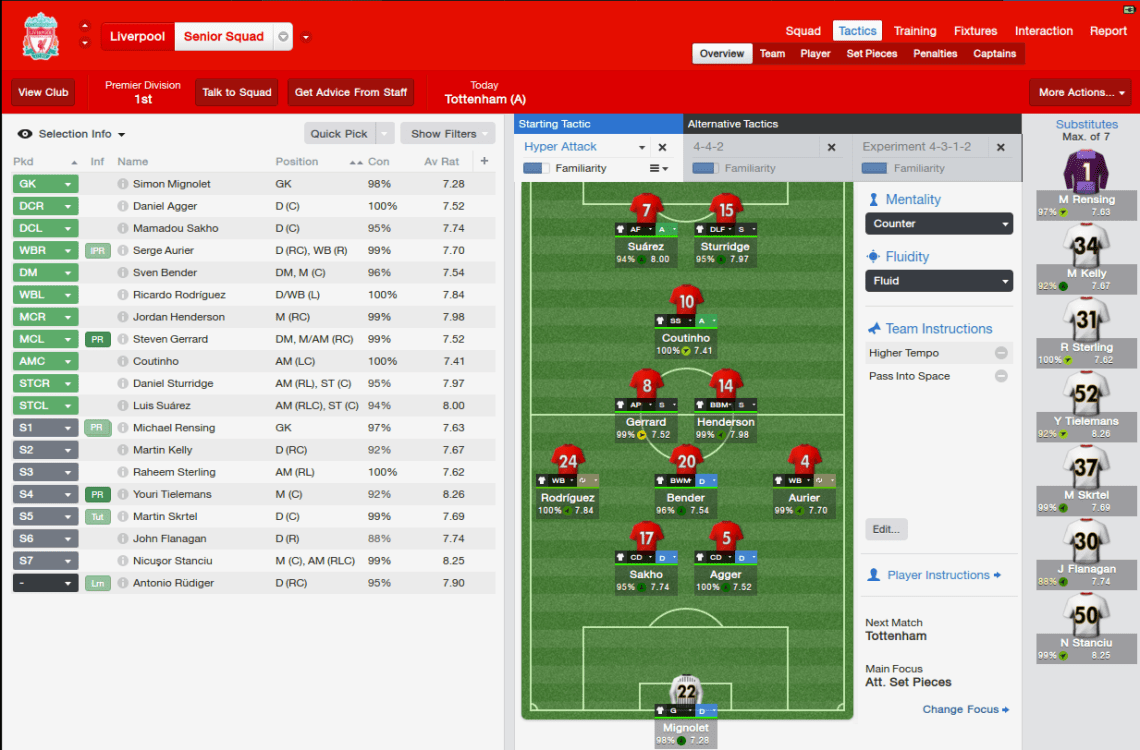 So that's:
NAME – CLUB – PRICE PAID
Nicusor Stanciu – Steaua – $6M
Sven Bender – Dortmund – $25.5M
Ricardo Rodriguez – Wolfsburg – $17M
Nico Buchwald – Nümberg – $1.3M
Ricky Gröger – Bochum – $4.8M
Neil Johnston – Motherwell – $650K
Felix Maier – Karlsruhe – $2.9M
Fabia Giese – Bochum – $3.1M
Dan George – Crystal Palace – $4.5M
Rafal Zmijia – Stuttgart – $4M
Mirko Ziegert – Stuttgart – $5M
Frédéric Mathis – FC Metz – $10.5M
Serge Aurier – Toulouse FC – $18M
Ahmed Nortei – Club Brugge – $725K
The best youth player of that bunch, I think is Frédéric Mathis. Here's his stats.
His value dropped by $5M, but in three years, he'll be worth maybe $40.
The first few weeks when you start the game is very hectic. You fire and sign new staff — coaches, physios, scouts, set up training, scout a ton of players, and of course, sign new players.
I go the Wenger route and sign highly touted youth players. But I will splash the cash to grab a marquee signing. My philosophy is attack, attack, attack, and I like to play a passing possession game that emphasizes pacey wingers and versatile midfielders. I will, however change up the game and go on the counter to mix things up.
In the 7 non-cumulative days I've played this game, I've gone to bed late, bailed out on friends, ate dollar pizza for two consecutive nights, made my girlfriend mad at me, didn't call my parents, but I've found time to take a shower and go to work. But I don't care. My last save file on FM10 was on year 2036. I've seen people that's gone beyond 2100. That's insanity.