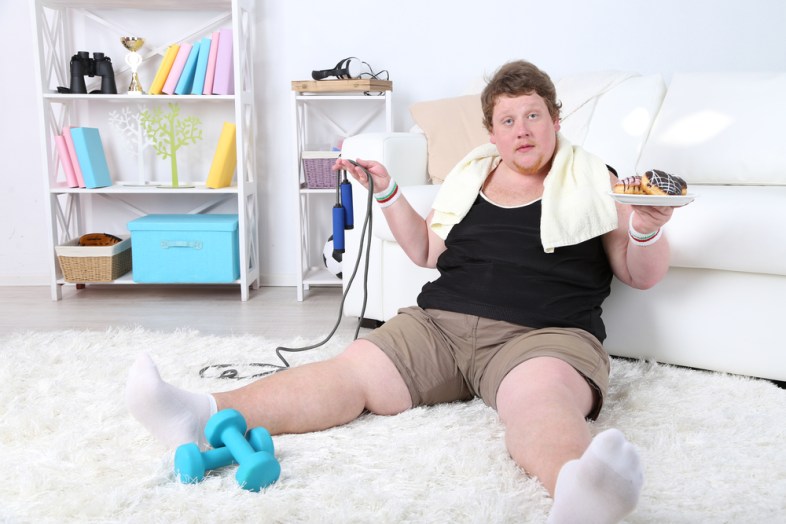 The professor squeezes in his last few seconds of babbling before the minute hand hits 50. Class is over at last, and I'm done for the day. The time gap between class's end and an evening study session looks to be my best opportunity to hit the gym. It's on, baby. I'll just take a quick stroll back to my room and ready myself for that sweaty womanizer-filled haven.
I enter my drab little dorm, fists clenched with anticipation. I can't wait to lift some heavy shit and stare at butts. All I need is a banana and some pre-workout supplement to really set the pump off. I reach into my snack drawer and grab a banana so bruised it could have been married to Darryl Strawberry. After my final bite of battered fruit I mix some pre-workout with water to truly electrify me. 2007 Gucci Mane bumps through my speakers as I chug down the last drop and check my pants to make sure I didn't unknowingly defecate. Pre-workout is a bit harsh on my sensitive stomach, you see, but luckily my drawers are excrement-free. (cute little poem)
Finding headphones is the final step before I can pump some serious iron, and admire the toned bodies of women I'll never speak to. I open my desk drawer and search, only to look up and notice Roseanne currently blessing the television screen. Hell yeah. I love Dan, Roseanne and their working-class family. It'd be wrong of me not to spare 15 minutes for some heartwarming moments and solid laughs. The gym isn't going anywhere.
Credits fade out and in fades yet another episode of the 90s smash freakin' hit Roseanne. I can almost hear the gym calling me, but it's muffled by the boisterous twang of the Roseanne theme song. Turns out it's the tear-jerker where Darlene goes into labor, 2-months prematurely mind you! There's no way I can miss the tender outcome of a teen successfully giving birth to a premature child. The gym can wait just another half-hour.
It's an outright Roseanne-a-thon up in this joint. 2 hours and 4 episodes later I'm in bed trembling, still feeling high off a heavy dose of pre-workout caffeine. It's all good though, as I can continue to watch the everyday, lower-middle class struggles of the Conner family with wide-eyes while twitching. The old gym is probably still anxiously awaiting my appearance. It's grown accustomed to this scenario.
Getting to the gym is by far the most difficult aspect of working out. My daily routine sees a dramatic absence of it once I take a few days off. Worldstarhiphop fight compilations aren't going to watch themselves, however. I suspect many of you face these same motivation troubles. One minute you're raring to go and better your physique and self-image. The next minute you're watching elderly men get twerked on by Jamaican strippers. In the end you're not healthier, more cut, or more confident. If you're anything like me you're just sad and oddly aroused. See you tomorrow, gym.