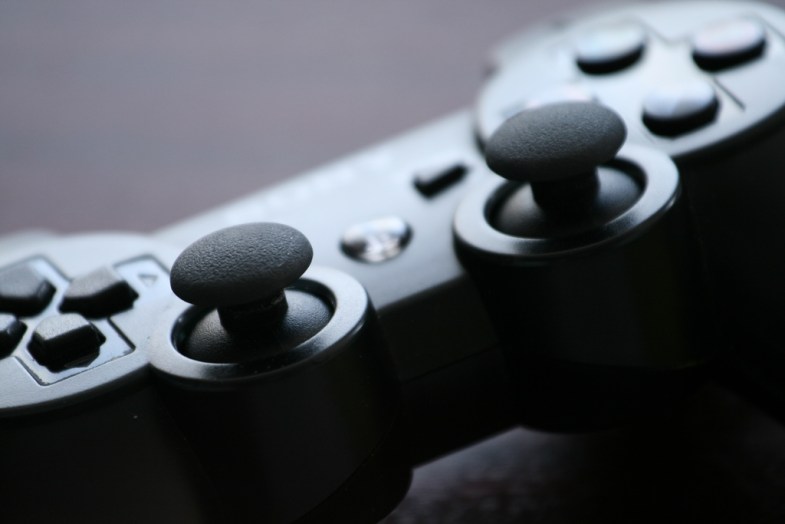 This is one of those moments when you begin to question everything your parents ever told you.
All those hours spent "rotting your brain" playing Frogger on your Game Boy, all the times you tightened your grip on the couch as your parents desperately tried dragging you out from the depths of your basement to enjoy the great outdoors, you may have actually been solidifying a successful future.
Robert Morris University in Illinois is offering us the chance we never had—a chance to turn our adolescent fixations on Mario and Mega Man into a college education. The downtown Chicago based campus has created the nation's first varsity eSports team as part of their video game program.
Yup, you heard me. You can now go to college to play video games. Similar to other collegiate sports programs, Robert Morris is even offering "athletic" scholarships to select prospective students who qualify for the team, introducing new questions about what it means to be a student athlete and the value of a higher education.
Make Love, Not Warcraft
I once gave myself blisters on both my thumbs (so severe that they started bleeding) by playing video games with my cousins for like six straight hours. Granted, I was about ten years old at the time, but that doesn't take away from the fact that it still happened. I used to think about how cool life would be if I could somehow manage to make a career out of pulling off 1080's in Tony Hawk's Pro Skater 2. Wake up in the morning, have my kid pick out what tie I'd wear that day, pack my lunch of PB+J, string cheese and Fruit Roll Ups and go play video games until it was time to go home for dinner. Perfectly normal stuff.
While the good people at Robert Morris University aren't bringing my exact fantasy to life, what they've done is pretty darn close and in a lot of ways much better.
These kids are being offered the opportunity to receive a college degree while pursuing their passion. What's so different between a gamer and let's say a football or softball player?
What does an athlete have that makes them more deserving of a scholarship than someone else?
Scholarships exist for every type of thing you can think of. Aside from the typical athletic or academic reasons, colleges offer scholarships based on ethnicity, sex, community service and arts. Hell, there are even full tuition scholarships out there specifically for golf caddies. So yeah, I'd say being a badass video game player is as good a reason as any to have a subsidized education.
Just take a look at the rising popularity of it. And I don't mean more people are hosting Madden tournaments with their frat brothers; I'm talking about interest as a spectator sport.
The game being played at the collegiate level, and in the pros for that matter, is League of Legends. I know nothing about this game, but apparently I'm beginning to fall into the minority as roughly 27 million people tuned in to watch the 2014 League of Legends world championship finals televised on ESPN. That's more than the domestic turnout of those who watched Game 7 of the World Series. You know, our nation's pastime.
How Much For Your Relic Shield?
I think even Terrelle Pryor is thinking, "Damn, I wish I did that in college." Why do I say this? One reason: no dealing with the NCAA.
They've got it real good. College gaming isn't
governed by the NCAA
, and therefore isn't subject to the association's rules and regulations, specifically regarding amateurism.
So RMU sophomore Rachel Zurawski and all her teammates can happily accept cash and other financial benefits from any third party. League of Legends creator, Riot Games, for example, offered $360,000 in scholarship funds to the players who made it to the Final Four of the North American College Championship (NACC) in May.
There's good money to be made at the professional level, too. Last July, Seattle hosted the championships for a multi-player game called Dota 2. According to TIME Magazine, each of the five members from the winning Chinese team received $1 million in prize money. To all you Duke benchwarmers: this is the part where you quit the team and join the gaming club.
Our Take
I dig this whole idea. I don't care for any argument about the difference between a sport and a game or why one matters more than the other.
As far as I'm concerned what it all is at a professional level is entertainment. It's just a matter of personal preference.
If more universities are like RMU, happy and willing to shell out scholarships to these students, then there really should be no debate. Unlike the big name sports, schools won't receive much of a financial gain after adopting a gaming team. They simply won't bring in the same revenue. The reasons you see athletic scholarships are so schools can bolster their reputations and win the big bucks from TV deals and championship rings. Since that's not the case with gaming I find it to be even more genuine on the part of the university.
Just makes me think, if our parents were wrong about video games, what other potential is out there just waiting to be tapped into?