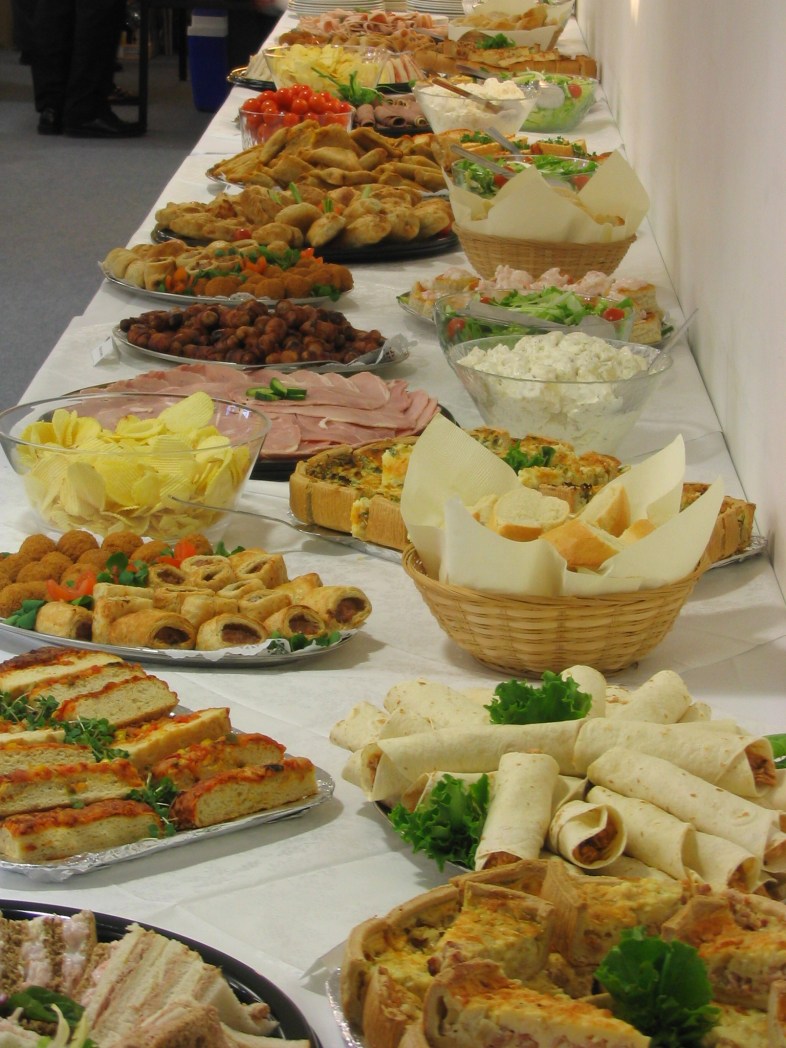 1. Never refuse cake if it's being offered to you, especially if it's chocolate or red velvet, or carrot – really any dessert – well, any food at all.
Because no one really owes you anything except the right to breathe air, not even your family or friends. Maybe they don't even owe you air; maybe you're supposed to fight for that too. Maybe you'll be walking around the West Village with your friends who are visiting "the city" for two days; the last time you saw them was in high school. You're 30ish now and you wanted to show them where all the comfortable, well-fed people live because it makes you feel like one of them; there you are, a bearded Sarah Jessica Farter. Maybe you'll walk past Little Marc Jacobs and pop into Magnolia Bakery, and your tourist friend will nonchalantly ask, "Gaaaawwwd it's sooo awesome you LIVE here… Sure you don't want anything?" Always say YES. Always eat that cupcake. Never shrug off a cupcake.
If you make the mistake of saying NO, choosing to chew on your own bitter, rotten rhubarb pie pride, you'll feel nauseous for at least 24 hours, as your stomach acids ingest that phantom cupcake. All the windows of every tower in the city will look blurry, because they're smeared in something it seems. It's not your old, protein-blobbed sample contacts skewing your vision. It's the thick spread of your creamy dreamy regret.
Next time, just eat the cupcake and leave a little icing in your beard and lick it for hours later with your creepy-sticky frog tongue. As the sun goes down, try to lick that too with your creepy-sticky frog tongue, enjoy every gradient and second of it, smile when people start pointing at you, that crazy man in a wig and Goodwill heels trying to lick the sun, and just continue to say "ribbit ribbit" until they walk away and press a Help Point button.
2. It's better to be poor and healthy, than poor and a dirty cracked-out whore.
For some reason, many think it's more glamorous to be a chain-smoking drug-addicted slut when you don't know where your next meal or bed will come from. Perhaps these people think they'll look better in a black-and-white pensive picture, which will be placed inside the coffee table book of history – Ohhhhhhh, see this was me, SURVIVING, way way waaaaay back in the two thousand and teens.
While you're sitting on a stoop pondering your next move, many will suggest that you should become a prostitute – "good writing material," they'll say. They'll be completely serious too. They'll suggest cigarettes or "G" or coke or meth, but you'll opt for discount cashews and beet juice samples instead. You'll realize that many of the ABC's your parents told you still hold true:
A. Pray for/to something because even if no one or nothing is actually listening, you'll learn how to be humble well before your surroundings are.
B. Be Kind, Rewind, but don't look back in anger.
C. Brush your teeth and wash your butthole; floss the former, never the latter, especially if you're climbing the corporate ladder.
D. Eat your vegetables, work hard, and work out, because you're not a little teapot – don't let anyone try to tip you over or whore you out.
E. Keep your dick in your pants and don't become a hussy on Rent-A-Boy because you'll probably get a disease and die and we'll all write songs about how cool you once were when you lived dangerously but you'll be too dead to enjoy them because all you'll hear are worms.
F. Pop a Xanax or a Vicodin now and then, but only if you can get them for free.
3. Hunger will let you see things if you let her.
When you see a man in a suit waiting for the subway, and he's pacing back and forth thinking about his day at work, his bills, his clients, his pet Pug, you should watch him – really watch him.
When the wind of the approaching train blows through his clothing to form a kite for you, you may start to see more than just wind and trains coming out of that subway tunnel, as hunger takes you for a ride past any anxious state of professional/financial/creative/physical jealousy, and into the peaceful swirling shroomy dream world we're all living in but so quick to ignore the older we get.
Hunger, she'll let you see everything coming out of that tunnel – a "tithe" check from your mother, a dinner from your friend ("I got this one"), a rejection email from a literary agent ("…but keep on writing!"), a blow job in the park from your boyfriend, a LinkedIn endorsement ("Blogging") – and you'll realize that you are that man, because you too have on a kite.
You're still holding on to all the things you think you still need. You have to stand your ground, even if the subway wind pulls you and slides your body back; your ratty shoes will slide on the tile covered in crumbled teeth and dark gum. Your clothes will rip off, but let them rip, even if empty wallets and rats and bats fly at your face. Let the sewer frogs pelt your balls like seagulls pecking at chunks of hot dog buns. Let iPads and maxi pads and pitiful work checks and broken glass slide down your throat. Let the swarm of everything rip your flesh off because you don't need it. Sun rays. Dark clouds. Margaritas. Green eyes. Brown eyes. Anesthetized. Bloody limbs. So much cum. So many come. A crowd. Because everyone has on a shroud. You've gotta stand there and fight it, for all that it is, for all that it isn't, until you're something beyond naked. You gotta keep your eyes open, even as they're falling out of your head, even when someone is choking you to death on a sidewalk. Don't stop. Don't stop looking. Don't stop, until you realize you can never get enough.