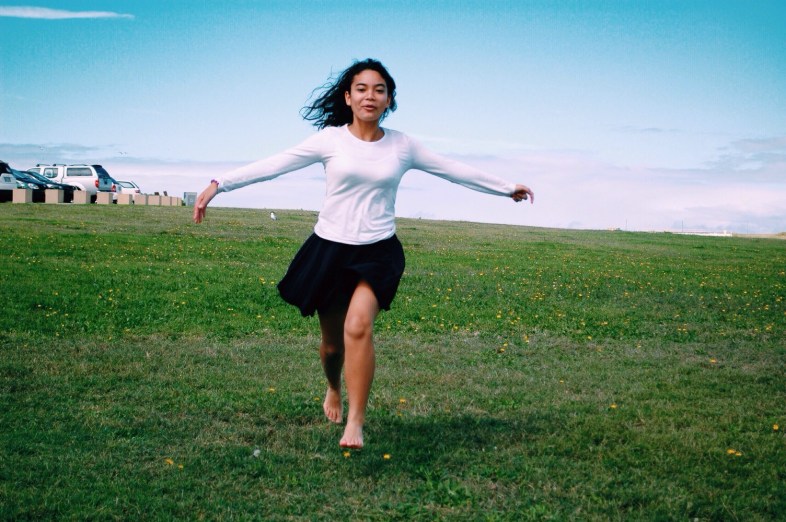 1. You will take every single chance you get to let your lovely stems breathe and bend and kick and skip.
2. You don't understand why anyone would confine their appendages within a stifling garment when they could opt for more forgiving clothing.
3. People are always asking why you're "so dressed up," as if a skirt or a dress means you care too much about the way you look when all you want is to avoid leg prisons.
4. You actually feel most at ease in anything but pants. This doesn't mean you're putting more thought or effort into your look or spending more time in front of the full-length mirror than a jeans and t-shirt gal.
5. In fact, you're highly suspicious of the laid back factor associated with the jeans-and-t-shirt thing. You've seen women agonize FOREVER over the *exact right* cotton v-neck and denim wash combo to match their not-so-effortlessly tousled hair. Lame.
6. It's totally possible to do casual chic without reducing yourself to pants. Breezy cotton skirts and comfy blouses are an absolute delight.
7. You don't need to wear pants to prove that you can do anything a man can do. What was once a bold fashion statement in the name of gender equality now seems passé. If you want your sartorial choices to say "I'm a feminist" today, you might as well wear a top reading: "my pussy, my choice."
8. In fact, showcasing your "femininity" by wearing tights and leggings without apology seems like a statement as strong as wearing pants once was for Coco Chanel.
9. When you don't have to fuss with button flies and zippers, peeing is so much easier. You can shave precious seconds off your bathroom routine by embracing alternatives to pants, making you a more efficient human than your pants-wearing counterparts (namely men).
10. Elastic bands on pants make you look like an old fogey past her prime who needs a little give around the waist so she can binge on fries without feeling bad about herself. Elastic bands on skirts? Hot.
11. Summer is your favorite season because people tend to scrutinize the bare legs look a lot less when it's hot enough to make flowy maxi dresses and skirts seem like the only sensible choices. Plus, you get to throw shorts into the mix!
12. The only way to convert pants into something truly wearable is to slash them into a glorious pair of cutoffs, which are tolerable because your legs are still relatively free to move and groove.
13. Unlike pants, which are primarily designed for cold weather, most skirts and dresses transition well across all four season. All you have to do is throw on some tights or leggings.
14. Yes, tights and leggings cling to your limbs. But they're super stretchy. They feel like an extension of your skin rather than a stiff expansive growth covering your entire lower half.
15. When jeans famously tried to hop on the leggings bandwagon with the whole hybrid jean-leggings (or jeggings) trend, you were like duh. Jeans are durable and you don't have to wash them all that often, but the reality is that they're nowhere near as comfortable as leggings.
16. Whenever you spot an ad for pants made out of some fancy, high-tech material designed to feel stretchier, you laugh your ass off because it seems like a blatant acknowledgement that pants pale in comparison to their naturally stretchy peers.
17. Think you can't wear the same dress or skirt twice in a row without being judged for repeating an outfit? Think again. There are tons of amazingly versatile skirts and dresses out there that you can style differently every day. Take that, pants.