A few years ago, I posed as a young wayward wife on the social-networking site
Ashley Madison
(tagline: "Life is short. Have an affair") to write an
exposé
on Internet adultery for Vanity Fair. Given the recent hack and the release of 32 million Ashley Madison users' personal data, I decided to revisit some of my earlier research. Below are five of the best messages I received from men while undercover as a young adulteress.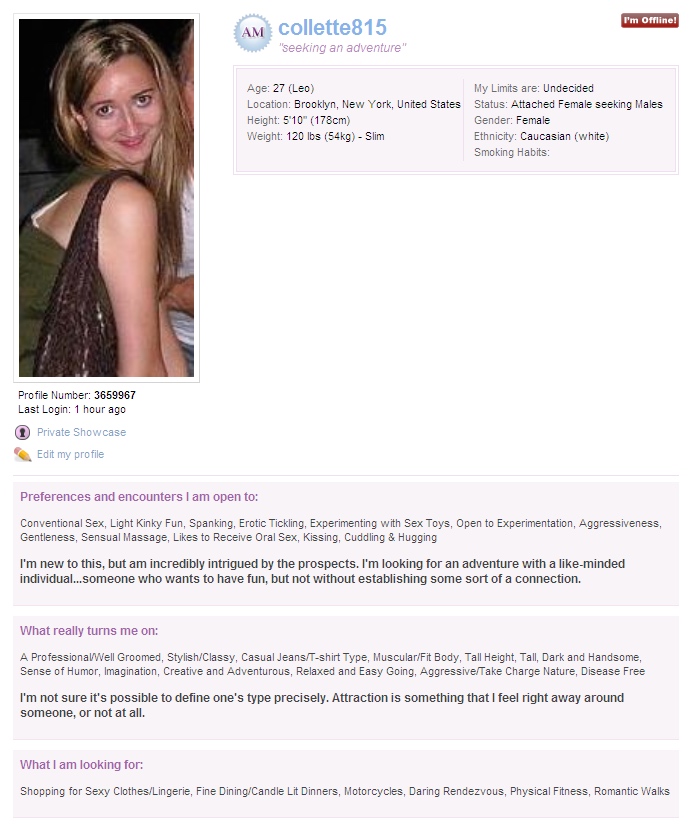 1. The sexually deprived man in a "happy" marriage seeking a "mutually assured destruction pact" (MADD).
Date: May 11th – 10:38pm
From: [REDACTED]
Message:
Hey,
You're gorgeous but perhaps you know this already (still nice to hear it as frequently as possible). I have had no luck with this so far but in all fairness, it's been all of about 1 week. That being said, it is certainly new. I can't help but think about the person who dreamed up the idea of this website. Think about it: He/she saw a gap in the market for what? For cheating on husbands and wives…and then figured he would create an online, anonymous marketplace and automate the introduction process. Crazy, scary, but actually, quite brilliant.
I have been married for 9 years and have "wanted" to have an affair for a long time for many reasons but never really pursued one because it was too hard and I was too nervous. Now, having an affair has been (slightly) de-risked…and the whole thing is automated. Jeez! Everybody should be cheating now:-)))
Anyway, are you married? Happily? For the sake of openness, these are important to me because if your answer is "yes" than we have our own special Mutually Assured Destruction Pact (MADD) like the old cold war. We would both have too much at risk to let it get out of hand…which it could, especially after reading that you like to be spanked.
There really is something delightfully kinky about watching a sexy blonde's bare bottom turn rosy-pink as she lies across my thighs. Hopefully you've seen my pics. I'm only 5'11" so not sure I fit your requirements. I do however have a wicked imagination and I can without fail bring you utmost pleasure, probably on command, if desired. I don't know what to do next. Assuming all good after reading above, do we try to arrange an online chat? Should we meet for a coffee (of course in a safe and discrete place)? I leave it in your hands for now…
2. The self-proclaimed shallow foreigner.
Date: Apr 21st – 9:05pm
From: [REDACTED]
Message:
Hey there. Attached guy visiting New York…check out a bad pic of me on my profile. I'm British, love to laugh, love to drink and have fun. An adventure in NYC would be just perfect. I'm going to be there for work for 7 days, staying in a super posh hotel…and it'd be great to have dinner with someone. I'm respectful, kind…completely normal…that's to say really inquisitive and excited at the prospect of Ashley Madison actually delivering…You sound smart. Obviously, I wonder what you look like. Shallow to start with…but if the connection's there, who knows how deep we might go!! Hope you're having a great year so far. . Monogamy; strange modern invention (the overly romantic view of it, at least). I am a big believer in monogamy through adultery. Does that make sense to you? Cheerio.
3. The somewhat reluctant successful professional.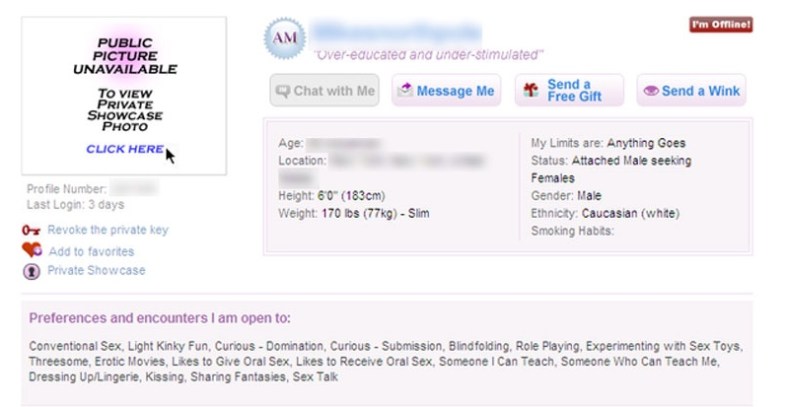 Date: May 3rd – 8:27pm
From: [REDACTED]
Message:
I just started on the website a couple of days ago after debating for months and months. Here we go. I will be specific. I am a married, very good looking, over-worked, over-educated and under-stimulated New York male. I am very successful professionally but not so successful in trying to find some more fun in my life.
The idea is something simple and consistent and…sexy. I am already married and experiencing all the bedroom doldrums that marriage entails. I want a fun, vivacious woman, preferably with a bit of an exotic flavor to her who feels the same. I travel regularly so would be cool if that perfect, sexy woman had both an ability to hang with me in New York, or if it works out for both of us, meet in far-off locales.
I am not crazy or dangerous or neurotic. I'm pretty normal actually and I'm looking for some beautiful ray of sunshine to light up my days and nights. I am the ultimate gentleman. I respect all personal boundaries and expect the same. Always happy to start in a "virtual" way but ideally if our chatting shows promise, we get an opportunity to really explore and satisfy each other's needs. Really looking forward to hearing from you.
4. The dreamer with a very specific role play scenario in mind.
Date: May 12th – 8:55pm
From: [REDACTED]
Message:
Good morning to you, my anonymous New Yorker, object of affection…and no small degree of lust. The lust projected, of course. We've never met. Barely studied photos (which hide so much and reveal so little). Lust is in the mind…the words on your profile providing uranium-pellet strength fuel to an overactive imagination…
"daring rendezvous"…(perfect)
"likes to receive oral sex" (be still my beating heart…)…
"disease-free" (only joking…I didn't find that erotic)
How best to take advantage of this state of affairs?
(Sorry to write to you at such length and in such depth during your working hours…it's the only way of getting in touch…I dare say you're sitting at a monitor in some formal environment, dressed nicely, surrounded by civilized and calm people…in your element…within a life that has all its ducks in a row (I LOVE to mix metaphors))…
I like to think I'm a blip on your radar…on a different wavelength from the surface noise. As you are on mine. I could be walking under your window or you mine.
Yet what we've exchanged on the keyboard so far has no influence on the physicality of our lives.
How to bridge that mental to corporeal gap? Do you want to? Do we go through the formal dance of meeting for a glass-of-wine and conversation and analysis of things said and clothes worn and the wear on the shoe heel and the et cetera…as if we'd been brought together by mutual friends?
I'm wondering if we haven't been presented with an opportunity to be a little unconventional?
("Where is he going with this? I'm getting a bit weirded out…." Don't be. I've just got too much time on my hands right now…)
We found each other on Ashley Madison, ipso facto we're both searching for something outside of convention. Tell me what you think of this scenario…
I sit at the corner of a hotel bar reading the New Yorker (I have a backlog I need to get through…even if you don't show, I'm being productive). Maybe it's lunchtime, even. You walk up, knowing where I will be. You sit. We don't speak beyond an initial formal greeting. We are to communicate with eyes alone. We gaze at one another…(grinning, I'm sure). We don't "check" each other out, we're looking beyond that. We re-assert the connection that we have already established on the page, in the eyes. We focus on what it is we're after…and the power we have to make it come true.
In your profile you wrote that you know about the attraction right away…I agree with that entirely…but first impressions can also be a little misleading. Part of this scenario is that we both go against instinct a little. We're both voluble, talk is our default…but we don't. We keep our mind on the essential mystery of two people. Talk is what makes a couple. It makes a pair-bond. It makes attachment. We are exploring other potential.
By the same token, though, we look beyond the purely physical. Are you a model who has just stepped off a billboard? Am I? No. Those are deceptions anyway.
Our gaze lasts as long as it does. We walk out of the bar. To the left are the elevators…to the right is the street. I will go up to the room I'm booked. You will go wherever you decide…
5. The doctor in an open relationship (allegedly).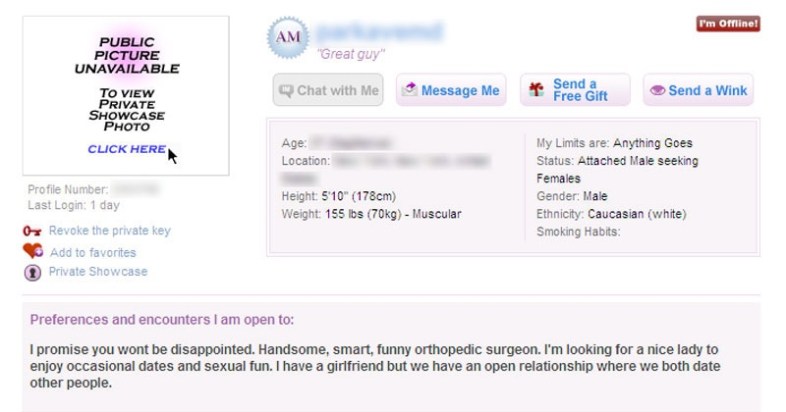 Date: May 10th – 9:01am
From: [REDACTED]
Message:
Hi, I'm looking for a special person. Women I meet in the "real world" usually are not interested in the kind of relationship I'm in. Let me explain and tell you a bit about myself: I am in an open relationship with my GF, for six years now. Physically: I'm 5'10", 155lbs. I work out a few days a week. I'm muscular but not huge, definitely no gut. I'm 38 yo and I'm told all the time that I look much younger than my age.
I'm a surgeon. I live and practice in [REDACTED]. I'm smart and funny. I like to spend time with women that excite me intellectually as well as physically. Confidence is a must as well. My GF and I have created an amazing situation such that I bought the apartment across the hall from me where she lives. We have our together nights 4 days per week and we're apart 3 days. While apart we date others but our primary relationship is always the most important. We are both very sexual and have an amazing sex life in quantity and quality. But as I'm sure you'd agree, the passion of "new" is very exciting.
I love to please my partner and have received countless compliments on my abilities to do so. So, I hope you're reading this and consider talking and meeting. I've allowed access to my pictures. I look forward to hearing from you.
Please reply either way, yes or no. Thanks.