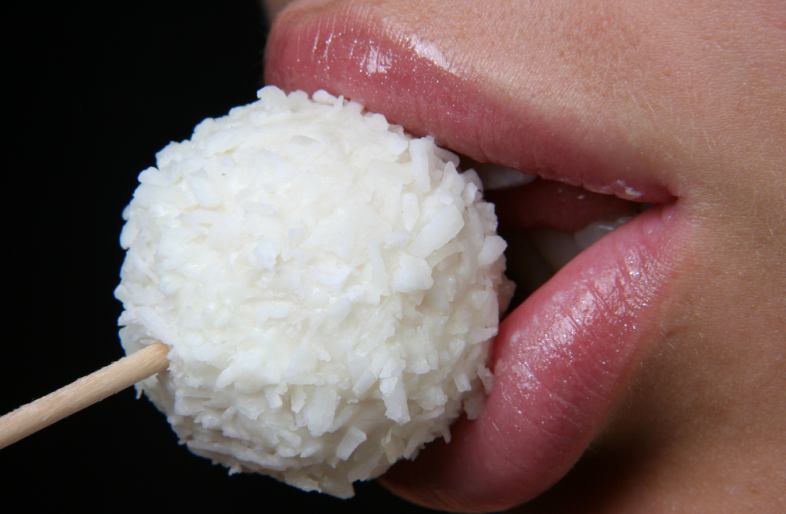 1. The glutton who craved a brothel and a banquet.
I've always loved two things: food, and sex. So my dream has always been to dine at a fine banquet held at a whorehouse like the kind run by Littlefinger in Game of Thrones—to indulge in the richest foods surrounded by magnificent female goddesses. Unfortunately, I'm not an oil baron. But I did manage to save enough money to hire two high-class hookers and a personal chef one night six months back.
I arranged the dining room of my modest home to look as extravagant as possible and instructed the chef to prepare a feast for three. Then I invited the ladies to gorge on filet mignon, gourmet roasted vegetables, and wild rice. At one point, a bit of sauce béarnaise dripped onto one of my companion's plump breasts, so I licked it off and things quickly devolved into naughty greatness from there. We took turns spooning bites of soufflé into each other's mouths. As one girl fed me a strawberry dipped in chocolate, the other went down on me under the table, massaging my cock with her tongue like it was a giant popsicle. After dinner, I sent the chef home and I fucked both women at the table, then again upstairs in my bedroom. I'm getting hard just thinking about it. Obviously, I've already started saving for round two.
— Male, 32
2. The man who yearned to seduce an angel.
I've had this recurring wet dream about sleeping with an angel since I was a teenager. It's ridiculous, maybe, but it's my thing. So last fall I decided to throw an Angels & Demons theme party for Halloween. Genius, right? I was single at the time, and surrounded by dozens of winged women, but I knew right away exactly which angel I wanted. She was a friend of a friend and I spotted her as soon as she entered, wearing the most delicate white lace dress, a gold tiara mimicking a halo, and feathery, lifelike wings.
Luckily, she was into me. Before any of my guests left, we were upstairs ravaging each other. I didn't want her to take off the costume, but she managed to shimmy out of the dress without losing the wings. Her breasts were as perky as you'd imagine an angel's would be. I licked every inch of her, from her pillowy lips down to her neck and nipples and that sweet, soft pussy. We fucked for what seemed like hours, and I was in heaven the entire time. What I didn't expect is that we'd start dating. My angel and I are actually still together.
— Male, 29
3. The woman who ached to let her body do all the talking.
The year I turned 30, I bought myself a one-way ticket to Cartagena, Columbia on a mission to make my fantasy of being swept off my feet by a stunning, non-English speaking stranger a reality. I rented a quaint little flat in the center of town and wandered the streets daily searching for my one-night Romeo. In the evenings, I let myself get tipsy at various bars, dressed in flowy dresses, no bra, hoping to be hit on. Of course, I found my non-English speaking Adonis the second I stopped looking for him.
I was reading 'Love in the Time of Cholera' by Gabriel Garcia Marquez at an outdoor café one afternoon when he sat down across from me. He had wavy dark hair, a dimple in his chin, an upside down triangle for a torso, and six-pack abs. I could tell because he was shirtless. He was also sweating—just enough so that his ripped body glistened in the sun, but he didn't smell at all bad. He was deliciously ripe.
After I shook his outstretched hand, he didn't release me from his grasp. Instead, he stood and pulled me up towards him. Within seconds we were making out in public, our pelvises pressed against each other. He was the most overtly sensual man I'd ever met. We fucked all day and into the night, undaunted by niceties or conversation. Just how I wanted it. Our bodies did the talking, and each of my five scream-worthy orgasms was as satisfying as I'd envisioned.
— Female, 32
4. The college student determined to bang his teacher before graduating.
When my Intro to Sociology professor gave her first lecture, that hot body tucked behind a wooden podium, I knew I had to have her. I sat front row every class, and I went to office hours every chance I got. We had a connection. I could feel it, and I knew she could to. But I waited until the end of the semester to make my move, figuring she'd be more willing if I wasn't technically under her tutelage anymore.
The day of the final exam, I waited for everyone to finish up before me. After the last of my classmates exited, I locked the door behind him and closed the window shades. Then I approached her at her desk. Seconds after I handed my test in, I was grabbing her ass. She pulled away at one point to express some silly concern, but as soon as I brought my pointer finger to her lips, she stopped talking and let her guard down. Soon enough, she'd kicked off her shoes, ripped open her blouse and pulled her skirt up so I could fuck her right there. The fact that I'd been fantasizing about her naked body for months before made her flesh taste that much sweeter. She came, and a few moments later, when I pulled out, she mouthed my dick and slurped up every last drip of semen there was.
— Male, 23
5. The couple desperate to have sex with their best friends.
We noticed them at a concert. They were the hottest couple we'd ever seen, we both agreed. She was swaying to the beat of the music, hands in the air, and his arms were wrapped gently around her waist. Once in a while, he'd nuzzle her neck and kiss it tenderly. You could just tell they had a great sex life and that they were chill people. So we chatted them up and exchanged numbers.
The more we got to know them, the more desperately we wanted to fuck their brains out. There was something in the air whenever the four of us would get together. Something deeply erotic and tantalizing. It took a few months, but we finally got the courage to invite them over with the intention of getting dirty all together. We're not swingers, but after a few drinks we suggested giving it a try and they were game.
We swapped partners and had sex a mere five feet from each other, two on the living room couch, two in the reclining chair. It was so hot to watch each other caress and kiss and fuck our temporary obsessions. We were putting on a show and getting exactly what we wanted simultaneously. After we all orgasmed, we took a short time-out, still naked. Then we swapped back and went at it again.
— Male, 28 / Female, 25