After surveying the costumes presented to me by Kristen Boyer, a professional dominatrix and the author of Playing Karma: A Former Church Girl's True Journey From Bondage to Enlightenment, there's no doubt in my mind that I should dress as a schoolgirl for my very first BDSM lesson.
In white thigh-highs topped with bows, four-inch pumps, a short plaid skirt, and a cropped blouse knotted at the chest a la early Britney Spears, I consider my reflection while twirling pigtails to amplify the innocent look.
"Stop gawking and stand at attention," Boyer commands.
Equally startled and amused, I straighten my back, suck in my torso, and eye my master.
"Now bend over," says Boyer, emitting authority with each calculated pace in my direction.
Save for a thick layer of rouge on her lips, the raven haired Boyer wears all black. As if teasing the punishment she's about to deliver, she smacks a ruler into the palm of her hand several times before declaring: "Your skirt is two inches too short!" Then she pushes me over the arm of a chair, lifts up my skirt, and, to my astonishment, gently grazes my rear while scolding me softly for the inappropriate attire.
Soon enough, I recognize Boyer's sudden tenderness for what it is: a ruse designed to enhance anxiety. With each passing moment I grow more nervous about the impending spanking session. At what point, exactly, will she dole out the lashings? How hard will the hits be? And how many will I receive?
I've officially given up power. By choice. Because I am on a mission to learn about BDSM (bondage/discipline, domination/submission, sadism/masochism), a form of recreational sex play that hinges on the consensual exchange of power. Technically, BDSM is an umbrella term that encompasses a wide range of acts, which may or may not involve pain in varying degrees, sexual stimulation, humiliation, props, or peeing into someone's mouth through a funnel, as a client once requested of Boyer.
What interests me most about BDSM is that it remains so stigmatized in spite of its prevalence.
Contrary to popular belief, it didn't take E.L. James' 50 Shades of Grey to spark widespread interest in BDSM, an acronym for which there are 68 million Google search results as of this writing (for reference, "orgasm" returns roughly 55 million results). According to the 2005 Durex Global Sex Survey (PDF), 36 percent of U.S. adults have had sex using masks, blindfolds, or other forms of bondage (compared to 20 percent worldwide). And 65 percent of university students interviewed for a 1999 study published by the Canadian Journal of Human Sexuality reported entertaining sexual fantasies about being tied up. As far back as 1953, a study conducted by the Kinsey Institute found that 55 percent of females and 50 percent of males had experienced an erotic response to being bitten.
"Overall, it doesn't look like there is anything special that makes a person curious about BSDM," says Dr. James Cantor, a sexologist and associate professor at the University of Toronto Faculty of Medicine. "Instead, it seems that people who are extroverted and open to experience in general will experiment with all kinds of things—sex being just one of them."
Indeed, a recent study in the Journal of Sexual Medicine comparing BDSM practitioners to their "vanilla" sex counterparts found that the former scored higher in the areas of extroversion, openness, and conscientiousness. More interestingly, perhaps, is "how few differences and how small the differences were between these groups," Cantor says.
"True BDSM, which is governed by safe, sane, and consensual (SCC) standards, is not a psychiatric disorder," says Dr. Paul Fedoroff, co-director of the Sexual Behaviors Clinic at the Royal Ottawa Mental Health Centre.
But in spite of the evidence that BDSM is commonplace—normal, even—those who openly adhere to the lifestyle are frequently marginalized. Susan Wright, founder of the National Coalition for Sexual Freedom, has written at length about the risks of disclosing one's affiliation with BDSM, including discrimination, violence, job loss, and legal obstacles surrounding child custody. It seems not even the famously progressive Girls creator, Lena Dunham, is immune to stigma's reach. When discussing 50 Shades in the January 2014 issue of The Believer, Dunham said, "I don't have an elicit [sic], confused relationship to my sexuality, so I don't need a book like that right now in my life…."
The point on which Dunham and society overall may be confused—thanks in part to the international bestseller that attributes its main character's penchant for power play in the bedroom to a traumatic childhood—is that BDSM constitutes anything other than the healthy expression of one's sexuality.
Could it be that the naysayers are simply repressed? That each of us might benefit from engaging in some form of BDSM?
To find out more, and to assess just how naturally or unnaturally a novice like myself might incorporate BDSM into her sex life, I decided to call on a professional. Before meeting with Boyer, I had repurposed a silk scarf as a blindfold on occasion, but I had no idea how to take things up a
Boyer began by revealing the contents of her "goody bag," an unassuming beige carpet duffle that held a paddle, two floggers (one small, and one "to work up to"), a crop, a pair of fur-lined handcuffs, a purple dog collar, several corsets, and a few costumes. Splayed across my dining room table, the erotic display intimidated, but Boyer patiently addressed each of my concerns (How exactly does one flog? I feel strangled by those plastic capes at the salon, so I don't know about the collar!) without a hint of condescension. Then she asked me a series of questions to evaluate my preferences and limits.
"Personally, I draw the line at anal penetration," Boyer said, "but I've worn a dildo so clients could suck me off."
"I'm interested in the basics," I reminded her. "And being the submissive," I added, figuring this urge had something to do with my non-confrontational nature, or being a middle child. Boyer explained, however, that people in positions of power often assume the "sub" or "bottom" role because they crave respite from the pressures of being in charge. Was my inner control freak desperate to break free?
By tapping into the schoolgirl theme, we planned to review various spanking positions and techniques. Boyer also promised to introduce me to a host of tools and textures.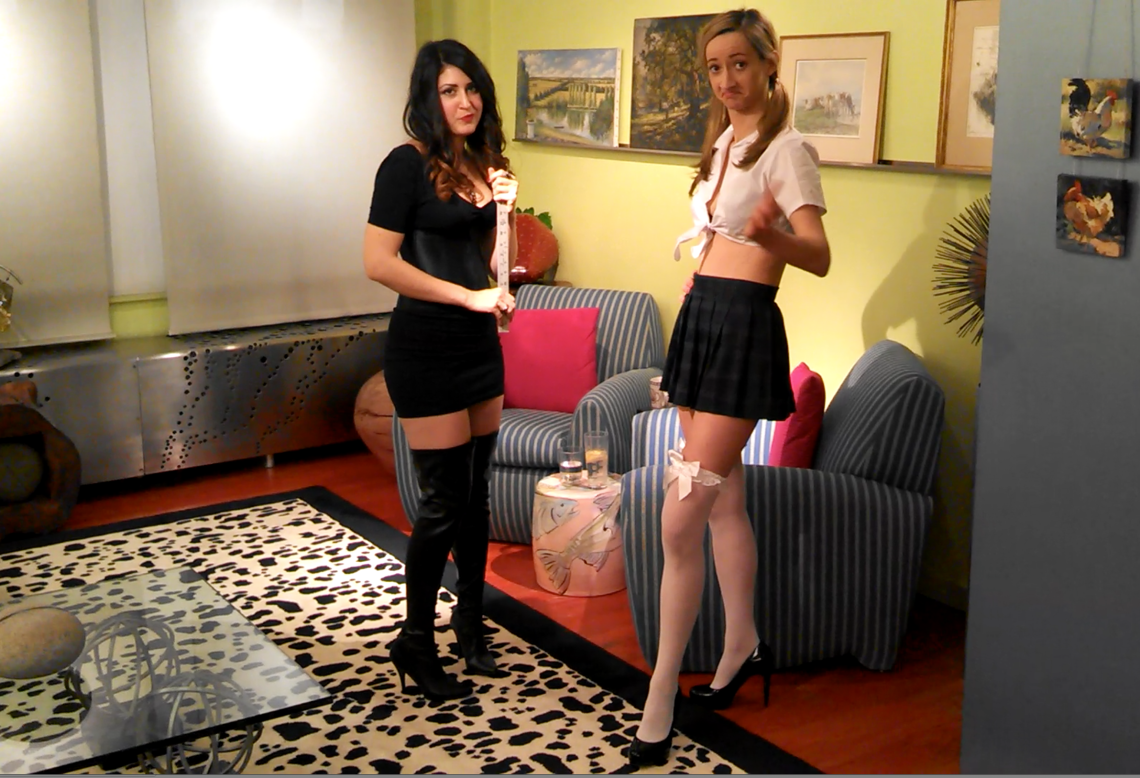 "The key is to dance along the fine line between pain and pleasure," she instructed.
But until I am bent at a 90-degree angle, anticipating the moment Boyer will stop teasing me with the ruler's edge so she can smack my backside properly, I don't fully grasp what she means about balancing these opposing sensations. Sure enough, after demanding that I count out loud while she hits me 10 consecutive times, Boyer returns to light stroking, as if healing the wounds she just inflicted. Such momentary "rewards" are consistent throughout our session, during which Boyer delivers blows with a paddle, a crop, and a flogger while I am sprawled across various pieces of furniture or lying across her lap. At one point, she handcuffs me and drags me to and fro so I'm forced to walk backward or forward in sudden spurts according to her whim.
For the most part, I welcome the adrenaline rush that accompanies each new, unexpected round of discipline. While there is something unsettling about the uncertainty one invites by relinquishing control, there is also something undoubtedly exciting about it.
As we progress, I even start to appreciate Boyer's barked insults: "Pick up that scrap of paper, you slob!" "Fix your slutty little skirt!" "Stop being such a cunt!" What's arousing, I realize, is that I'm completely unaccustomed to being spoken to this way.
At a certain point, I worry that my ass and legs are swollen and riddled with red marks, but I don't mind so much—because I know I can put an end to things whenever I please (my safe word is "Simba"), and because Boyer is supremely attentive, peering into my eyes regularly to check in. Later, I learn that she was also closely monitoring my body's temperature and appearance.
After an hour of punishment, Boyer insists on discussing our time together, noting that "aftercare" is critical. "Especially following sessions that involve harsh degradation and/or intense pain, it's important to remind your partner that you care about them," she says. "You also want to figure out what they liked or didn't like for future reference." An impressively reasonable directive.
When I report that I favored the crop, Boyer guesses, correctly, that I was once a horseback rider.
"People often incorporate past experiences into their fantasies," she says. "I think it's helpful psychologically."
My gut tells me this makes sense. Suddenly, so does the fact that Boyer considers herself a "drama therapist."
Though my tutorial was relatively tame, it definitely implanted the desire to explore things further with my boyfriend. Maybe he and I will act out an elaborate equestrian scene using nipple clamps and full body restraints one day. In the meantime, I know I can count on BDSM as a fun way to be intimate while establishing greater trust in my relationship.
BDSM is, above all, a mindful practice intended to address people's needs. Unlike yoga, unfortunately, the sexual aspect makes it easy fodder for moralists and conformists.
"People for the most part want to be 'normal,' especially in the area of sexuality. BDSM is viewed by many as 'abnormal' and therefore something to be avoided," Fedoroff says.
Perhaps what BDSM needs is a celebrity advocate. Until then, it will likely remain a lifestyle that's as widely misunderstood as it is practiced—mostly in secret, of course.

© (2014) (Mélanie Berliet), as first published in Pacific Standard Online at PSMag