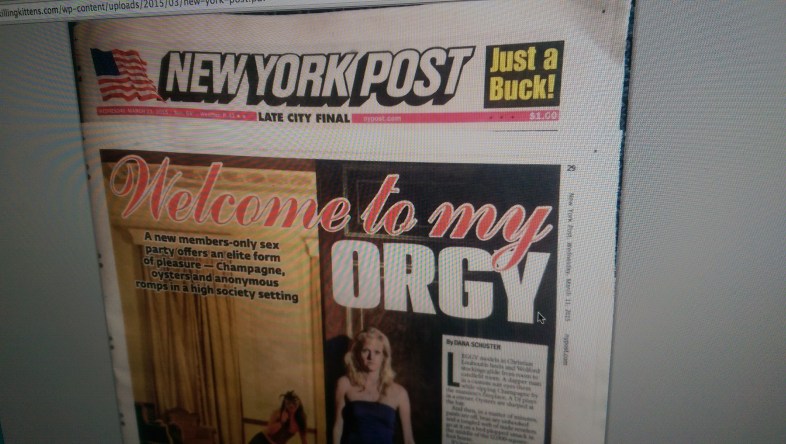 Killing Kittens, a London-based society for the "sexual elite" has received an onslaught of media attention in conjunction with its recent New York City launch. But so far, most of what we've learned from a sex party regular who attended Killing Kittens' opening U.S. bash indicates that the operation isn't quite as selective or glamorous as its website would like us to believe.
Killing Kittens promises members "access to a world of sexual and erotic fantasy governed by gorgeous women," plus "New York penthouses, St. Tropez super-yachts and über-exclusive luxury locations." In reality, however, much like Olive Garden, which is nice for a fast food chain, Killing Kittens seems awesome for a sex party that welcomes just about anyone. If you're into voyeurism and group sex, Killing Kittens is probably worth checking out. Just don't be fooled by its Peter Luger aspirations. Below are 10 cautionary points.
1. Its New York debut was a poorly disguised press event.
When the elite gather for orgies, I think it's fair to venture that discretion is a key ingredient. Certainly, such meet-ups do not involve a coordinated PR blitz, as was the case with the March 14 Killing Kittens event. In addition to representatives from The Daily Beast, and The New York Post, a young journalist for Howard Stern's radio show was wandering the premises of the Killing Kittens party, recorder in hand. Sounds a bit more like the launch for a celebrity's fragrance at Lord & Taylor than an haute assembly of the glitterati.
2. The owner of Killing Kittens is using her "friendship" with Kate Middleton to promote her "elite" sex club.
Emma Sayle, Killing Kittens' press hungry owner, has been trying to align herself with the Duchess of Cambridge as far back as 2012. We're guessing Middleton's actual buddies don't go around using her name to advance their business objectives. And aside from an eight-year-old photo of Middleton and Sayle walking the streets of London, the connection between the two seems shoddy at best.
In an interview with The Daily Mail, Sayle explained that she attended Downe House, an all-girls school where Middleton was briefly a pupil, but that she has "no recollection of Kate at her school". Years later, in 2006, Sayle founded a charity fundraising group called The Sisterhood that counted Middleton as a member, but only for a short stint. Sayle's success at exploiting such a loose connection is a testament to her marketing savvy, and the media's thirst for clickbait-y headlines. What it is not is a testament to the bonds of friendship. As for why Middleton hasn't bothered denying Sayle's claims, we're guessing Buckingham Palace has a few more important items on its agenda.
3. It's pretty easy to get in.
"As in London, each applicant is vetted according to our strict criteria," reads Killing Kittens' website. I applied for membership at 10am on Wednesday, March 18. This entailed providing some basic biographical information (birthday, gender, email address, phone number, etc.) and uploading a few photographs. A few hours later, at 4:32pm, I received notice that my account had been vetted successfully. There was no fee. As for admission to the actual party, according to our spy official identification was not required. Emails were cross-checked against a list at the door, making Killing Kittens easier to get into than most nightlife destinations in the Meatpacking District.
4. Guests had to shell out extra for drinks.
No one likes a cash bar—not even those who can afford it—because they aren't chic. Who wants to reach into their pocket every time they need to buy a round, or risk forgetting their credit card after starting a tab? If you're really targeting the well-to-do set, why not charge $500 to $1,000 a ticket and have an open bar rather than charge $250 per couple and make people pay to booze? Weird.
5. The décor was more sad bachelor pad than posh penthouse.
In contrast to secretive, un-Googleable sex parties, which our insider reveals often take place in the penthouses of fashionable hotels, the Killing Kittens event was held in a Flatiron District apartment that was "nice, but not all that posh or modern." The main room featured black leather couches surrounded by a giant bed (much larger than a California King) dressed in black sheets. A few hints of red punctuated the otherwise dark space, and bowls of condoms were peppered throughout. As for the music, "They played pop house from a few years back—stuff like Afrojack." If you're starting to feel a bit like you're on the set of a low-budget porno, you're not alone.
6. The crowd wasn't stylish, either.
Although many of the female guests were reportedly clutching Chanel handbags or Birkins, we all know that money can't buy style—and that it only goes so far in buying good looks. "Think decadent, raw physicality with beautiful people in a beautiful setting," reads a Killing Kittens' party description. But our spy characterized the crowd as "about average" in appearance, and definitely far less attractive than the "models in lingerie" populating other sex parties around town—you know, the ones that work hard to maintain some semblance of caché. Writes the Daily Beast, "Within an hour of arriving, two of the more attractive women I'd spotted earlier are frantically pushing the elevator button."
7. People were allowed to ditch their masks altogether.
A mask mandate evokes the intense erotic intrigue of Eyes Wide Shut and the pageantry of medieval masquerade balls. By requiring guests to conceal their identities (an email sent to partygoers stipulated "no masks, no entry"), Sayle successfully imbued Killing Kittens with an element of mystique—but only up until people abandoned their disguises altogether, and it became clear that Sayle's seemingly strict directive was hollow at its core. According to our friend, who dropped $70 on a beautiful bejeweled piece specifically for the night, you could see most peoples' faces twenty minutes after they entered. When no one bothers to enforce the costume requirements at a theme party, everyone is forced to wonder: What's the point?
8. They served strawberries and oysters.
Unlike the beverages, the food at the Killing Kittens soiree was complimentary. But it was also totally lame, featuring the worlds two most clichéd aphrodisiacs. When we think strawberries and oysters, we envision the tablescape at a porn star convention, or the snack spread at the monthly book club meeting for Housewives Who Read Erotica.
9. The premise is borderline offensive.
Sayle has stated that the name Killing Kittens is a play on the saying, "Every time you masturbate, God kills a kitten." We would love to applaud Sayle for promoting the "the pursuit of female pleasure." Except that we can't. Because emphasizing a woman's role as a sex kitten doesn't seem so empowering. We can't decide what's more irksome: Sayle's hypocrisy, or the cheesy choice in diminutive.
10. Barely anyone was actually having sex.
"Think nakedness. Lots of nakedness," Killing Kittens' website encourages. But by our spy's estimate, about one quarter of the guests were getting busy at any given point, which is kind of on the low side for a giant orgy. In this country, we like a majority.