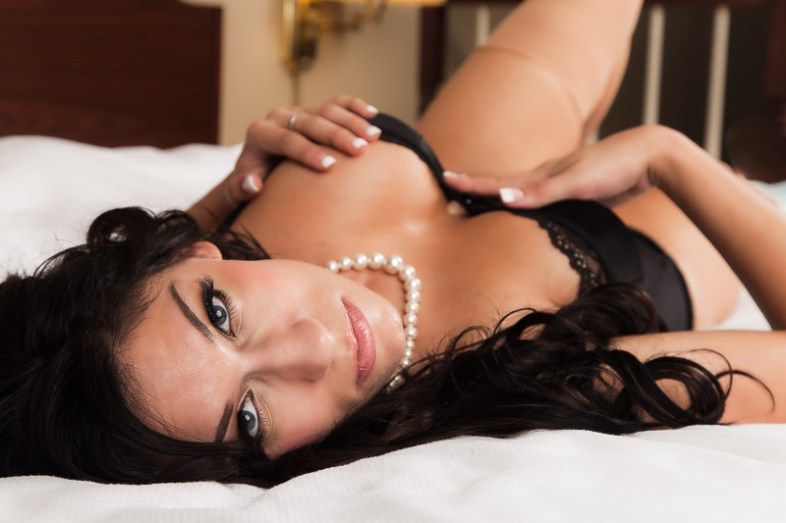 Previously, I published a list of personal branding tips culled from my conversations with Domino Damoiselle, a 29-year-old cam girl and stripper I met while researching a story about phone sex a few years back. As well-rounded and business savvy as Domino is, however, it would be silly not to tap her for advice in her most obvious area of expertise.
Lo and behold, 5 wonderfully simple, insightful sex tips from a professional sex worker.
1. Be inquisitive
Even after logging hundreds of hours as an accomplished cam girl, Domino never relies purely upon intuition in deciphering a client's sexual likes and dislikes. "Whether the person you're getting down with is lying next to you naked or staring at you through a computer screen, they're naturally equipped with a lot more information about their body and their innermost desires than you are," says Domino. She begins every session with a new customer by spending a few minutes getting to know them. In addition to circumventing the tedious process of trial and error, "speaking directly about sex can be really sexy," Domino promises.
So if your goal is to please your partner, and not just to get your own rocks off, you might as well ask what your whoopee-making accomplice likes rather than waste time trying to read their mind. Since we're all different, there's no standard pre-sex script. But Domino recommends being as specific as possible, and listening intently so you can respond to subtle cues like tone in devising follow-up questions. For instance, if someone admits to being into humiliation, ask, "Do you like being told that you have a small penis?" If your query is met with silence, maybe try: "Do you like being called names? Or being told to eat your own come?"
2. Stay open minded
No matter how compatible you are as a couple (or hookup buddies), your partner might develop the sudden urge to try something in bed that doesn't appeal to you, or intimidates the hell out of you for whatever reason. As long as you're in a comfortable, safe, consensual situation, it can be worth it to maintain a don't-knock-it-'til-you've-tried-it attitude. "If something I'm doing turns my client on, it's bound to turn me on too," says Domino, who does everything in her power to accommodate most requests. When someone suggested covering her entire body in slices of American cheese, for example, she went with the pasteurized dairy flow.
The thing is, regardless of how certain you are that anal play feels like reverse crapping, there's always a chance you'll end up loving the sensation of a finger in your butt. And even if your initial butt hunch proves accurate, it can be fun and intimate to push your personal boundaries with someone you're really into. Meanwhile, the risk of refusing to experiment is that your arousal triggers remain as much a mystery to you as to everyone else. Why miss out on your own orgasmic potential? Above all, whether or not you choose to cooperate, it's wise to withhold judgment.
3. Know your limits
To be clear, keeping an open mind doesn't preclude knowing your personal limits. Domino is well versed in unconventional sex practices, but not even she's immune to erotic shock or discomfort. During one camming session, for example, a customer suddenly waved a vile in the air and screamed: "You want me to strap you to a hospital bed and shoot you up, don't you?" Then he proceeded to inject himself. "As someone who's not into drugs, watching people do drugs isn't something I'm comfortable with," says Domino.
The line between testing your boundaries and knowing your limits may be blurry, but introspection and honesty will help you sort things out. From Domino's experience, "If something requires too much additional cerebral power or energy, it's generally not worth it." When in doubt, trust your gut. In the camming world, there's always the option to hang up, but even without the luxury of digital distance, it's always okay to cut things off with a stern "no."
4. Be Creative
According to Domino, no matter how experienced you are, creativity is critical to maintaining a good sex life. "As a cam girl, if you don't think outside the box you don't stand out and you don't tempt customers enough to come back for more, so I understand firsthand the importance of making things interesting." In the non-virtual world, falling into a routine is undeniably boring, even if the regular program involves reverse cowgirl and a giant dildo.
The good news is that there's no big secret to being sexually imaginative. Toys, costumes, and the ability to impersonate are useful, but unnecessary. "The best way to innovate is to dig deep within," says Domino. Trust your instincts, whether that leads you to be silly, serious, or downright weird in bed. It's also a good idea to stay in touch with your immediate environment. Some basic household items (hairbrushes, rulers, scarves, etc.) make great props and/or sensory tools.
5. Fake It
"The way I have my cam room set up, I can sit and text on my phone while I'm in the doggy style position," says Domino. She's also able to multitask when customers ask her to zoom in on specific body parts, such as her pinky toe, or her pussy. "They think I'm pleasuring myself, but I might be making notes in my calendar, writing a grocery list, or editing photos."
The lesson here isn't that you should tackle chores while fucking, but that it's normal for even the horniest among us to feel bored during sex on occasion. And that's okay! As long as your ennui is temporary and not an ongoing phenomenon, there's a workaround: Mask your waning interest by acting aroused. Vocals are particularly helpful here. Whatever you do, don't stare up at the ceiling or lay there like a corpse. The main benefit of faking enthusiasm is that you avoid offending your partner. Plus, a little fakery should propel the show forward, if you know what I mean.