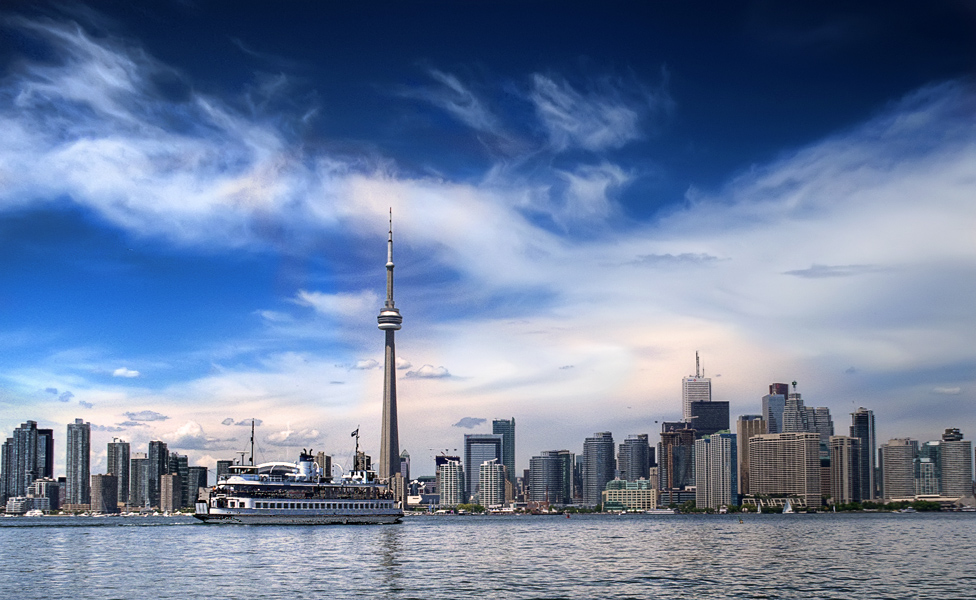 God I love Toronto. By the way, it's pronounced "Turonno" not "Toe-ron-Toe". Go ahead, say it out loud. If you pronounce it that way, you ain't from here, bro.
Toronto is one of those cities that everyone is just unbelievably happy to call home. Chicks walk around wearing Toronto Blue Jays caps, proud as fuck, like they're a pair of $500 Jimmy Choo heels, and instagramming their "Toronto VS Everything" shirts like you wouldn't believe.
People are proud to worship the fuck out of Drake, no matter what stupid shit he does. He literally grew up a few blocks from everyone in my high school and, we are proud to support him. If you talk shit- It's like you're talking shit about one of us, and we will fuck you right up.
Do you know any other city that is more proud than we are? That sticks together like we do?
I don't. And Bitch, I don't want to!
For this past month of October, the Toronto Blue Jays have been in the Major League Baseball Playoffs for the first time in years. Ya- we are known for rowdy crowds, and crazy obsession with Hockey and the Toronto Maple Leafs, but this year, when we expected to lose again in regular season Baseball, the Jays threw us a curve ball and we got our asses to the playoffs.
A little history for those of you from out of town: The Jays have not won a single World Series Championship since 1992. I think Toronto pretty much gave up on them.
I have never seen a group of strangers, connected by the love of a sport, lose their minds so much, or #comeTOgether like this. Yes, We even have our own hashtag. Look it up.
The Blue Jays have absolutely ignited this place, and not in a Vancouver-stanley-cup-playoff-lighting-garbage-bins-on-fire kind of way, but in a hugging-random-people-on-the-street-kind-of-way.
Yes, we had that one slip up where people threw beer cans on the field when Texas thought they were king shit but… Hey, haven't you done anything stupid while you were wasted?
Exactly.
Toronto is no longer "That random Canadian city who is semi-good but never quite wins at Hockey". We are the city who came back to WIN after sorely loosing for like a bajillion years in a row (probably for your entire life if you are between the ages of 0-23)
This has been the craziest month I have ever experienced in Toronto, and I am sure that if we go on to play in the World Series, it will continue to be crazy. I see stranger's high fiving each other at the office, on the street, hugging each other in crowded bars, honking their car horns in the middle of the day. I am shocked to see how amazing this city banded together during this time & how happy everyone is.
Right now, we have the opportunity to show the world how fucking cool we are, and we're taking it, man.
So yeah, it really is Toronto vs. Everybody. And we like it like that.
In fact, I'm rocking that shirt right now.
So, to celebrate this amazing city, I am giving you 25 reasons you know you're a true Torontonian.
The Blue Jays matter more than work. Game starts at 4? Either your boss has the TV hooked up in the middle of cubicle city, or you're peacing early.
You've been to the CN tower once, and it was with your family when you were a child. Unless you have someone from a foreign city coming to visit, you have no desire to do it again.
Further to the above, if someone suggests you go to the 360 restaurant for dinner, they are either not from here, or they have a gift certificate from someone who is not from here.
If you moved out of your parents' house right after university, you definitely lived at CityPlace. If you still live there, you're probably trying to break your lease.
No matter what your plans are this weekend, if you got free tickets to a Leafs or Raptors (or Jays) game, you're fucking going. Points for a box- don't forget to Instagram that shit.
You either graduated from Western, Laurier, Mcgill, or Guelph.
If you see someone driving a souped up Honda Civic with a blacklight underneath, blaring Sean Paul- dude, go back to Woodbridge.
You know not to drive downtown before or after a Leafs game on a weeknight. You have a two hour window when they are playing but any time before or after is suicide.
You're like, still trying to figure out if Leslieville is the new hotspot. I mean, Boots n' Burbon is there……
Liberty village is FULL of gym rats with French bull dogs but you fucking love Williams Landing Patio in the summer. Unfortunately.
Either you're definitely going to Digital Dreams (DIGI!!!) this year or you have never touched that shit, and never plan to. "Someone died last year!!!"
You go to the CNE every year without Fail. Either with your girlfriends, or as a cute date idea. Ferris Wheel Insta! Super Cutes!
You couldn't care less about the MMVA's. That's nice. Get out of my way, Miley. You're just causing traffic on Richmond.
Speakers corner was like, the coolest thing in the world when you were 10.
You hesitate standing on the corner at Yonge and Dundas, at the H&M doors, because in a matter of seconds some crazy homeless dude is about to yell "JESUS!" at you, and scare the living shit out of you.
The Rocketman app is the best thing that was EVER invented. Remember when we used to just…wait..for..the..bus?
There is a major divide in the city of Bikers and Drivers. Either you are a Biker or a Driver, and everyone just stands around and blinks at each other.
PORTER SALE!
The only reason you would go to the Eaton Center is if you work beside it, or if you need something very specific, or from Victoria Secret. It is literally hell on earth.
You look forward to the Christmas Market in the Distillery District every year, and probably force your boyfriend to take cute photos in front of the huge Christmas tree every year. You bribe him by saying there is beer, and you can drink it in the street.
Daytime Blue Jays Games in the summer are completely appropriate times to get shitfaced at noon. Also, no one pays attention.
You refer to your home town as the "6ix"
You feel extremely proud to be part of this city. Right now more than ever.
#GOJAYS #comeTOgether