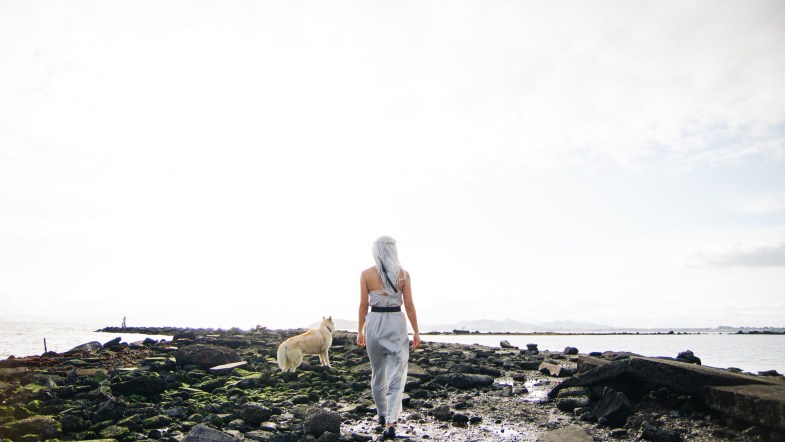 1. Start changing the way you feel about being lonely. Think of it as an experiment in "having lonely feelings." This advice might sound like total trash, but you can learn to manifest your sadboy/sadgirl feels in creative ways. Feel liberated by the fundamental loneliness of being a self.
2. Listen to all the sad music you want. The sappier the better. Sing Toni Braxton's "Un-break My Heart" alone to yourself on the couch or listen to Mazzy Star's entire discography non-stop until everything becomes generally uncompelling in comparison.
3. Start using a diary more. There's nothing wrong with feeling lonely or unattractive and chances are you're a perfectly decent person who looks hot at least in that particular angle when staring at in the mirror, or, you know, all the ways you don't realize because you don't have good self-esteem right now. The only thing shitty about being lonely is that you don't always feel like there's someone to confide in. Get close to your diary again, so at least when you're in public writing about being depressed you can look smart while doing it.
4. Take yourself on weird outings. They don't really have to be weird, but might feel weird if you're not accustomed to doing shit alone. Go on a forest walk wearing your best fall coat just to get fresh air and take boring pictures of nature to post on Instagram later. Hang out in a Wendy's just to write in your diary and be around nobody you know. Make a pilgrimage to the mall to try on makeup you'd never normally wear, then go to the bookstore and read some poetry in whispers to yourself while people who are less comfortable with themselves glance over and inwardly scoff with envy and disdain. All of these things are also fun to do with best friends.
5. Remember what it's like to be unapologetic. Go out looking cute and sweatpants-sunglasses-incognito-I'm-eating-a-burrito like you're shrugging off paparazzi. Is that you with that pumpkin spice latte and scarf looking hung-over chic on your way to work? Practice being blunt and saying what you think. Do a lot of self-validation. You can practice being humble when you're less heartbroken.
6. Get back to a hobby you let go of or start that good habit again. Whether it's making mixtapes, cooking, cleaning your room, or going to the gym (if you're into that kinda thing), keeping the little things intact can help boost your self-esteem and keep you from falling into black holes of self-pity. Eating foods that make you feel good, or different types of body movement, if not guaranteed ways to fight emotional distress, will at least help you mitigate the other effects of sadness on the body. Get those endorphins! Take opportunities to practice self-congratulation!
7. Think about what you want to devote your time and energy to things other than romance. Remember why your relationships can be bubbles of co-dependence. Remember your drive to be more independent, or your desire to show up for your friends/fam/community. And when the music feels aren't sappy – listen to lots of Nicki Minaj.