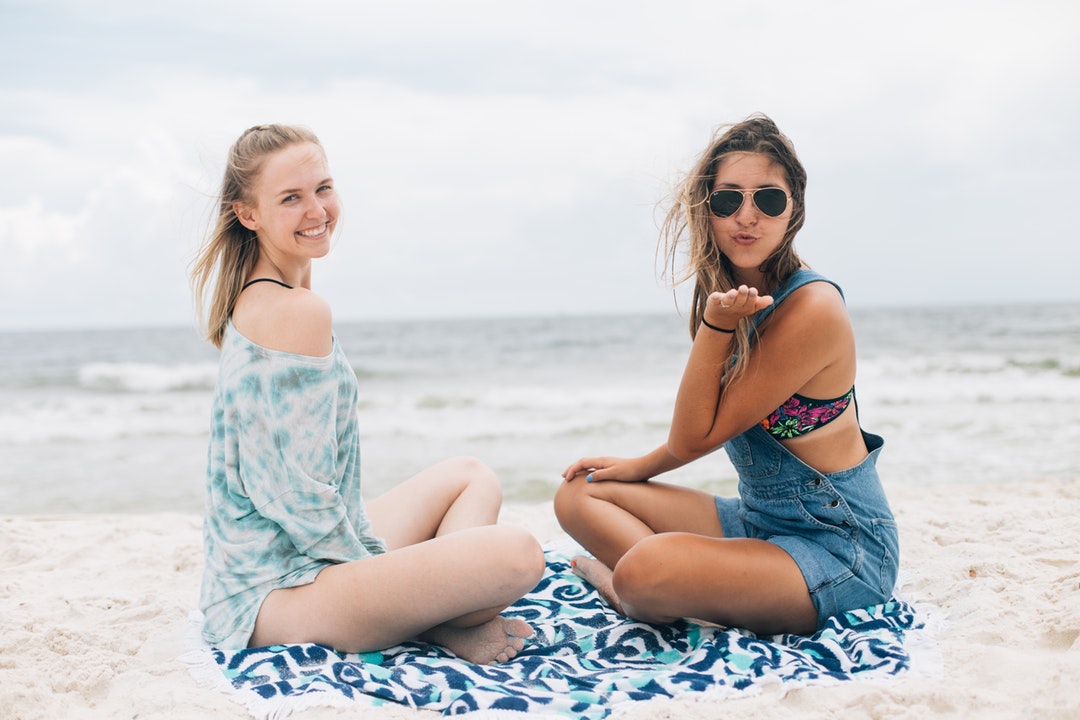 Best Friend. Bestie. BFF. Forever Friend. We all have that person (or few people) in our lives that mean the world to us, knows all our deep secrets, and has been there for all the moments, big or small, in our lives. June 8 is "National Best Friends Day," a day set aside to honor the beauty of our amazing friendships with those near and dear to our hearts. If you are in need of some inspiration to determine the best way to shower your bestie with some love, look no further: here's a list of 8 ways to show your BFF some serious love.
1. "Send Your Love": Mail A Card or Letter
The art of writing letters or sending snail mail is completely underused in our society, but taking the time to send something to your BFF in this way could really make their day. My personal favorite way to do this is through fun cards that I've ordered from Emily McDowell.
2. "Show Your Love": Show Up with A Gift
It could be something as simple as showing up to their place with their favorite bottle of wine or a box of their favorite candy; it could be as complex as snagging that pair of shoes they have been eyeing for months but refuse to pay full price for or grabbing tickets to see their favorite artists in concert (plus a ticket for you, of course). Regardless, gifts, or random acts of kindness, are always a great way to show you care.
3. "Sing Your Love": Create A Playlist of Awesome Songs
Who didn't love making a mix CD for their friends when they were in high school? Apps like Spotify allow you to make a custom playlist and share it out with others. Have fun with it by sticking in a little bit of everything from 90s boy bands to 2010 party music and everything else you and your BFF love to jam out to in the car (except country…let's leave that off).
4. "Craft Your Love": Make Something Unique
You may be amazingly talented at knitting, or maybe not, but everyone can find something they can pull off that is crafty. Find a clever idea on Pinterest, or if you are short on time there's always Etsy.
5. "Document Your Love": Make A Photo Book/Scrapbook
This can be especially fun and thoughtful if you and your bestie have been friends for a while and been through high school, college, and beyond together. Places like Shutterfly, Snapfish, and Mixbook make this task so easy, and if most of your pictures are digitally documented on Facebook you can easily get them loaded into a site.
6. "A Day For Love": Plan A Friend Day
When is the last time you and your friend have had a chance to spend an entire uninterrupted day together? If you are like me, life gets busy with work, adult chores, having a significant other, and kids. Go get pedicures, hit your favorite spot for lunch, get in the car and take a joy ride, just do something fun together without the distractions and monotony of adult life. Make it even more amazing by making it more than a day: plan a BFF trip and get out of town for a few days together.
7. "Proclaim Your Love": Post Something on The Internet
Who doesn't love being tagged in a Facebook post filled with sweet words or fun pictures? If you blog, you could even write a blog post about why your BFF is the best. It's just fun to share with the world how amazing your friend is and sometimes it can be just what your friend needs to see when life is kicking them in the ass. Personally, I recently wrote an entire article about how amazing it was that fate brought a friend and I together, and she loved it (at least I hope she did).
8. "Speak Your Love": Give Them A Call or Send A Text
This may be another one that sounds so simple to do, but sometimes we all get so involved with life that we forget to simply check on our friends. Give them a ring just to shoot the bull for a few or send a simple, "Thinking of you!" text to brighten their day. Even the smallest of gestures are meaningful and appreciated.
Whether you choose to use this list to observe the day or to show your love and appreciation throughout the year, just make sure your best friend always knows you care. Humans need love and care, we are built to be social creatures and have our tribe. Life is constantly flying by and we're always changing, but there's never too much in our lives to forget to share love to those we love the most. Happy National Best Friends Day!