If you, like me, bingewatched the entirety of Season 3, House of Cards — then this list of questions is a safe place for you. If you have not finished bingeing — or if you're planning on watching House of Cards someday, but that day has not come yet — please be warned, this is spoiler nation. Now, let us proceed. Because I have some feelings and questions I need to get off of my chest before I lift myself off of this sofa and shower for the first time since Friday night. (Shhh, let it happen.)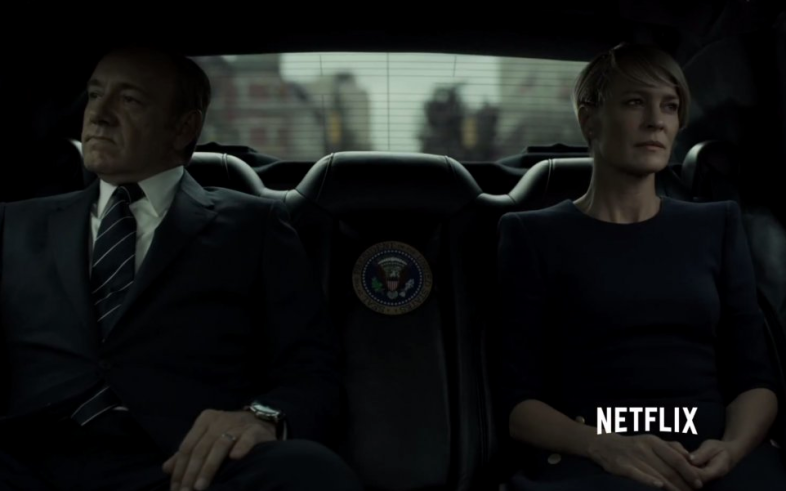 1. Is it just me, or is Meachum sporting a bit of a unibrow this season?
2. Oh shit, is Claire pregnant? Why else would she vomit and then fry eggs and then huff them?
3. Beau Willimon, could you have provided a thinner veil for Vladimir Putin than "Viktor Petrov"?
4. IS THAT PUSSY RIOT?
5. When is Jackie going to dump the doctor and get back together with Remy for real-real?
6. When is Frank going to let Stamper back in? For the love of God, Frank.
7. Can't you see that you and Stamper are better together? Just like Jack Johnson predicted?
8. Why do all of the rooms in the White House have weird, camoflouged interior doors?
9. Is that really what Air Force One looks like?
10. How obnoxious must it be to have 2983498234 reporters traveling with you at all times?
11. Frank: "CAN I LIVE?"
12. WHAT IS ROBIN WRIGHT'S DAILY REGIMEN? BECAUSE DAMN, I NEED TO LOOK THAT GOOD AT 48.
13. Frank is gay, right? I'm not the only one reading into this in a big way?
14. Definite sex-vibes between Frank and Author Boy, right?
15. Who else misses Russo?
16. Who knew Stamper had such a sick bod?
17. Okay, I know he's into this hooker — but he's definitely gonna hook up with his Physical Therapist right?
18. It's not weird that I'm kind of attracted to Stamper, is it?
19. Meachum was totally giving off sassy jealousy vibes to Author Boy, wasn't he?
20. Wait, Netflix really hasn't optioned a "fast forward through the credits" for binge-watchers? Seriously?
21. OH MAN IS THAT BONEY MARONEY? (It's totally Boney Maroney.)
22. Boney Maroney is way worse than Ayla, right?
23. How weird is this cornfields with Boney Maroney moaning intro?
24. I kind of loved off-the-rails Stamper. I'm still not totally convinced he's back on the rails. Because do we ever really know with Doug Stamper?
25. Shouldn't Claire run for President?
26. WHAT ARE THEY GONNA DO, WAIT UNTIL THE VERY LAST EPISODE TO BRING US RACHEL?
27. CUH-LAYER WHAT ARE YOU DOING?
28. Oh shit. Jackie. Jaaaackieeeeee, who knew you were a two-timing bitch? (Jk, we all did.)
29. Oh shit, REMY QUIT?
30. Is Stamper finally gonna kill Rachel?
31. Or is he going to wife her up?
32. Because DO WE EVER REALLY KNOW WITH DOUG STAMPER? (Plus there was all that underlying "family" writing this season with his brother and his nieces.)
33. Okay, okay, okay, but did Stamper really kill Rachel? Because we didn't actually see it. And he didn't actually say it. We just saw him filling in the hole. We didn't even see him run her over, did we?
34. Do you think he's hiding her because he still loves her even though she tried to kill him? (Dear Rachel, it doesn't mean shit that you prayed for him after you tried to KILL him.)
35. WHAT IS CLAIRE GOING TO DO?
36. Does anyone else feel like this whole season was more like a half of a season?
37. Can we get a full 22-episode season, please?
38. Now that I'm done, what am I supposed to do with my life?
39. #teamfrank? or…
40. #teamclaire?