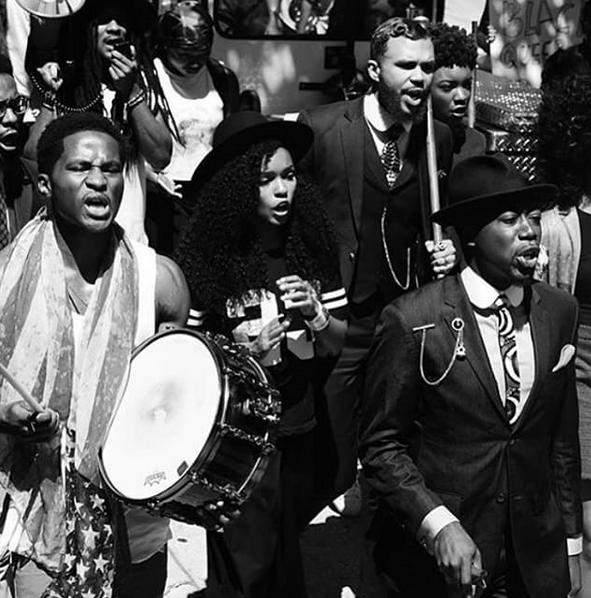 On August 14th, singer/song-writer Janelle Monáe went on The Today Show to perform some of her latest hits like 'Q.U.E.E.N.' and 'Tightrope'. After she sang 'Tightrope', the artist took a moment to speak about police brutality.
"Yes Lord! God bless America! God bless all the lost lives to police brutality. We want white America to know that we stand tall today. We want black America to know we stand tall today." 
The last words she said before getting cut off were "we will not be silenced."
In an interview with Entertainment Weekly, a NBC network source said "the show went to a hard commercial break at the end of the song 'Tightrope,' which ran a couple of minutes over time." The network wants to assure viewers that the show was cut off as a result of "the "hard commercial break at the same time every day."
It's hard to believe the artist was accidentally cut off, seeing that she had just performed "Hell You Talm Bout," a call and response about police brutality, two days before she appeared on The Today Show.
KTLA reported that Janelle Monáe and Wondaland members have "have made appearances in New York, Philadelphia and Chicago, where they were joined Monday by the mother of Sandra Bland, the 28-year-old woman who was found hanging in a Texas jail after being stopped and violently arrested for failing to signal."
At her show in Philadelphia, the singer told the audience:
"We have been devastated by the police brutality. We have been devastated, devastated, by the abusing of power. We want you to know that Wondaland is for the people. And when we see something, we gon' say something." 
On August 21st, Janelle Monáe, Jidenna and members of Wondaland records performed "Hell you Talm Bout" in Hollywood, CA.  The Stop Mass Incarceration Southern California Network hosted the event, and invited relatives of victims to police brutality like: Ernesto Flores, Johnny Anderson, Dante Jordan, Dante Parker, and Carey Smith-Viramontes.
After a press conference, the artists performed "Hell You Talm Bout" as they marched with a crowd of peaceful protesters. Captain Peter A. Zarcone of the LAPD Hollywood division walked behind the protesters. 6 officers rode bikes alongside him, 6 police cars patrolled the area, and over 20 LAPD officers were present.
One protester stood in the back and filmed officers with an ACLU app "to make sure they knew they were being watched." The artists walked in the front of the crowd and most of the protesters carried signs.
The crowd marched from the corner of Hollywood and Highland to the LAPD Hollywood headquarters located at 1358 Wilcox Avenue. When the group reached headquarters, a protester held a microphone and led the group in a call and response chant.
"It is our duty to fight for freedom.
It is our duty to win.
We have nothing to lose, but our chains."
As the march came to a close, the artists quickly got into a black suburban parked across the street from police headquarters. Officers slowly followed protesters as they walked back to the Hollywood and Highland area. When asked what law gives police the right to follow protesters, one officer said, "No law."
Even though the march blocked traffic on Wilcox, no arrests were made from 2-3:30 pm. When the LAPD Hollywood division was contacted, no officers were available to comment.

This post originally appeared at MOGUL.