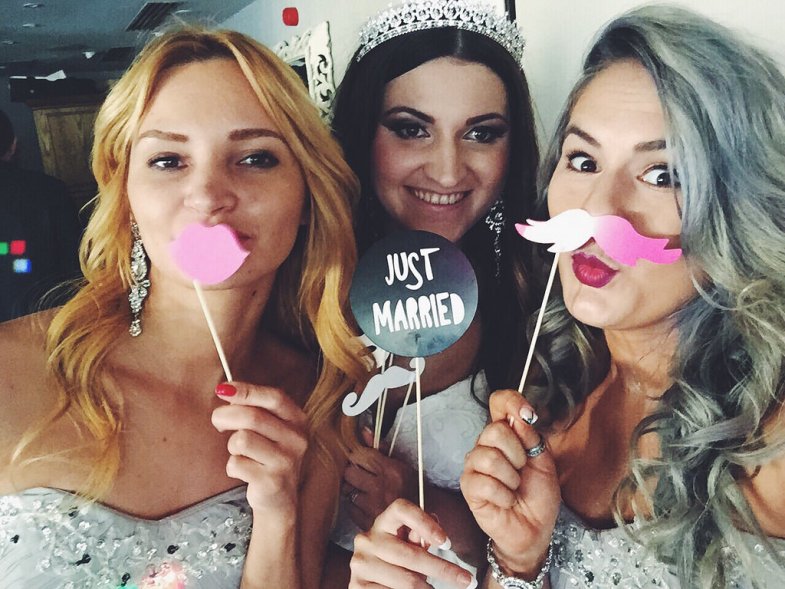 1.
"The bride was really set on all the attention being on her, which I totally understand. Here was the one glitch: I was pregnant with my first child and had just found out about four days before the wedding. But what could I do? I knew she would be so so mad at me for stealing her thunder if I told people, but at the same time, it wasn't bad news and I didn't want to hide it. I ended up not telling anyone, and then told the bride when she got back to her honeymoon. Even then, she was pretty pissed."

— Mary, 28
---
2.
"We ripped the veil. She ended up wearing her older sister's, because that was the only option we had, and no one told her about the switch. This was four years ago, and she still has no idea. It was similar enough, but even so, I was still shocked that she didn't notice and flip a shit. I guess the wedding really did go to her head."

— Jenna, 35
---
3.
"The bride wanted us all to be wearing the exact same color nail polish. And at this point, she had made so many stupid-ass requests that I was just damn near sick of it. So one other girl and I decided to paint our nails bright blue at the last minute. It was totally insignificant, but it made us feel like we were getting some revenge for spending a shit ton of money when our bride was awful to us the whole time."

— Julia, 23
---
4.
"I had to change my dress at the very last minute because – this is so embarrassing – I got a period stain on my dress. We didn't want to tell the bride, because she already had enough to worry about. I swapped dresses, because luckily I had another bridesmaid's dress, and I lived close enough that my boyfriend was able to bring the other dress. Our colors were green, and I walked down the aisle in a blue, sequined dress. And the first time the bride saw the fact that I was wearing a different dress was when she walked down the aisle."

— Jacqueline, 26
---
5.
"I started dating the bride's brother about two weeks before the wedding. Obviously, she was going to be excited, but she just had so much going on and was so stressed that we had no good time to tell her. We hid it for a month after the wedding, and then told the bride we had gotten together at the wedding. She was thrilled, and still hasn't learned the real story."

— Sara, 29
---
6.
"I was in charge of holding the bride's veil at one point, and I accidentally stepped on it. It was a spring wedding, so it was muddy outside, because it has rained the day before. Needless to say, it was more than just a little noticeable, but not to the bride, because the veil was behind her at that point. We decided it was best not to say anything and just encourage her to take it off for most of the reception. Thankfully, when we told her the following day she was still riding the wedding high and laughed it off — which was really a lucky break."

— Ericka, 36
---
7.
"Our wedding party hung out so much leading up to the wedding. We all lived in PA, and there were six girls, six guys, and the couple. Over the course of the wedding lead up and wedding festivities, I hooked up with one of the groomsmen consistently, and then at the wedding, I hooked up with a second one. And I didn't tell anyone.The boys still don't know, and neither does the bride. (Actually, only one other bridesmaid knew.)"

— Lacey, 27
---
8.
"The groom disappeared for a couple hours before the wedding, and we didn't tell the bride. It sounds bad, but I honestly think he was just freaking the fuck out and needed to be on his own for a few hours. He was back in plenty of time, but a few of his friends had to go out to find him. Once they were married and on their honeymoon, the groom told the bride what had happened, but the rest of us never talked to them about it, and it's pretty obvious it wouldn't be okay to bring up now."

— Jyoti, 25
---
9.
"A long long long time ago, in college, I slept with the groom. It was before my good friend and him got together. And when they started dating, it was a couple years after college, and seeing as I didn't live in the same city as them, I sort of figured it was a non-issue and neither of us mentioned it. But then two years later, they're engaged and she is asking me to be a bridesmaid, which I reallllly didn't expect. It came out of the blue and I kind of wanted to ask her if, like, she wanted me close to her because she knew what had happened between Chris and me. But it never came up, and I felt like I was walking on eggshells throughout the whole bridal/wedding experience — and Chris and I never spoke once."

— Mollie, 27
---
10.
"My best girlfriend turned into a bridezilla, which wasn't a surprise. She has always been pretty spoiled. But she was just a nightmare as a bride, and she had a two year engagement, so it was the never-ending nightmare. We picked the dresses we all loved that were affordable, and she insisted we get roughly the same dress in different fabric for $100 more. This wedding was already costing a fortune, so I put my foot down, and changed the order. I hid it and then didn't tell her until the wedding weekend, and said there was nothing she could do about it. I let her get mad at me instead of the other three girls."

— Trish, 27
---
11.
"I witnessed the bride and groom get into a MONSTER of a fight two days before the wedding. Like, a complete blow out. They were slamming doors and screaming. Afterward, I approached the bride and asked if she needed to talk, and she almost pretended like it didn't happen. Like she completely brushed me off and refused to talk about it. I went behind the bride's back and told her mom about it, which I know Lila would've been so angry about, but I was legitimately super worried and just wanted someone to be aware of the situation."

— — Jess, 26
---
12.
"As the sister of the bride, it was really hard for me to strike the balance between what I thought my sister wanted, and what she actually wanted. Three nights before the wedding, I'd planned this big party with booze and well, raunchy entertainment, and friends. I told her we were just going out for drinks with friends, and she had a nervous breakdown. She kept saying how she couldn't deal with more plans or more people, and was just like losing it, and clearly hadn't slept in about a week. So I canceled the whole event (and had to eat some of money) and never even told her about it. Who knows, maybe she would've liked it, but in the moment, I was just worried she'd hate it and be angry at me. She is always so levelheaded that it was so crazy to see her like that."

— Liana, 29
---
13.
"I gave the bride her something borrowed. But I didn't tell her it was from my marriage that didn't work out…"

— Marie, 29
---
14.
"I spent about four months badmouthing the bride, because all of her choices were frustrating and she was being selfish and costing me a lot of money in the process. Five days before the wedding, she sat me down and told me the other girls had said that 'someone' was dissatisfied and if that was true, I should just say it to her face. So I told her it wasn't me who had been being a bitch behind her back, and gave her the name of the girl who was 'really doing it.' None of the other girls or the bride every figured out what I'd done, and she and I are still really good friends."

— Eliza, 26