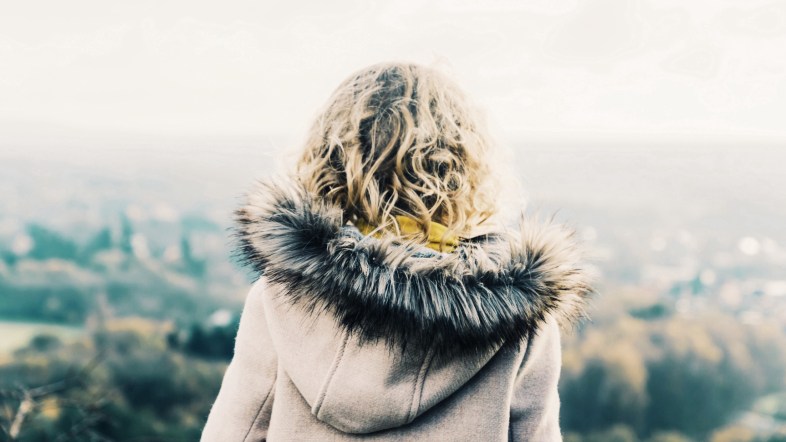 1. Wear sweater dresses. Do you know what a sweater dress is? It's a chic-looking blanket that people compliment you on, while you politely nod and relish the fact that you're so damn toasty.
2. If your legs get really cold in jeans, wear tights under the loosest pair of jeans you have. They'll end up looking just as cute as your best pair of fitted jeans and you will be comfy as hell.
3. If you're wearing boots that aren't waterproof, but you'll be trudging through rain or snow, put your feet in sandwich bags after you put on your socks (right before you slip into your boots).
4. Get one of those knit headbands you were never sure you could pull off. You can buy them for under $10 from a street vendor, it looks nicer than the hat that's always slipping over your eyes, and it keep your ears warm. And most importantly, you can get away with wearing them indoors.
5. If you boil ginger and lemon into hot water it will warm your entire body and cure any cold you have. Boil two cups of water, throw in a full piece of diced ginger, and squeeze half a lemon into the pot. Let it stew for 10 minutes. It's a cure-all.
6. Instead of buying new camis, stock up on fitted, white long-sleeve shirts. Typically you'd wear a fitted cami under your light long-sleeve blouses, or chunky-knit sweaters. But you can achieve the exact same look with a fitted long-sleeve shirt and it'll keep you twice as warm.
7. Learn to make warm at-home cocktails. It's much easier than you think. Irish coffee? Brew coffee and add two shots of whiskey (or one shot of Bailey's and one shot of whiskey). Top with whipped cream. Mulled wine? Pour cheap red wine in a crock pot, add chopped apples and cinnamon sticks. When all use fails, warm up some apple cider on the stove top and add whiskey.
8. Get some (cheap) pocket handwarmers. It doesn't matter that you're not a professional skier or that you haven't (and won't ever) try snowshoeing. Go to Sports Authority and pick up a four-pack to keep in your purse. You'll have no regrets when you use them to warm your hands at the office, or when you tuck one into your shoe.
9. Ask for wool socks as a holiday gift. There is nothing more satisfying than getting home, putting your sweatpants on, and then putting on WOOL SOCKS. It's like a heated hammock for your feet.
10. For everyone who has a cat but doesn't keep winter salt in the house, make good use of your kitty litter. If your driveway is slippery and you're having trouble getting your car out (and freezing in the process), try throwing some kitty litter down near the tires. A-plus traction. It gets you into a heated car that much sooner.
11. You can use your chapstick on your dry hands or cracked skin, instead of just on your lips. Alternately, you can buy a $2 mini-tub of Vaseline and keep it with you at all times — it's the perfect remedy for your dry lips, elbows, nose, and whatever else.
12. CANDLES. Get them. Have them everywhere. If you have multiple candles lit, it really does warm up your space quicker than you think.
13. Always keep soup ingredients in your kitchen. They're non-perishable, so you really have no reason to ever be without soup fixins. Things to have around: chicken broth (for everything), black beans (black bean soup), red beans (chili), and dried lentils (hearty, delicious lentil soups).
14. Cuddle. It's scientifically-proven that stripping off your layers (though it may be counterintuitive) and cuddling against another body will help keep you warm. It's not me saying this. It's SCIENCE.
15. Straighten your hair for warmth. If you're ever freezing while just sitting around the house, this will warm you from your roots to your toes. And then your hair looks nice for work the next day.
16. Meditate. If you're focusing on your breath, you become very aware of your senses and every feeling your body is experiencing. Once you are attuned to feeling the cold on your skin, you can focus your mind and train your body to become warmer. I can only assume this takes years of training, but it's worth trying.
17. Pull the covers over your head. Covering your head (carefully) with a blanket is actually a legitimate warming technique. It's been proven that essentially making a canopy around your head will keep the warmth in. If you're having trouble falling asleep because you're too cold, try burrowing under the blanket completely until your body temperature rises.