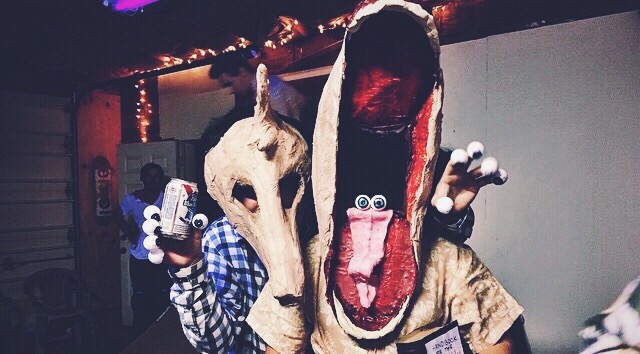 Halloween is widely known as one of the most debaucherous nights of the year. Whether it's the watered down beer at college town bars, the sugar high the kids are on, or whatever the parents are drinking to tune out their sugar high kids, there's generally a wide range of people getting up to no good. So, it only stands to reason that cops are out in full force toward the end of October, monitoring the chaos that ensues. While much of that entails patrolling the streets, and ensuring that drinking and driving don't mix, these stories are a slightly bizarre reminder that cops also like to get their own kicks in on Halloween. I asked five people, ages 22-45, to reveal their most hilarious cop encounter on Halloween, and here are their answers:
1.
"I went to a fairly big party school in a college town, and around Halloween they would always crack down by putting cops near the bars. I still had a fake ID, at the time, and it was one of the ones that was so clearly not me. Regardless, I was dressed up like Madeline (heaven help me) and when I got down to the bars to see that most of the entrances were surrounded by cops, I freaked out. I was immediately stressed, and yet got in line for the bar we were regulars at. I handed my ID to the bouncer, and the cop (standing behind him), peeked at my ID. The cop asked if I was driving, I promised I wasn't, and he turned and walked away. I couldn't believe it. I wanted to thank him, but I figured that'd be overkill." — Rachel, 27

2.
"I'm 45 years old, and last year, I got a noise complaint on Halloween. It was from the neighbors a few houses down, who, ironically, were at least ten years younger than us. Anyway, we had a few friends over (not more than 20 people) and were, apparently, getting a little too loud and rambunctious over punch and the Monster Mash. Two policemen came to our door, and I answered it. They took one look at the red solo cup in my hand and told me they thought this was a frat party. They gave us a ticket (it's their job), but you could tell they were more amused than they were upset." — Rick, 45

3.
"On Halloween, I was in New Jersey visiting friends. I met this girl at a bar, and we hit it off. She invited me home with her, and things started heating up, so she asked if I had a condom. I didn't, and I felt like an idiot. I ran to the 7-11 down the street, and it had just closed— the people were still inside. I started banging on the glass, trying to get their attention, when a cop came up behind me and asked what the matter was. I'd been drinking, but I explained the situation, and the cop offered to drive me down the road to another 7-11 that was 24-hours. He dropped me off, waited 'til I bought condoms, and then drove me back to the girl's house. True story." — Kyle, 24

4.
"You always hear about cops being out on Halloween on DUI patrol, but rarely about the good side of them helping people, and making sure they're staying safe. I was the designated driver on Halloween last year, and was getting into the driver's seat of a car in the middle of a major city, surrounded by drunk, giggling girls. A cop parked across the street, walked over, and asked me flat out whether I had been drinking. I told him the truth, I hadn't, and he verified by making me follow a light with my eyes. When it was clear that I was sober, he apologized, and reached out to shake my hand, and then thanked me for being responsible and keeping my friends safe. It was incredibly kind." — Delaney, 22

5.
"On Halloween night three years ago, I dressed up as a cop. I was walking through a busy part of town, and somehow had enough liquid courage to walk up to a cop monitoring the street and say, 'Hey! We match.' I'm well over 21 so it wasn't a concerning maneuver, but it also wasn't the world's greatest idea. He looked at me and said, 'Your shift starts at midnight.' Whoever said cops don't have a sense of humor was entirely mistaken." — Nina, 30