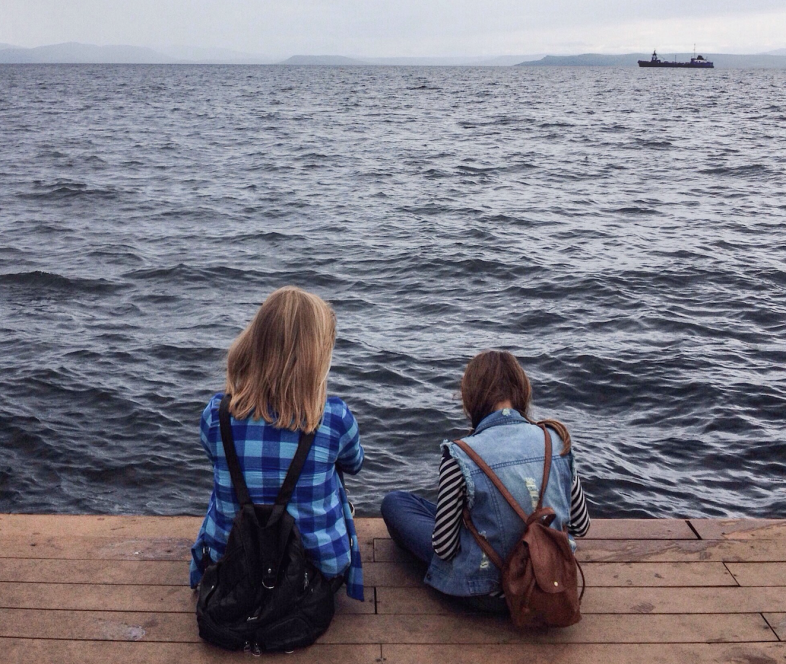 1. If you're one of those people who just doesn't get sarcasm, then it's probably not a great fit.
2. When she compliments you, at the very least, you know she actually means it. She isn't one of those people who just says nice things for the sake of being friendly. She's not fake.
3. She has a general sense of decorum and properness (or is very capable of appearing that way). Unless someone decides to seriously disagree with her, in which case bets are probably off.
4. She'll talk your ear off about how perfect the first snow is because it's honestly one of the most magical times of the year.
5. But then she'll spend the next 8 weeks bitching about the cold, debating moving somewhere warm and ultimately deciding against it because that would be "selling out."
6. Alternately, if she does like the winter there's a 99% chance she's from a huge ski or snowboard family in which case she won't shut up about how excited she is for Killington this year. (Or Okemo, or Sugarbush, or even Tremblant if her family is into crossing the border.)
7. Depending on her area, she's going to have some very specific opinions on foods that you will absolutely be forced to try and love. Things to know: Hot lobster rolls are from CT, cold lobster rolls are from MA, and if you order a cheesesteak the wrong way at Pat's, they'll send you to the back of the line. And just learn what a garbage plate is incase you're trying to woo a girl from Rochester.
8. If you're dating a girl from NH or VT demonstrate an appreciation for Smuttynose or Heady Topper and they'll go from on the fence about you to very interested.
9. She's not going to be forthcoming about feelings, money or family issues. She grew up in the a land of Puritan ancestry (or nearby at least). She can be a little closed off and she doesn't want to share her whole life story on a first date.
10. She knows a surprising amount about the Salem Witch trials, Paul Revere, The Scarlet Letter, Walden Pond or the signing of the Declaration of Independence, depending on what state she's from. It's been pushed on her since grade school because people from the Northeast REALLY like their history.
11. If you're from somewhere outside the Northeast (especially from a very conservative part of the country), be prepared to be impressed by how ~progressive~ her family is. If you're not appreciative of that fact, that's not ideal.
12. If she grew up in the Northeast, she is absolutely 100% convinced that the Northeast is the only acceptable place to raise children.
13. She's not bitchy, she's not being unreasonable. She's opinionated.
14. Her driving skills are something else. Be prepared for her to yell unnecessarily when someone cuts her off, but rationalize it if she's the one cutting them off. Respect this method.
15. If you go back to her hometown and you'll notice that she's be surprisingly enthusiastic about showing you little parts of her town (even if she says it's a boring place). Also, she's probably still shit talking the adjacent town that beat her in soccer 9 years ago because like, who doesn't love a good rivalry?
16. If you try to explain to her that you grew up in a place without seasons and still had a perfectly nice, happy childhood, she straight up won't believe you.
17. There are basic bitch things specific to the Northeast and you should learn to embrace all of them, gift them often and even take part in them. In no particular order: apple pie, pumpkin muffins, fall sweaters, the first snow, spiking hot cider, bonfires in the summer, going down the cape, to the shore, or even to LBI, and snow tubing.
18. She is always genuine. She may not always be the cheeriest individual, but if there's one thing to love about a girl from the Northeast it's that when she's being kind, you know it's real. When she shows she cares about you, you know it's sincere. And if she occasionally gives you her best snark, or attitude, it's because she thinks you can handle it.