Warning: this story contains extremely gruesome subject matter and images. NSFL.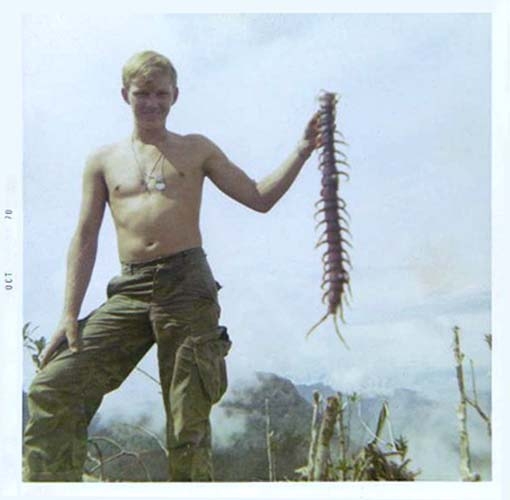 I'm sharing the story because I was forced to sit through it during New Year's Eve dinner and I'm so freaked out and god damn itchy that I need to get it out of my system. I'm sure some of you are going to breeze on by this little tantrum here and go right to the meat of the story because you're thinking, "hey, I've got a strong stomach." Well, go for it.
Boring stuff out of the way: he was drafted, and since he was short and skinny, he was a perfect tunnel rat. Those were the guys who wriggled their way through the ridiculously narrow tunnels the Viet Cong used to transport personnel and weapons, set boobytraps, and all that. And when I say narrow, I mean narrow. Here's a pic.
So, gramps was wriggling around in a tunnel one day and a few bad things happened. First, the two other people with him got killed by a solitary VC while they were standing around the hole. Being a few feet underground and about twenty feet through meant grandpa couldn't see who attacked them or know if anyone survived. He later learned he was the only one left alive, but he assumed the VC attacker would soon start throwing grenades into the tunnel and he'd be done for. After a few minutes with no sign of any incoming attack, grandpa breathed a sigh of relief and starting moving forward again. A little while later, though, it starting pouring rain. The tunnel began to fill with water.
Now, in an unfinished, unsupported tunnel like he was in, a rainstorm usually meant death for a tunnel rat. He'd heard horror stories from the squadmates who'd lost others underground, never to be seen again. He figured he'd be another. But he wasn't going to go out without a fight.
He crawled forward. With him, he carried a small pistol and a Fulton flashlight. Originally, he'd been sent down to ambush some VC soldiers who were thought to be hidden in one of the tunnel's larger chambers. He'd crawl through, surprise them, blow their brains out, and wiggle his way back out. At least, that's how his first three tunnel trips had gone. This one, his fourth, wasn't going so well.
The tunnel narrowed as he crawled. Ahead of him, he heard rushing water. He thought it might mean the main chamber was nearby. He was wrong. The sound was the muddy ground above him sloshing downward, sealing the tunnel ahead. This is where he started to panic. He knew he wasn't particularly deep in the ground, maybe two and a half feet, but if he didn't start clawing upward through the ground really, really fast, he'd be a dead man. So he clawed. His fingernails tore off and his hands got cut up really bad, but he was able to get part of his arm and face out of the mud.
He was unable to move any farther. His lower back was pushed hard into the dirt and the angle had him bent into an elongated "U" shape. His legs were trapped. Above him, a square foot of light shone through where he'd escape if he weren't stuck. He knew if it started to storm again, he'd drown.
But the rain didn't come. Insects did. Ants were first. Luckily, they weren't the big red ones everyone over there was terrified of. The ones with the bite that felt like you got shot. These were tiny black ones, but there were lots of them. He assumed when the tunnel flooded, they were driven from their homes. Now they crawled over his scalp, face, and neck. They didn't bite, but they tickled and itched. Those which found their way onto his lips were licked off and swallowed; he figured he'd be going a while without food.
After a while, the ants lost interest. Flies became a problem, though. To see why, you need to know the position in which he was stuck. The twisted, awkward angle of his body left one arm stretched out in front of him, but his shoulder and upper back were immobile. So, he had a bit of movement in his upper arm, wrist, and hand, but anything below his elbow might as well have been paralyzed. Why is this relevant? Because his armpit was exposed. Not by much; maybe an inch of clearance, but that was more than enough for the flies. And they were very, very attracted to the warm, moist pit.
Over the course of an hour, 20 to 30 fat, brownish-black flies dove into his right armpit. They stayed for a little while, usually no more than six or seven at a time, before they flew away. Of course, while inside, they bit. The pain was sharp and awful, he said. It reminded him of that deep, pinching itch of the horse flies on the beach near where he grew up. And he couldn't stop them from doing anything. He just ground his teeth.
As the sun went down, the flies started to lose interest and flew away. He knew a few stayed nestled inside because he felt them moving against the thick hair of his armpit, but the majority had gone. Now just mosquitos remained to torment him with their endless bites and bottomless gullets. Somehow, he slept.
From the moment the sun came up, new insects visited him. Of all the massive, tropical bugs he'd seen in Vietnam, he was grateful to have so far avoided the giant centipedes he'd heard about. Massive, angry things as long as a man's forearm and as thick as a bottle of beer. One of his more sadistic squadmates hid one in the bunk of another poor bastard. It bit his feet and toes ten times before he could even jerk himself out of the bed. Grandpa hated even the tiny ones that he sometimes found in his basement back home, so the thought of those big ones made his blood run cold. This is what they look like.