Warning: this story contains extremely gruesome subject matter and images. NSFL.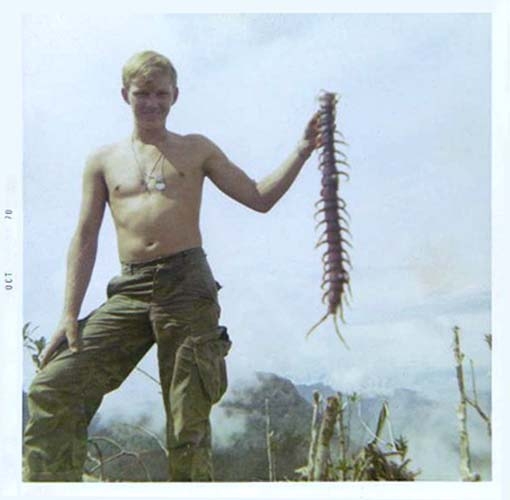 I'm sharing the story because I was forced to sit through it during New Year's Eve dinner and I'm so freaked out and god damn itchy that I need to get it out of my system. I'm sure some of you are going to breeze on by this little tantrum here and go right to the meat of the story because you're thinking, "hey, I've got a strong stomach." Well, go for it.
Boring stuff out of the way: he was drafted, and since he was short and skinny, he was a perfect tunnel rat. Those were the guys who wriggled their way through the ridiculously narrow tunnels the Viet Cong used to transport personnel and weapons, set boobytraps, and all that. And when I say narrow, I mean narrow. Here's a pic.
So, gramps was wriggling around in a tunnel one day and a few bad things happened. First, the two other people with him got killed by a solitary VC while they were standing around the hole. Being a few feet underground and about twenty feet through meant grandpa couldn't see who attacked them or know if anyone survived. He later learned he was the only one left alive, but he assumed the VC attacker would soon start throwing grenades into the tunnel and he'd be done for. After a few minutes with no sign of any incoming attack, grandpa breathed a sigh of relief and starting moving forward again. A little while later, though, it starting pouring rain. The tunnel began to fill with water.