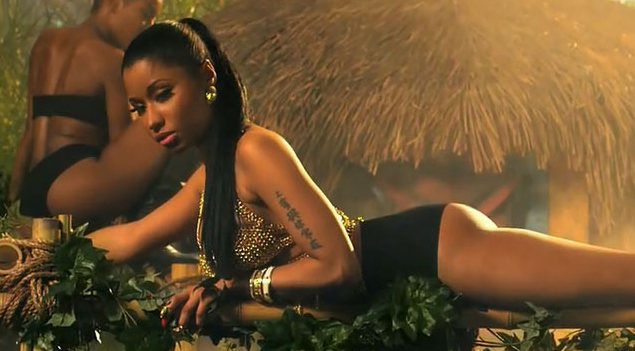 Taking pride in that big ol' booty, one random song at a time. Because sometimes booty got you like this.
1. Bootylicious by Destiny's Child
First and foremost, can we just thank Beyonce, Michelle, and Kelly for all celebrating the booty? Our generation was pretty much raised on big booty lovin' and we can thank our ladies for that.

2. This How We Do by Katy Perry
Because no one can really tell you what to do with your life, your happiness, and your body. Rock what you have girl.

3. I Got It From My Mama by Will.i.am
Your mom deserves a huge shout out. She's the lady that carried you around, sacrificed her body for you to exist…and you know what…she gave you some of your best ASSETS.

4. Back That Azz Up by Juvenile, Mannie Fresh, & Lil Wayne
This song just speaks to you. You can pretty much back up anything with that azz.

5. Anaconda by Nicki Minaj
THAT KWEEN. Nicki should be honored immensely for providing the world with this amazingly progressive video highlighting the pride we should all have in having a big butt.

6. On that note…Baby Got Back by Sir Mix-a-Lot
This is so self-explanatory.

7. Booty by Jennifer Lopez and Iggy Azalea
You gotta big, big booty and are gosh darn proud of it. *shakes butt uncontrollably*

8. Dance (A$$) by Big Sean & Nicki Minaj
Literally the most important part: "wobble-dy wobble-dy wa wobble wobble."

9. Booty Wurk (One Cheek At a Time) by T-Pain feat. Joey Galaxy
Let's just thank Magic Mike for this song. Wurk that "left cheek, right cheek", girl.

10. 6th Gear by Diplo & Alvaro feat. Kstylis
By golly gosh, the music video alone will make you wanna twerk it into 6th gear.

11. Get Low by Lil Jon & the East Side Boyz
A throwback to those times you'd "get low" at the junior high dance before you knew you'd be rockin' a booty one day. It was all so cute and tragic.

12. Ms. New Booty by Bubba Sparxxx feat. Ying Yang Twins & Mr. Collipark
You may not realize you have a butt for a while, and this is the perfect song to celebrate being a proud owner of a new booty.

13. Run the World (Girls) by Beyonce
*Beyonce struts into every room while yelling "BOOTY MAKE THE WORLD GO ROUND"*

14. Bang Bang by Jesse J, Ariana Grande, & Nicki Minaj
Ya'll know that when you walk into the room you make everyone's heart go bang bang!

15. Big Girl (You Are Beautiful) by MIKA
Big, small, short, or tall – girl, you are beautiful.