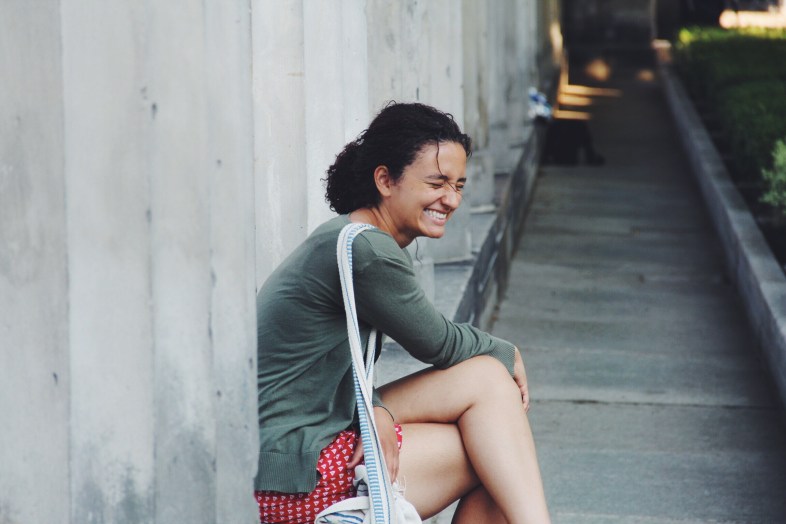 "…. Don't be into trends. Don't make fashion own you, but you decide what you are, what you want to express by the way you dress and the way you live…"
 -Gianni Versace
I remember, as a little girl, watching my mother get dressed for work. She worked at a department store that was classier than JCPenney, and ten times smaller than Sears.
She would do her usual ritual of picking out a conservative yet beautiful suit. I'm not sure what type of fabric it was, but I remember the color like it was yesterday: a sort of rich, crimson-maroon. And her lipstick was the same hue, maybe more brown than I remember. I was obsessed. In my eyes, my mother became this "Supermodel-Mom."
She would match her hosiery, and then move onto what I call "The Curl Ritual." A few minutes later, there were warm, dark-brown ringlets. If she was short on time, there were normally pink foam rollers in her hair beforehand. After a spritz of perfume, she would kiss me goodbye, and out the door she went. My mom – the stylish career woman.
I can proudly say my mother never had a personal shopper at Saks. She never really needed style advice. We never had hundreds or thousands of dollars to shop in upscale boutiques. She just knew how she wanted to look, and knew how to pull it off. And she was a budget-bargain diva.
As a middle-school aged kid, I never cared about how I looked. I wore those hideous, Kardashian-esque Juicy Couture Velour Tracksuits with the cute, shell-toe tennis shoes(preferably Adidas). I got a lot of attention from wearing those tacky tracksuits. And I had no shame; I loved the attention.
But then I started reading Vogue.
I soaked it all in, cover to cover. I saw models that were brown, like me! And some who weren't like me, but I still considered all of them beautiful. I recognized one model who was absolutely stunning. I think her name was Amber Valletta. I had seen her from some cool action movies and I kind of admired her look. She was edgy, conservative, and could rock a high heel better than anyone.
I showed my mother (by this time, she no longer worked in retail) and she smiled. She loved fashion just as much as I did. I remember going to Target with her and my little brother and I saw these fantastic little black satin pumps with the hot pink soles. They said Issac Mizrahi. I remembered him from Vogue! I loved those shoes so much.
I entered a beauty pageant. I had hopes of this experience helping me become more stylish and posh like my mom. Or like, Amber Valletta in Vogue.
I didn't win.
I remember being so disappointed, even after feeling so good about myself. I had gotten a new hairstyle, and started actually matching my clothes together.
And wearing lip gloss.
And nail polish.
I learned how to act proper, and smile like a beauty queen.
I learned how to sleep like a beauty queen.
And it hit me!
I wasn't a beauty queen. I didn't have to be. I could be me, and dress nice. I thought I was beautiful, and it worked.
I believed it.
And I kept on wearing those tracksuits throughout high school. I was so comfortable, so why not?
I think between reading fashion magazines, working at an upscale fashion boutique, running a fashion club (and show), and being noticed, I learned that not every day is going to be a good day. Sometimes life isn't all sunshine and rainbows.
My whole point is to say that you don't have to be "supermodel skinny or thin" to have style or be a "beauty queen." You can be comfortable with you. You are ok, and you are beautiful.
My mother isn't exactly a model, but in my eyes she is beautiful. She had (and still has) style, and a professional presence that has influenced me in so many aspects of my life. And I thank her for raising the bar for me.
We learn who we are through embarrassing, sad, funny, and memorable experiences. And who we are is always enough.