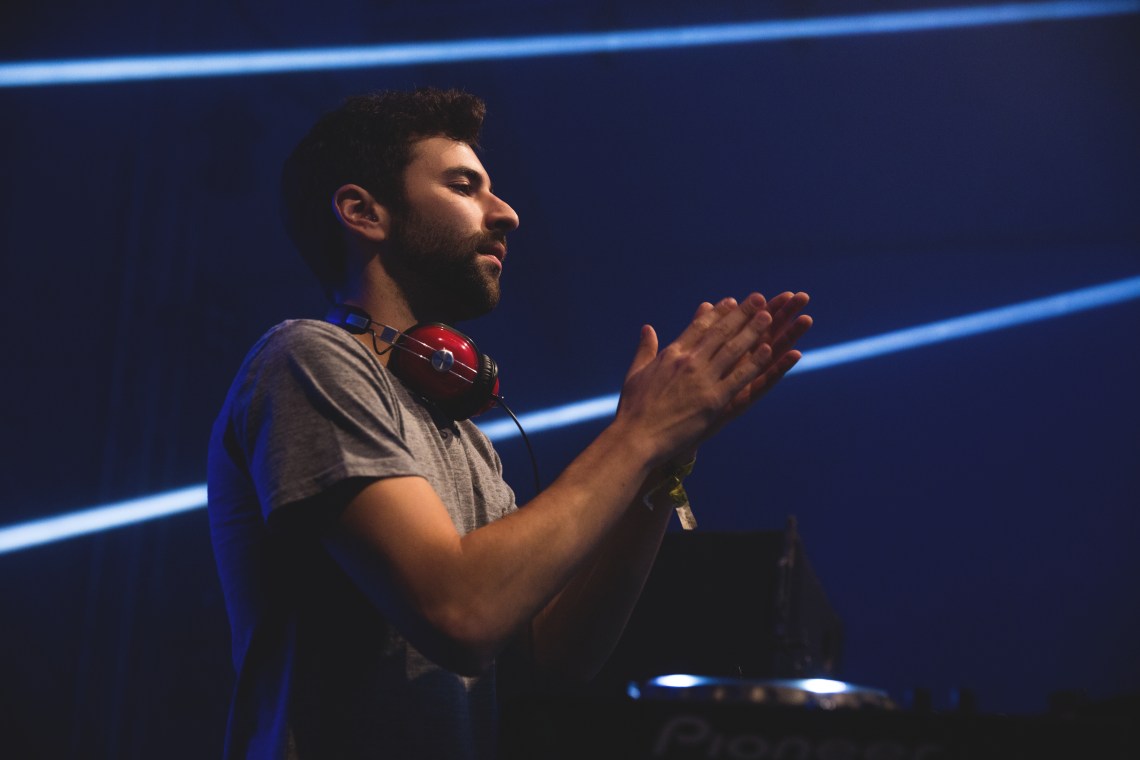 Technology has drastically improved our world. In a matter of seconds, I can send a video clip to my boyfriend across the country, I can Skype with my mother in the Midwest, I can Instagram a memory of my sister and I and remind her how much she's loved. With technology, I'm able to talk with friends and strangers from across the globe, discuss writing, sell products, express thoughts, engage and celebrate both our similarities and differences. I can make loved ones feel as if they are with me during important moments; I can record and relive a blip in time, again and again.
But what happens when technology becomes too much?
What happens when, instead of enjoying an experience we're trying to capture it for the aesthetic? For likes? For views?
What do we miss out on when we're so busy trying to share a moment with the rest of the world, instead of just absorbing it?
Daniel Goldstein, known by his stage name Lane 8, is an Denver-based musician, electronic music producer, and DJ who challenges the use of technology in our highly-influenced world. Since the opening of his tour, This Never Happened, he's put a strict ban on cell phone/camera usage at his shows – making the focus shift from capturing the experience to actually living it.
On his website, Goldstein's message is this:
"We live at a time when distractions from reality are never further away than our fingertips. Our phones offer us unlimited stimulation and temporary comfort. The possibilities of technology are endless, but they also limit the possibility…the possibility to truly experience and submit to the moment."
There's so much truth in that.
One of the things I've love about concerts/clubs is the ability to just release – to pull away from every day life, to find peace, to live in the now. But honestly, sometimes I'm so distracted by my phone/camera that I don't let the music wash over me fully. I want to capture the moment, show it to the world. I want to share the artist/DJ/experience with friends and family who aren't there with me. I want to experience the event later, and all over again. But when I'm so focused on recording I'm not actually experiencing.
And what's the use of attending something live if I'm merely going to watch through a pixelated screen, trying to get the best snapshot to post on social media?
Lane 8's tour pushes back against this cultural norm. He speaks to the experience of music and why the media ban is of utmost importance to him:
"For me, going to a club has always been about letting go of the world around me, like a vacation from the nagging realities of everyday life…The best clubs I have been to, the people were united by a desire to experience electronic music in the purest sense; to get lost in its tension and release," he says.
"No matter what was going on in their lives, it was a place where, for at least a few hours, nothing else mattered by the sheer power music had to bring people joy. And those experiences – held only by those in that room, at that moment – were almost like the reward to submitting to a secret society."
In having a cell phone/photography ban, Lane 8 allows for his fans and concert-goers to have that 'secret society' experience—a place where they are the only ones privy to the music, the moment, the community. For him, it's not just about the artist/DJ performing, but about the shared space—the community.
Dance music has always been a communal experience – but how much of that community is lost when we're all on our screens? All recording videos? All posting Snapchats? Instagrams? Live videos for our Twitter feeds?
"I understand people want to take quick pictures or videos at a show, just so they can remember it later, and I don't feel there's anything inherently wrong with that," Goldstein says, "But I feel we've moved to a new phase where the focus is not on experiencing what is happening in front of you, at all, but on using your (phone) photos and videos as an asset to bolster your social media presence. That's what I object to."
Lane 8 is not the first producer/performer to implement a media ban; from Dave Chappelle, Bob Dylan and Alicia Keys to Jack White, Björk, Savages and the Yeah Yeah Yeahs, artists have noted and enforced this important change. However, inspired by clubs like Berghain in Berlin and Output in NYC, Lane 8 is one of the first in the electronic scene.
Even though this genre is heavily influenced (and ultimately created) by technology, taking a step away from that is actually getting back to the roots of the music experience – community, connection, and release.
'This Never Happened' and Lane 8's media ban are all about mindfulness – being present, being authentic, being here.
And in removing the screens, he gives people a space for dancing, for interacting, for letting go of inhibitions and societal pressures, and for having fun rather than worrying about having the best thing to post.
He sums up his goal perfectly in a letter to fans, "Sometimes the best thing we can do is fully appreciate what is happening in that room, at that moment, with those people around us."
And this, we can only do when our phones are put away, and our hands are joined with those around us—celebrating right here, right now.