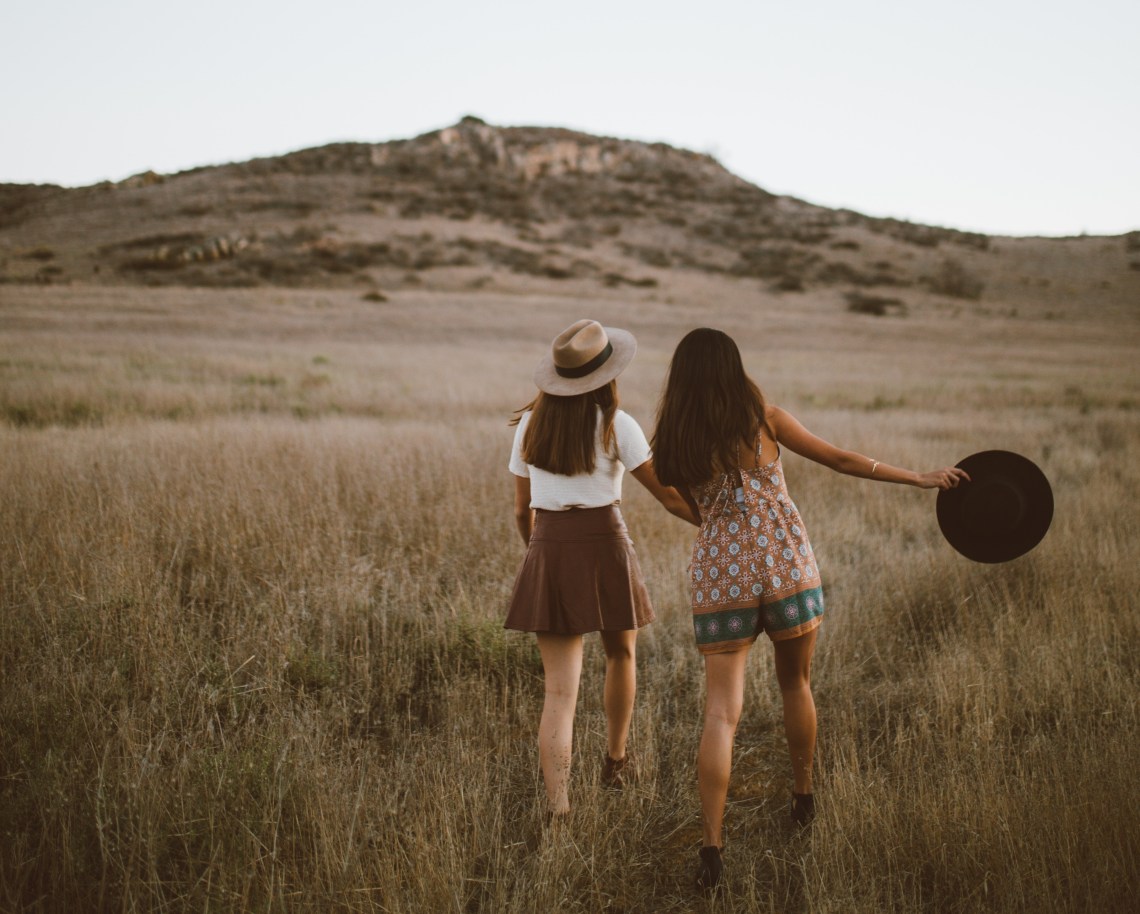 It's almost October; Autumn is in full swing. And let's face it, your summer playlist is way out of style. Here are 18 of the best love songs and lyrics in country music to help you not only FALL in love with this season—the pumpkin carving, the crunchy leaves, the hot chocolates, the apple picking, and the snuggles with your person—but have a perfect playlist to accompany any autumn adventure.
 
1. "The Long Way," Brett Eldredge
"Take me the long way around your town
Were you the queen with the silver crown?
I want the secrets you keep, the shine underneath
Of the diamond I think I just found
Take me the long way around
I'd love to see just where your daddy met your momma
Your hand-me-down '99 Impala
Show me the field you danced in Clover
The harvest in October
When the leaves fall from the sky just like a Sunday drive."
— Listen here.
 
2. "Unapologetically," Kelsea Ballerini
"And I'm unapologetically in love
And I'm so unapologetically in love
No matter where it takes me
Even if it breaks me
I'm unapologetically all in
From the second that I started falling
And it don't even phase me
When they call me crazy
I'm unapologetically in love."
— Listen here.
 
3. "Unforgettable," Thomas Rhett
"It was the 14th of October
And that t-shirt off your shoulder
I was drunk, said I was sober
And you said "yeah, right"
We were talkin' for a minute
Then some guy tried to cut in
You took my hand and we pretended
Like I was your guy
Oh, and I tried to guess your middle name
For thirty minutes bet we played that game
That mango-rita you were drinkin'
And that Coldplay song that you were singin'
And I bet right now you're probably thinkin'
That it's crazy I remember every detail, but I do
From your blue jeans to your shoes
Girl, that night was just like you
Unforgettable."
— Listen here.
 
4. "Like I Loved You," Brett Young
"And you ain't the love song
I can't keep from singing
I gotta be honest
You really believe that's the truth
You never loved me like I loved you."
— Listen here.
 
5. "More Girls Like You," Kip Moore
"So God made girls like you make guys like me
Wanna reach for the brightest star, set it on a ring
Put it on your hand, grab a piece of land
And raise a few
More girls like you."
— Listen here.
 
6. "Hearts Don't Break That Way," Steve Moakler
"Because hearts don't break that way,
they make a thousand little pieces without a number or a name."
— Listen here.
 
7. "Ridin' to the Beat," David Fanning
"I know it's late, what you say
I'll pick you up, I'm on my way
Sky full of stars, full tank
Tonight, two lanes
We don't need no destination
I've got on your favorite station
And we're ridin' to the beat
To the rythm of the street
Got your hands all over me
I'll keep your heartbeat on repeat
Like the radio oh, oh, oh."
— Listen here.
 
 
8. "What Ifs," Kane Brown feat. Lauren Alaina
"What if I was made for you and you were made for me?
What if this is it, what if it's meant to be?
What if I ain't one of them fools just playin' some game?
What if I just pull you close, what if I lean in?
And the stars line up, and it's our last first kiss
What if one of these days, baby, I go and change your name?
What if I loved all these what ifs away?"
— Listen here.
 
9. "Nothin Like Us," Josh Gracin
"There's nothing like that feeling we get
Drink a little red wine
Off of your lips
You're making me crazy
Calling me baby
Nothing like that feel good stuff
And I can't get enough of your love
Yeah, There's nothing like
Nothing like
Nothing like us."
— Listen here.
 
10. "Ring on Every Finger," Locash
"I'll put on a ring on every finger
Just to show that I'm legit
Gonna try my last name on ya girl
Just to see if it fits
If I could baby I would marry you a million times,
Put a ring on every finger
Just to show the whole world that you are mine."
— Listen here.
 
11. "Don't Waste the Night," Levi Hummon
"No need for dreamin'
we can make our dreams come true.
Let's get lost in a moment, I want to get lost in you."
— Listen here.
 
12. "Greatest Love Story," LANCO
"And I said
I wanna be your forever
So baby will you be my wife
Now that we know a little better
We could have a real nice life
'Cause I'm what you wanted and your what I need
So let's meet in between
We're gonna be the greatest love story this town has ever seen."
— Listen here.
 
13. "All I Ever Do," Bowen
"Everybody want to be this, wanna be that
Wanna go here, wanna go there
Me I don't care if I ever go anywhere
But right here, white sheets
Sun in your hair, bare feet
I never get tired of waking up next to you
And it's alright with me if that's all I ever do."
— Listen here.
 
14. "For Her," Chris Lane
"She make you wanna fight for her
She make you wanna die for her, yeah
She make you wanna fall
Make you want it all, make you wanna call
She make you wanna die for her
The way that she moves is like a soft glow
Flicker of a candle
She turns my cool into disaster
Heart is pumping faster
She's head to toe, body and soul
So beautiful, she don't even know."
— Listen here.
 
15. "Like You That Way," Canaan Smith
"Ain't nothin' 'bout you, baby, I wanna change
Girl, you're Miranda Lambert crazy and I like you that way
You keep the sunshine in your pocket and the rain on a chain
Yeah, you're a little complicated, but I like you that way."
— Listen here.
 
16. "Gypsy Soul," Zach DuBois
"She don't stick around, can't slow her down
She's a gypsy soul."
— Listen here.
 
17. "Hooked," Dylan Scott
"I'm hooked on kissing you, getting
Getting you turned on
Buzzing and loving on you
All night long
Like a hit song on the radio
You already know the way it goes
All it took was a look and
I was hooked."
— Listen here.
 
18. "Color," Carly Pearce
"You be the lines, I'll be the color
Just like the day and night need each other
Life ain't as great without the other
You be the lines, I'll be the color, oh
I'll be the color, oh
Well, you're the rock, you're the steady
You need someone to push you in before you're ready
Well, I'm the rush, I'm the crazy
But I'll be circling the moon without you, baby."
— Listen here.