1. When Alessia Cara took off her hair and makeup mid-performance.
There is nothing more powerful than someone being truly vulnerable—showing their messy hair, their un-madeup skin, their scars for the world to see. Alessia Cara did exactly that last night, embodying the message of her song, 'Scars to Your Beautiful.'
Stripping out of her fancy dress to reveal a simple, plain black outfit, she stood as a role model with an important message for all, especially young women. It doesn't matter what the world says you should be, how you should act, or the way you should look. You may feel like you don't measure up or don't belong, but that's absolutely not true. You are beautiful just the way you are.
2. When P!nk gave a moving speech about self-love and her daughter that connected to all of us.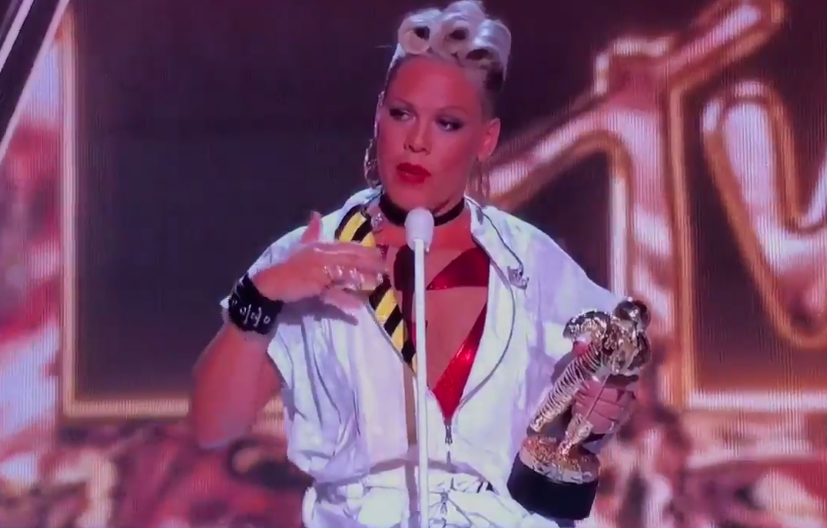 Upon accepting the Vanguard award last night, P!nk shared a powerful moment she had with her daughter. It was a story about her daughter's insecurity of looking 'ugly' and 'like a boy,' to which P!nk responded with this powerful message for not only her six-year-old daughter and every artist in the room, but for all of us:
"When people make fun of me, that's what they use. They say I look like a boy or I'm too masculine or I have too many opinions, my body is too strong.'

"And I said to her [my daughter], 'Do you see me growing my hair?' She said, 'No, Mama.' I said, 'Do you see me changing my body?' 'No, Mama.' 'Do you see me changing the way I present myself to the world?' 'No, Mama.' 'Do you see me selling out arenas all over the world?' 'Yes, Mama.' 'OK! So, baby girl.

We don't change. We take the gravel and the shell and we make a pearl. And we help other people to change so they can see more kinds of beauty.'

"And to all the artists here, I'm so inspired by all of you. Thank you for being your true selves and for lighting the way for us. I'm so inspired by you guys. There's so much rad sh*t happening in music. And keep doing it. keep shining for the rest of us to see."
3. When Heather Heyer's mother, Susan Bro, shared some personal thoughts on fighting together.
Susan Bro, mother of Heather Heyer, who was killed only sixteen days ago at the white supremacist rally in Charlottesville, shared a personal word before introducing the 'Best Fight Against The System' award.
She talked about the foundation, created in Heather's honor and shared this simple truth about her daughter's fight, reminding us all the importance of standing together: "I want people to know that Heather never marched alone, she was always joined by people from every race and every background."
4. When Jared Leto gave a touching tribute to Chester Bennington that filled all of our hearts with hope.
In a beautiful speech, Jared Leto honored Chester Bennington and Chris Cornell, who both passed from suicide. He said this powerful closing line, reminding us that there is hope just beyond our most painful moments:
"If there is anyone out there who is watching this tonight who feels like there is no hope, hear me now: you are not alone. There is always a way forward. Reach out, share your thoughts, do not give up, and I promise you this: the absolute biggest breakthroughs in life are just beyond the darkest days."
5. When Kesha stood with grace and eloquence, echoing the powerful message that no matter what darkness we face, we can make it through.
As an introduction to Logic's, "1-800-273-8255," featuring Khalid and Alessia Cara, Kesha shared this powerfully emotional truth that rings true for each and every one of us:
"The truth is piercing and the truth is what matters. And the truth is that none of us is alone.

It takes great courage to show the vulnerable side of being human, and we all have that vulnerable side. Whatever you are going through, however dark it may seem, there is an undeniable truth and strength in the fact that you are not alone."
6. When suicide survivors joined Logic onstage for his emotional performance of '1-800-273-8255.'
https://www.youtube.com/watch?v=BLe1dddgZrg
This song and its newly released video have brought the world to tears. '1-800-273-8255,' titled after the National Suicide Prevention Lifeline, faces issues of mental illness, depression, and suicide head on. Logic's performance at the VMA's not only was not only moving and beautiful, but featured survivors wearing white t-shirts with this simple message printed on the back: 'You are not alone.'
7. When Logic gave his incredibly powerful, post-performance message on peace, love, positivity, and equality for all.
Following his incredible performance of '1-800-273-8255,' Logic, joined on stage by Khalid, Alessia Cara, and suicide survivors, gave a speech about coming together, talking about these difficult and painful issues, and fighting against inequality.
"I don't give a damn if you're black, white or any color in between. I don't care if you're Christian, you're Muslim, you're gay, you're straight — I'm gonna fight for your equality because I believe that we are all born equal, but we are not treated equal and that is why we must fight.

We must fight for the equality of every man, woman and child regardless of race, religion, color, creed and sexual orientation."
This year's VMAs did not disappoint. From moving messages to tear-jerking performances, last night we were reminded that there is incredible power and beauty in our connected humanness. No matter what we're facing or going through, we must remember that we are never alone.