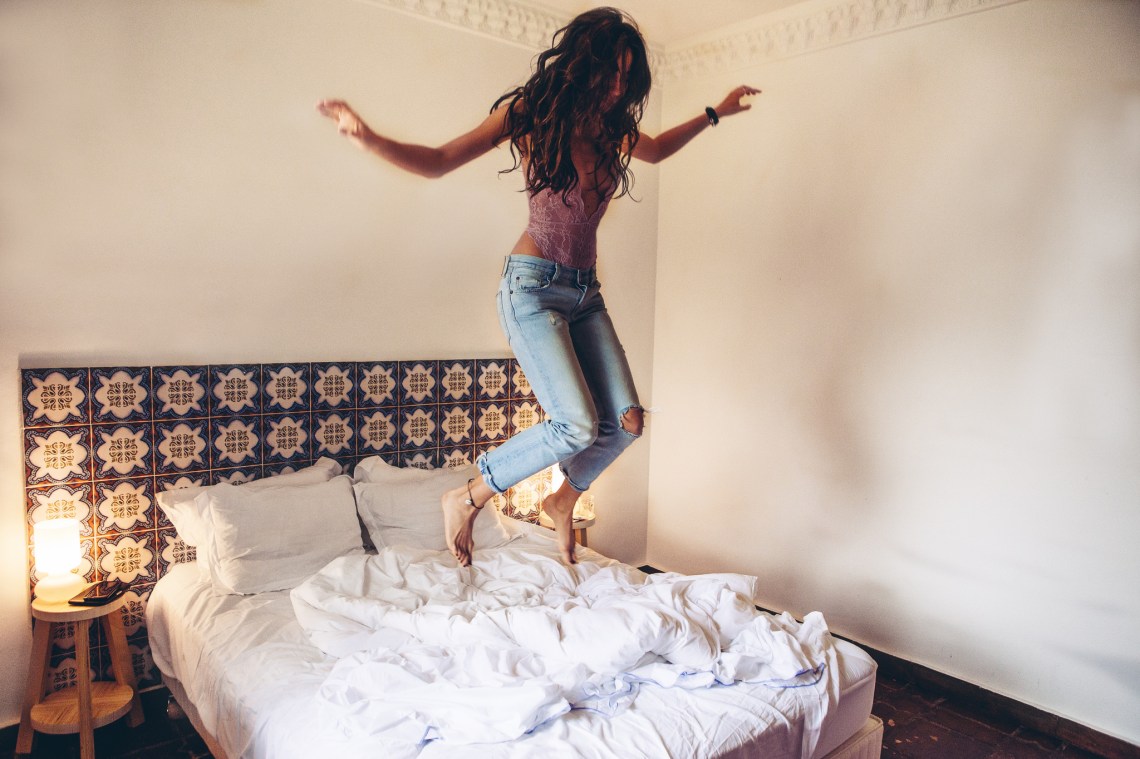 1. Jumpstart your career.
Maybe you know what you're passionate about. Maybe you're still floundering around, taking little side jobs and trying to figure it out. Maybe you're in a full-time position, but completely hate it. Maybe you just recently discovered what it is you want to do for the rest of your life.
Whatever your story is, now's your chance to dive in. To quit what you're currently doing and start pursuing what you love, to put your whole self into your current position, to explore part-time gigs until you find what fits, to take on a side hustle while you decide what's really right for you.
As the rest of the world is getting engaged, tying the knot, planning for cribs and diapers and tiny toddlers running around—take this time to get to know you and chase the life you want.
2. Take yourself on dates.
Be selfish about where you want to eat and go there. Eat alone. Learn what foods you love and what foods you can't stand. Talk to strangers. Try new menu items. Order takeout and veg out on the couch. Wake up early and get coffee before the sun rises. Spend your time freely and selfishly; you don't have to be accountable for anyone but yourself.
3. Plan a girls/guys trip.
You're not married. You aren't preparing for a honeymoon or saving up for a couple's retreat or family vacation. But that doesn't mean you can't have a little fun! Gather your single friends (or your married friends, too!) and start planning a trip. Maybe Vegas for the weekend with the girls. Maybe a golf weekend with the college buddies. It doesn't have to be expensive, crazy, or extravagant—just good time with good people, doing fun things you won't always have the time or luxury to do once you're a part of a family and have to keep your finances in check.
4. Go sky-diving.
Or ride roller coasters. Or skinny jip. Or go bungee jumping. Do whatever scares the hell out of you, whatever you've been dying to do, whatever you haven't done in forever. You don't have a family to think about or expensive bills to pay. You don't need to think about others before doing what you want. You don't have to feel guilty spending money on something silly and extravagant. This is your life—do what you want!
5. Travel.
Just so you know, you don't need to be rich and famous to travel. First of all, there are so many unexplored nooks in your hometown, home city, home state, home country before you even think of booking an expensive airline ticket.
Start by looking up sight-seeing, hiking, locally owned restaurants, quaint coffee shops in your area then make a plan of seeing at least one new place per week. Want to save some cash but get out of town? Plan a road trip with some good friends. Want to fly somewhere new? Search airline websites for the cheapest tickets and go wherever the money makes the most sense. Share rooms with people. Stay in hostels. Sell some of your belongings. Find ways to be savvy and pinch pennies. Just because you're not making the big bucks doesn't mean you have to restrict your adventures. Just be smart! And enjoy your unmarried, kid-free life while you can.
6. Start a blog.
Whatever you're passionate about—food, work, business, education, healthy eating, literature, writing, sports, etc.—you can definitely start a blog for any of those things. Challenge yourself to write, to take photos, to talk openly about your life and experiences. Even if no one is reading, even if you're blog doesn't make it 'big', even if you just write for yourself, blogging is a great way to brush up on your English skills, to keep yourself busy, to share what you're up to, and to connect other people that feel passionate about the same things as you.
7. Take a random class.
Cooking. Yoga. Sewing. Scrapbooking. Mixed Martial Arts. Scuba diving. Snowboarding. Painting. Honestly, the opportunities are endless and you're in a perfect spot in your life to try new things, explore different passions, and not feel obligated, nor guilty about spending money.
8. Go to a concert.
And head bang, jump around, dance until your knees ache because you're happy and single and don't yet have to be a grownup 24/7 just yet.
9. Redecorate your room/home.
You're not married. You don't have to have matching furniture, or wall paintings that your wife likes, or a 'man hole' in the downstairs bedroom for your husband. Who cares if your curtains are bright yellow and your walls are green? Who cares if you picked up a set of sofa chairs for $10 each on Craigslist? Who cares if you have a stupid poster on your wall from college? Decorate your room/home in the way you like. Buy furniture that fits you and no one else. Be girly. Be manly. Be a mix of both. Be whatever the hell you want—it's your living space and no-one else's.
10. Try out for musical, play, band, sports team.
And see what happens. If you make it, add it to your schedule. It'll give you purpose, excitement, and a chance to do something you probably haven't done in a while. If you don't, oh well, it was a good experience either way.
11. Save your money.
You're not obligated to share all the bills with a husband/wife. You don't have to put your savings towards your kids' future college funds. You don't need to be worrying about future expenses. You can just save your money for you.
12. Spend your money.
This is the time to be selfish! Put your money towards that new car, the outfit you've been dying to buy, the over-the-top weekend trip. You don't need to be money conscious for the sake of a significant other or child—this is your hard-earned cash and you can do with it as you please.
13. Kick your own butt at the gym.
Join a new exercise facility. Take a workout class. Get a personal trainer. Hike. Run. Push yourself. When you're married, you have less time and money to spend on things like a personal trainer or fancy workout class. And once you have kids, more of your time will be spent running them around to practices and games. Do this for you while you can.
14. Complete a passion project.
Maybe it's those DIY-Pinterest frames or building a table from scratch. Maybe it's painting that mural you've wanted to, or opening a little café down the street. Whatever you've been wanting to do, but haven't had the time—stop making excuses. You're not married, and you don't have a family yet. Now is the time to put all your time and energy towards your passions and actually create those dreams you've been keeping in your head.
15. Go on a bunch of dates.
Meet people. Go on dates. Try new places. Eat new foods. Figure out what kind of person you're into and what you really value in a relationship. Learn what things you can't tolerate and what makes you giddy with excitement. Talk to people. Open up. Love wildly, but don't freak if you haven't found your person yet—these things don't happen overnight! In the meantime, enjoy your dating life and enjoy the time with yourself, too.
16. Work your a$$ off.
Go into work early. Stay late. Get those overtime hours. Push yourself to finish more projects, to do extra, to advance yourself in your position or personally. You don't need to come home early to make dinner and spend time with family. You're not obligated to put others before yourself right now. Be slightly selfish, but mostly passionate. Work your a$$ off for the career you've wanted, the position you've rightfully earned, and the life you've been dreaming of.
17. Volunteer.
Serve meals to the homeless, walk dogs, donate your clothes to Goodwill or help pick up trash at the park. You've always wanted to give back to your community—now put your best foot forward to helping others while you have the time to.
18. Kiss strangers.
I don't mean be crazy and weird, just don't feel like you're stuck in your singleness forever. You're not married—you're not obligated to be loyal to one person. You can go out and meet people, dance and share drinks, occasionally lock lips with someone you just met and see where it leads. Enjoy your freedom and happiness, and who knows? Maybe you'll find the one sooner than you thought.
19. Be extremely busy.
Fill your schedule to the brim. Run from one thing to another and feel awesome about it, because why not? You don't have to be accountable for anyone else's schedule right now but your own. If you like being busy and having a ton of stuff to do—by all means, do just that.
20. Be lazy.
Binge-eat Chinese in front of the TV in fuzzy socks and baggy sweats all night if you'd like. No one's stopping (or judging) you!
21. Be on the move.
Pack your bags and move across the country. Put your stuff in storage and travel. Visit friends and family all around the country. Take a job that requires travel during the week. Go on a mission trip. Study abroad. You don't have a settled life, stuck in one place. Celebrate this freedom while you can.

Marisa Donnelly is a poet and author of the book, Somewhere on a Highway, available here.