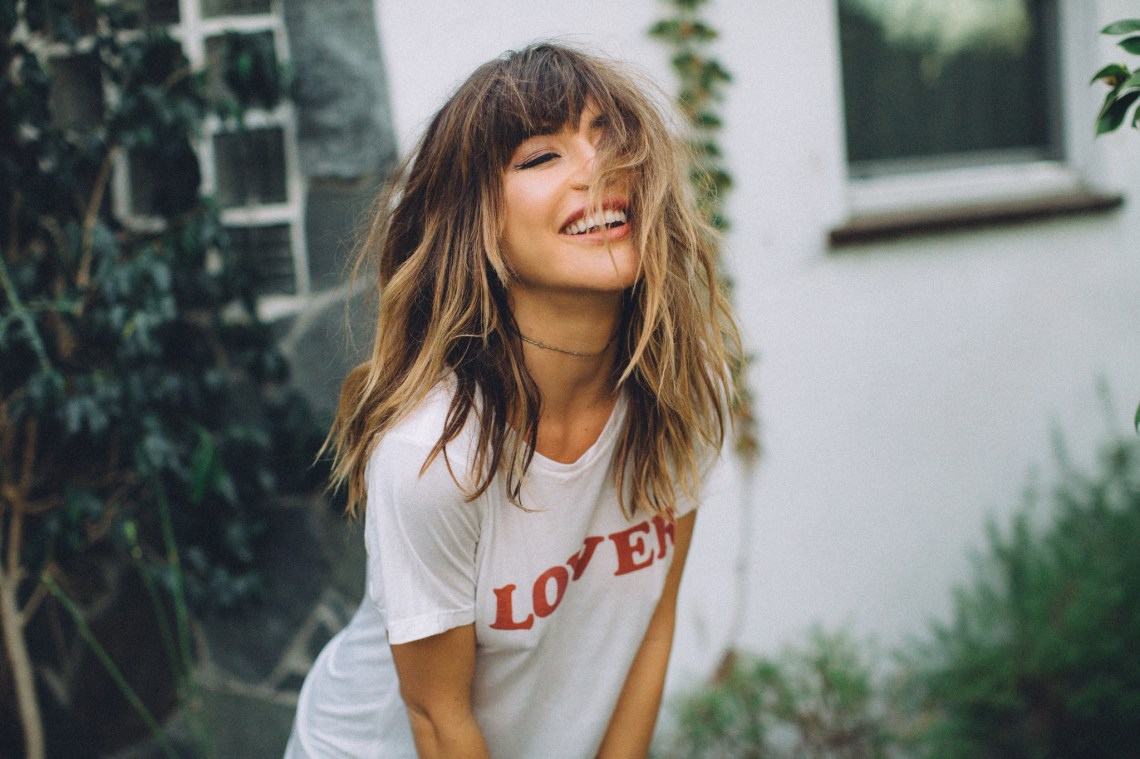 I want you to know that it's okay to be happy. That after all the bullsh*t you've been through, you can open your eyes, stretch across your bed, and let the sun shine through the curtains and onto your smiling face. I want you to know that the first thought that flits through your mind can be a positive one, a thankful one, and you can start your day by feeling uplifted, rather than burdened.
I want you to know that the mistakes of the past are behind you, that the heartbreak you have faced is now a distant ache, that the fear you've held in your chest has been exhaled with your last breath. You don't have to live your life looking back in the rearview; you don't have to be guarded and tied down by every pain from the past.
I want you to know that you don't have to be a shell of the person you once were; you can grow, and open, and believe in goodness again.
We live in a world that is continually changing, continually growing, and continually pushing for better. But in the rush of all of this, we sometimes focus on the negative. We look to what is wrong in hopes of making it right, but in this process we focus so much on the bad, on the not good enough, on the parts that have fallen short that we don't always see what has already been accomplished, or what has always been good.
We notice the ways we are failing as a nation, as a continent, as a globe, as humans. We see all the people who have wrongly hurt us. We see what we haven't yet achieved, what still needs work, what parts are still bruised when you press them.
But what we fail to notice is where we've come from, what we've worked through, who we are. We forget to celebrate all our little victories, our goodness.
We forget to be happy.
But I want you to know that it's okay to be happy. It's okay to smile like a fool when something makes your day. It's okay to laugh at silly jokes or exchange a wink with a stranger. It's okay to celebrate your accomplishments. It's okay to be proud of yourself, of others, of the path that you've walked. It's okay to fall in love again, and to believe in that four-letter word with every part of your being.
It's okay to be happy, even in your imperfection and failure because that's what makes you human. And being human is messy and beautiful.
It's okay to let go of what has been hurting you, to pray and let your god take care of all that you can't control. It's okay to forgive people that have hurt you. It's okay to quit letting sadness start your morning on the wrong foot.
Happiness isn't always easy. And for some of us, it's not always a choice. But you can choose to let the light in when darkness has been all you've known for too long. You can choose to spread a smile across your lips until your body starts to believe it. You can choose to turn your face to the sun, to leave the past behind, to start anew.
There will always be pain in the world, but you choosing to smile doesn't mean you don't care. It doesn't mean you aren't listening. It means that even in the overwhelming suffering, you are choosing to let light in, to let love in. You are choosing to help others see goodness. You are choosing to be that goodness.
I want you to know that happiness is okay, even when the world is aching. Because what the world desperately needs is positivity, and it starts with a smile.
So please, don't be afraid to sing that song at the top of your lungs, to dance your heart out, to jump in every rain puddle, to laugh wildly, to kiss the ones you love, to smile. Please don't be afraid to be happy because you deserve to be. And because happiness is the only thing that will pull us through.