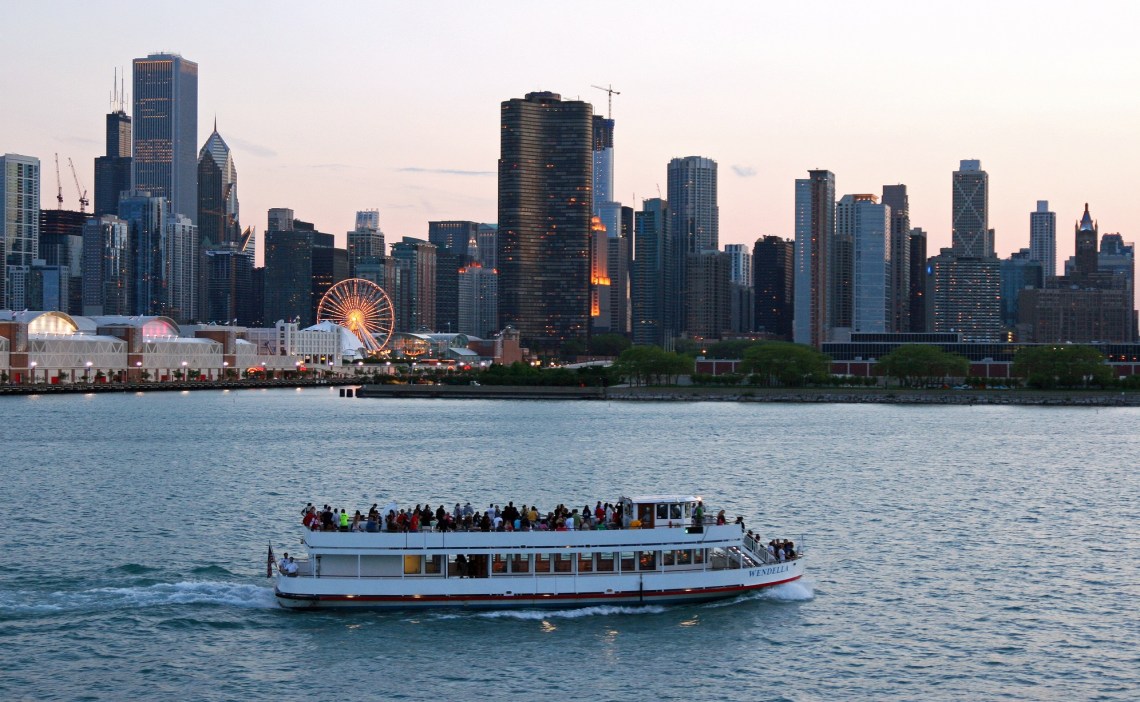 1. BEACHES.
Chicago beaches are freaking beautiful. The sand makes it feel like you're by an ocean, and there's always something going on, from sand volleyball tournaments to live radio station broadcasts to art shows to concerts to workout classes to jet ski rentals (and more, always more). A few of the most popular beaches are: Oakwood Beach (South Side) which is the best place for concerts and looking at art. Montrose, which has an awesome, fenced-in dog area for playing with your pooch. North Ave (Lincoln Park) one of the most popular, with an ocean-liner themed bar and grill, Castaways. And Oak Street, with the best skyline view.
No matter which beach or what area you're in, you're guaranteed to have an amazing time swimming, running, playing outdoor sports, relaxing, eating, drinking, and soaking up the sun.
2. The glorious weather.
The Windy City (which, by the way, wasn't named because of the wind) has great weather. You have the almost-tropical lake breezes combined with the Midwest heat—it's not too hot, not too balmy, and perfect for swimming, biking, laying in the sun, or doing pretty much anything you're into. The weather is nice, but varies too, so you won't always have the high humidity or blazing sun. You'll have some rainy days, some cool mornings, and definitely some comfortable summer nights, which makes for endless outdoor and indoor activities.
3. Hello….DEEP DISH. (And any other food you've dreamed about.)
Chicago is known for its incredible food selection. From the famous deep dish pizza to numerous acclaimed Greek and Italian restaurants to stands that sell the best Chicago style hot dogs, this city has anything and everything you'd like to eat. Everywhere you look there are coffee shops, delis, fresh markets, and fast food. Plus, the city puts on farmers markets, Taste of Chicago and other amazing venues that sell some of the best food in the entire world. Not kidding.
4. Rooftop bars.
There's nothing like enjoying a few drinks with a view. Chicago is known for its rooftop bars—GreenRiver, Cindy's, Streeterville Social, or Drumbar, just to name a few—which offer beautiful deck lounges, fire pits, and of course, great Chicago food. Laughing, dancing, and drinking with friends just reached a whole new level. (But actually.)
5. Music festivals and street fests.
If you're into festivals (or even if you're not), there's a festival for everyone. With every genre from rock to electronic, indie to heavy metal—Chicago has it all. There's Mamby on the Beach, an outdoor celebration literally on the sandy shore of Oakwood Beach. LakeShake, a well-known, newer country festival. Chicago Blues Festival (blues, duh.) Spring Awakening and North Coast, two of the biggest EDM festivals, and Lollapalooza, probably the most famous, eclectic festival of the summer.
There's something for everyone, and with smaller, local street fests you'll be sure to enjoy the amazing weather, great music, great friends, and great food.
5. Duh, the views.
Chicago has an incredible history, and there are countless tours and buildings to explore. There's the Willis Tower formerly, (and always recognized as) the Sears Tower with the Skydeck, an outdoor walking area and amazing skyline view. There's also the John Hancock, where you can lounge and enjoy a drink while surveying the city in the Signature Room, as well as countless other buildings to learn about the city's rich history and architecture.
6. The most amazing tours ever.
Take a helicopter tour of the city and see the lights and streets from above. Or you can take a boat tour to see buildings from the land view and learn some lesser-known facts about Chicago's past, culture, and life. So many options!
7. Can't forget Navy Pier.
One of the bigger-known areas of Chicago, Navy Pier has a 15-foot Ferris wheel, shops, The Shakespeare Theatre, IMAX theatre, amusement park rides, cruises, tours, food, and fireworks at night. It's a fun area to hangout, shop, eat, and see another beautiful view of the city.
8. Millennium Park and museums.
Millennium Park is the home of the Bean (you know, what you see in almost every Chicago photo—that giant, reflective, silver bean). If you're in the city in summer, you have to check it out, plus wade in the little pools, take pictures of the cool, abstract art, and just walk around.
Chicago has so many parks with great views, photo-ops, and places to relax and enjoy the day. If you're into museums, the city also has a ton—The Field Museum, Museum Of Science and Industry, The Art Institute, and Shedd Aquarium (the largest indoor aquarium in the world, by the way), etc. You could spend days in each of these, just soaking everything in.
9. Movies in the park.
You can always catch an outdoor movie somewhere in the city. Join hundreds with blankets, comfy chairs, pillows, and of course, snacks, somewhere in a park.
10. Segway tours.
I mean, how cool are Segways?! (AKA motorized scooters that you can take around the city). Chicago offers fun Segway tours or you can rent one for the day and explore on your own.
11. Divvy bikes!
Exercise more of your thing? You can rent a bike in the city for suuuper cheap. I'm talking $10 a day cheap. There are bike racks all over the city, too, so you can bike to your destination and leave the bike there. Then pick it up from wherever you are next—super convenient, and an easy way to get around while getting some exercise.
12. Baseball games.
There's the endless rivalry between the Cubs and White Sox, which means intense home games. Plus, having two Chicago teams means double the action. Check the schedule for both teams—there's almost always a game to catch.
13. Magnificent Mile pub crawl. (And other boozy adventures).
Pub crawls are so much fun and in Chicago there are plenty—everything from themed, costumed, historical, contemporary, etc. This one specifically, Mag. Mile, gives you a taste of prohibition, jazz, music, and of course, BEER.
14. The FREE Lincoln Park Zoo.
Because who doesn't love animals? Especially animals that you can view for free! Lincoln Park Zoo sits right by North Ave Beach, plus it has plenty of great food and drink options. What could be better?
It's time to add a Chicago trip to your summer bucket list!