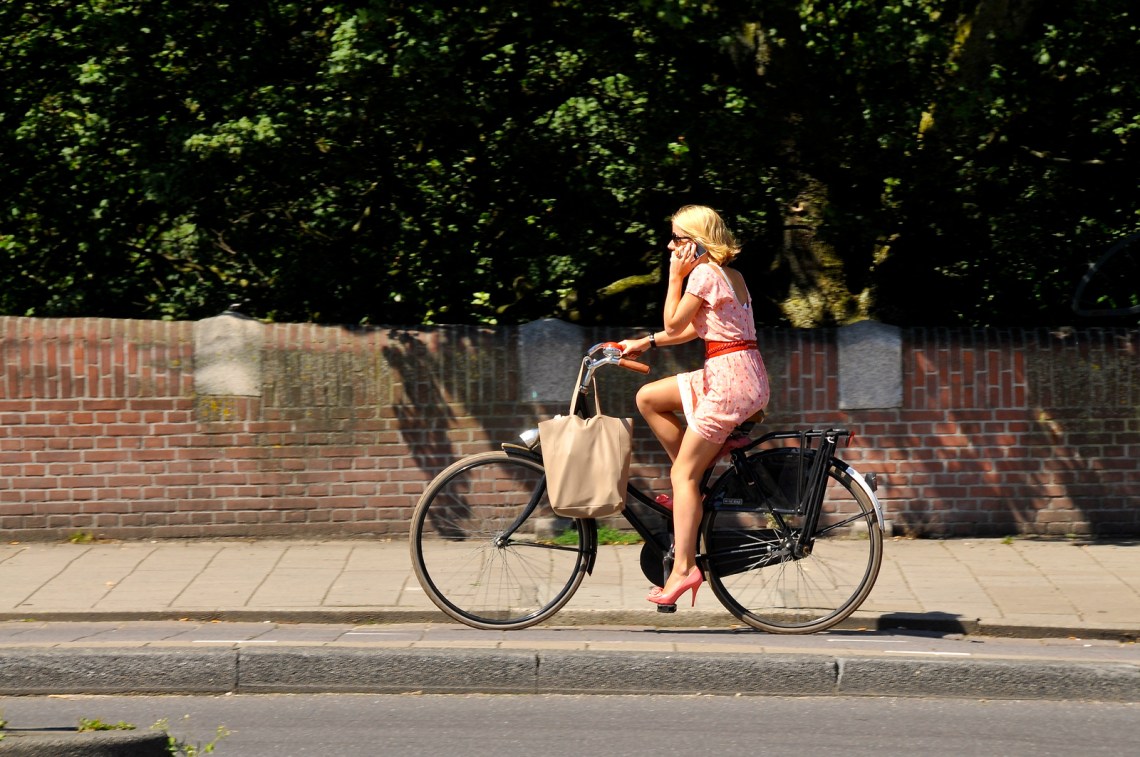 There they are. The black and beige pair with the tiny hole at the front for your perfectly pedicured toenails. The zipper on the side to hold your foot at a perfect angle. The stiletto to give your calf that slender, yet muscular bulge.
These are the best-of-the-best, my ultimate favorite, bought-at-a-bargain price, super steal, I-look-hot heels. And even if they pinch the sides of my feet, even if they rub against my pinky toe, even if I might get a tiny blister on the side heel—they are worth every minute.
Why, as women, do we love heels so much? Because with a simple pair we are transformed. We're not just women. Suddenly we're bada$$es with a purpose. We're strong. We're classy. We're sophisticated. And we kick butt.
So here it is. Confessions of an avid high-heel wearer:
1. You can plan an entire outfit around the right high-heeled shoes.
Yep, I'll be honest. There's a closet full of dresses and skirts, but I can't freaking decide. I'll keep pulling things off the hanger and holding them up to my chin, feeling blah, then getting annoyed that I have to re-hang them and start the struggle all over again.
Then I turn to the shoes. What goes on your feet can make or break your outfit. And honestly, there's nothing better than slipping into a fabulous pair of heels. So when I'm feeling stuck, I'll grab a pair and work my wardrobe around my feet. Easy peasy.
2. There's that one go-to pair you can always rely on for a confidence boost.
We all have those ride-or-die heels. Mine's the super tall, super black pair with the open toe and the ankle strap. Whenever I put them on, I feel like a gladiator or something. Like a queen who could overthrow the world with the kick of her foot. So when I need a confidence boost, you better believe those babies are on my feet.
3. High heels are a great way to weed out guys who are just too short.
Ahh, the sad truth about women who love heels. If your man's too short to stand next to you in your three-to five-inch lifts, there's a chance it might not work out. I don't know about you, but I have to date a man who's at least a few inches taller than I am, even in my tallest stilettos. There's something about reaching down to kiss a guy that just doesn't work for me. On the other hand, there's something incredibly sexy about my man bending down to kiss me.
4. A cute pair that's two sizes too small will encourage you to push your physical limits.
There are certain sacrifices to be made when you are an avid heel-wearing woman. That means beauty over pain on occasion (okay, maybe even a good amount of the time).
I have a shiny pair of black low-heels with a button strap that crosses over the front like a childhood Mary Jane. They're adorable. And I've worn them since the eighth grade. I'm not kidding. They're two sizes too small, but my foot can squeeze into them, with just a little pressure on the pinky and big toe. Reasonable, right?
I keep them around because they're just so dang cute! And sometimes when you find a good pair of heels, you just keep them until they self-destruct.
5. You can count on 'boyfriend heels' to bring you closer to your partner.
Boyfriend heels are the pair you can't really walk in, but they look too cute not to wear . So you grab your significant other's arm, and he guides your boss walk. (Yes, you can still be a kick butt woman with a man on your arm). It's an intimate thing, really. He'll be your partner in crime as you both conquer your evening out.
6. There's literally a pair for every occasion.
My closet contains the open-toe heels, the extra high heels, the teacher-heels, the conservative heels, the casual heels, the edgy heels, the fancy-schmancy heels, and the wear-this-in-any-weather-heels.
7. And then there's the 'no-snow' pair you get to anticipate wearing.
The no-snow heels are the ones you have to worry about in the winter months. These are the ones with no-grip whatsoever. The heels that are about looks more than durability. No matter how perfectly they match with your tights and cocktail dress, do not—I repeat, do not—try to wear them out when Mother Nature isn't on your side. It's much better to wear the less-than-great heels than be a flopping fish on the ice. Trust me, I learned that the hard way.