4/5 Stars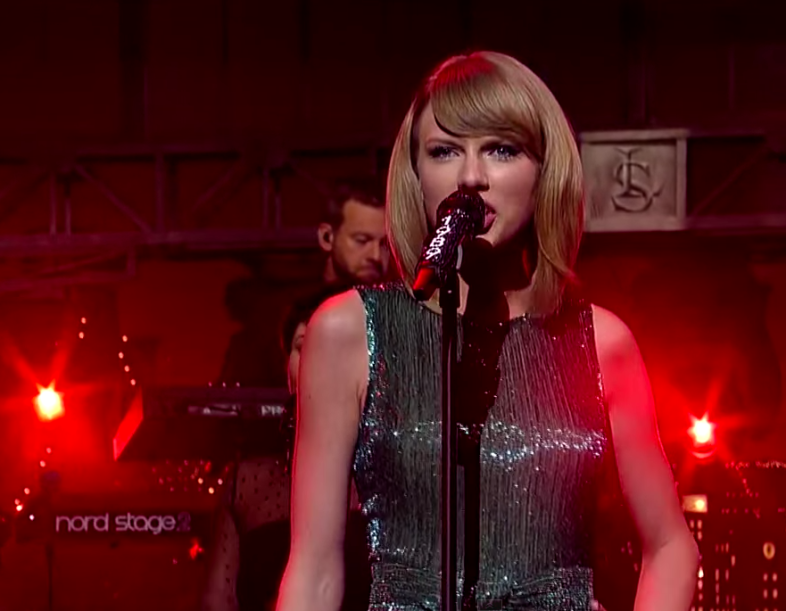 Taylor Swift is the most powerful person in the music industry today. She is the first artist to have three different albums sell over 1 million copies in a week. She started off her career as a sweet country star, and she is now a pop powerhouse. This is thanks to mega producers Max Martin and Shellback, who have been crafting pop #1's for years. 1989 is Swift's first full-fledged foray into pop, and she sure took pop music to another level with this album:
Welcome to New York
The album's opener is Swift's ode to her new home New York City. "Welcome to New York. It's a new soundtrack I could dance to this beat. Forevermore, the lights are so bright, but they never blind me," Swift sings over Ryan Tedder's synthpop production. 1989 is a musical departure from Swift's twangy country roots, and Welcome To New York helps introduce us to her new image and sound. Swift was inspired to bring an old 80's pop sound to this record, Welcome To New York helps set this theme for the album. While this song isn't of Frank Sinatra or Jay-Z's anthem levels it is still a good love song for The Big Apple
Blank Space
This track is the second single from 1989, and it has already become a fan favorite. This is their first appearance of Max Martin and Shellback on the album. Swift has playful lyrics on Blank Space, and they poke fun at her dating persona. This is most prevalent on lyric "Got a long list of ex-lovers they'll tell you I'm insane. 'Cause you know I love the players, and you love the game." Blank Space has been all over the airways, radio, and internet lately, and its music video has Swift becoming the ultimate crazy girlfriend. This song proves how much Swift has changed her sound from original country roots, but it is a quality pop song through and through.
Style
Bits of Style were first debuted in Swift's Target commercial for 1989. Style sounds like it could have been made in the 50's because of the lyrics, but the production is groovy and has a nice flow to it. "You got that James Dean day dream look in your eye, and I got that red lip classic thing that you like. And when we go crashing down, we come back every time. Cause we never go out of style. We never go out of style, "Swift sings with the upbeat synths. Style isn't an edgy track, but for what it is worth it is an overall good pop song.
Out of the Woods
Jack Antonoff of fun. and Bleachers fame co-wrote this song with Swift. Antonoff has a talent of bringing an epic stadium like quality to music, and Out of the Woods definitely has his fingerprints all over it. This song is Swift's most adventurous work yet, and it perfectly mixes her romantic lyrics with anthem like production. Out of the Woods is reportedly about ex Harry Styles. This biggest indicator of this is the lyric "Remember when you hit the brakes too soon. Twenty stitches in a hospital room. When you started crying baby I did too." Swift recently revealed that her and Styles were in a snowmobile accident, and she seems to describe the ordeal in this track. The chorus where Swift and Antonoff's backing vocals repeatedly sing "Are we out of the woods…Are we in the clear yet?" is stunning. This song will help Swift crack a market that she has yet to have a presence in, the indie rock scene.
All You Had To Do Was Stay
The songwriting on All You Had To Do Was Stay is reminiscent of other classic Swift songs. Relationship/breakup based but the newer pop sound makes it an interesting treat. On the chorus a high-pitched "Stay!" follows Swift's voice, and it pricks the ears. "Hey, all you had to do was stay. Had me in the palm of your hand then, why'd you had to go and lock me out when I let you in?" Swift sings over the Martin's and Shellback's beats. This song sounds like a more adult version of We Are Never Ever Getting Back Together, and displays Swift's growth as a songwriter and artist.
Shake It Off
The lead single from 1989, Shake It Off, was an immediate commercial success. It debuted at #1 on the Billboard Hot 100, and had first week digital sales of 544,000. This was Taylor Swift's official pop declaration, and when she stated that her new album would pure pop, not country. Shake It Off proves that Swift can not only do pop music, but she can beat all her other competitors in this genre. The chorus is so poppy and contains so many hooks that it is impossible to get out of one's head after the first listen. Swift says that the players are gonna play, the haters are gonna hate, and that she'll just shake it off. The team of Max Martin, Shellback, and Swift are an unstoppable pop machine, and tracks like Shake It Off is proof.
I Wish You Would
Jack Antonoff helped produce I Wish You Would, and created the guitar riff throughout the track. Even though, this song has not been out for a long time. If it were to be released as a single the guitar would become a classic sound on radio stations, and be remembered for years. The chorus has a grand quality to it that only Antonoff can bring to songs. Swift's vocals blend with Antonoff's beats while she sings "I wish you would come back. Wish I never hung up the phone like I did. I wish you knew that I'll never forget you as long as I live, I wish you were right here, right now, it's all good, I wish you would."
Bad Blood
The most pounding song on 1989 is Bad Blood, and this song sounds like a shout out to Gwen Stefani's Hollaback Girl. Swift almost raps "'Cause baby now we got bad blood. You know it used to be mad love. So take a look at what you've done. 'Cause baby now we got bad blood." This song is drum heavy, and that works for the aggressive vocals delivered by Swift. Normally, when Swift sings about being emotionally hurt it is about a boy, but not this time. Many signs point to this song being about fellow pop star Katy Perry. These two used to be friends but a number of dancers left Swift's Red Tour for Perry's Prismatic Tour, and Swift has stated that this was done behind her back which left a bad taste in her mouth. The fact that these two both dated John Mayer probably doesn't help either.
Wildest Dreams
On Wildest Dreams, Swift embraces her inner Lana Del Rey. Lyrics such as "He's so bad but he does it so well," bring out the real siren in her. Her voice is darker, dreamier, and more alluring on this track than any other on 1989. There are moans in the chorus that will surprise any longtime Swift fan because she has never done a song like this one. The best thing about Wildest Dreams is that the production and Swift's voice build on the chorus to a beautiful peak. "Say you'll remember me. Standing in a nice dress, staring at the sunset, babe. Red lips and rosy cheeks. Say you'll see me again even if it's just in your wildest dreams," Swift sings while she brings out her true diva.
How You Get The Girl
The happiest and most dance inspired track is without a doubt How You Get The Girl. Swift actually has some disco flavor in this song, and it is both surprising and refreshing. This song sounds like a perfect summer song, and should be included on all road trip playlists. The mix of acoustic guitar, dance beats, and a high pitched tune all combine for a light-hearted and smile worthy ride. Try not to move when Swift sings "I want you for worse or for better. I would wait forever and ever. Broke your heart, I'll put it back together. I would wait forever and ever, and that's how it works. That's how you get the girl," on the chorus.
This Love
This Love is one of the most relaxed tracks in Swift's whole discography. Longtime partner of Swift, Nathan Chapman helped create this ballad, and the acoustic guitars at the beginning are an indicators of his presence. This Love can potentially apply to many different relationships — it could be about a couple breaking and getting back together, or a child leaving home and returning to those who love them the most. Swift brings an emotional tone to her voice when she sings "This love is good, this love is bad. This love is alive back from the dead. These hands had to let it go free, and this love came back to me." Tears might be shed during this song because it can make you think of your loved ones, and that is a good thing.
I Know Places
Military drums and darker themes are in full force on I Know Places. The opening piano keys immediately set the theme for this track. I Know Places is inspired by how the media analyzes all of Swift's relationships, and how she will be more protective over future relationships. The spine tingles when Swift sings "They are the hunters. We are the foxes and we run. Baby, I know places we won't be found and they'll be chasing their tails trying to track us down."
Clean
Clean is the most mature track Swift has ever made. The lyrics talk about drowning, alcoholism, and losing your identity to another. Swift collaborated with English singer/songwriter Imogen Heap on Clean, and it is clear that Swift surrendered herself emotionally to her in order to write this song. Lyrics like "Ten months sober, I must admit. Just because you're clean don't mean you miss it" and "You're still all over me like I wine stained dress I can't wear anymore," display Swift's songwriting excellence. Clean is about shedding the influence and control that a person has had on you, and having a rebirth in mind, body, and spirit. Imogen Heap's presence on Clean is anything but hidden. Her voice haunts Swift throughout whether she harmonizes with Swift or sings solo. The subtle electronic beat is exactly what Heap is known for, and Swift handles this slow beat beautifully. The chorus has the beautiful lyrics "Rain came pouring down when I was drowning. That's when I could finally breathe, and by morning, gone was any trace of you, I think I am finally clean."
Deluxe Edition Bonus Tracks:
Wonderland
Wonderland brings Swift back to the dubstep elements that were on her previous hit single I Knew You Were Trouble. This track has a great energy that builds to a booming electronic chorus where Swift has some yo-yoing vocals. There are many references to Alice in Wonderland in this song. Specifically, "Flashing lights and we took a wrong turn and we fell down the rabbit hole. You held on tight to me. Cause nothing's as it seems." Wonderland is every part mysterious as it is creative. This track is a perfect example of Swift's ever-changing sound.
You Are In Love
A slower track that sounds like it could be on an 80's movie soundtrack. This song tries to express the inexpressible qualities of love. Heartwarming lyrics such as "You can hear it in the silence. You can feel it on the way home. You can see it with the lights out. You're in love, true love," help paint this picture of unconditional love. Swift may not of had a wedding dance song on her previous albums but she does now, and it is quite a good one.
New Romantics
The final track of 1989 truly does solidify the 80's inspired pop statement that Swift sought out to accomplish. New Romantics seems to appeal to the outcasts with lyrics like "Heart break is the national anthem. We sing it proudly. We are too busy dancing to get knocked off our feet. Baby, we're the new romantics. The best people in life are free." This song makes you want to run to the dance floor, grab some great friends, and enjoy life.
Key Tracks: Out Of The Woods, Clean, Wildest Dreams, and That's How You Get The Girl 
Taylor Swift started off as country music's sweetheart with her debut album. Throughout the years she has been making her sound a little more pop. She had pop radio mixes of singles from her second album Fearless, and her third album Speak Now was definitely the most country pop sounding thing at the time. Her 2012 effort Red, was split down the middle between pop and country, and it made many industry experts say "This girl is going to be down in history." At the time, Rolling Stone named her on the list of future icons along with Kanye West, Beyoncé, and Lady Gaga. 1989 does what many artists would never dare doing, abandoning the original fan base. This would be considered career suicide for many musicians, but when Swift takes on a new sound she goes all the way and holds nothing back. Say what you want about her, but one thing is undeniable — Taylor Swift will be a force in the music industry for a long time.