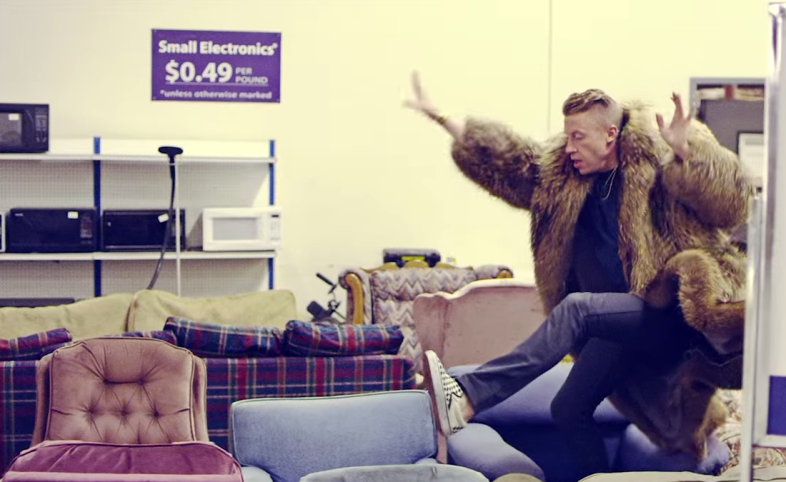 1. Utilize the WHOLE store.
Many times, when I've taken my friends thrift shopping, I notice that they only venture into aisles that they think 'pertain' to them. My female friends will only shop in the female section, my plus size friends are afraid to leave the plus size section and so forth. NO! Thrift stores are disorganized, eclectic and all over the place. You are as likely to find something you like in the men's section as you are in the women's. But aside from shopping outside your gender, you also have to shop outside your size. I'm actually pretty partial to the plus-size section, despite being petite. I've found a lot of wacky t-shirts and cool prints over there. Additionally, a lot of clothing that could fit plus size people resides outside of the plus size section. Thrift stores tend to carry a lot of oversized items so they can actually be a great help to plus size people. Don't forget the children's section either, as weird as it may sound. I found my favorite stingray crop top there, which will forever be my go to party shirt.
2. Homegoods, homegoods, homegoods.
I love the homegoods section. Where else can you find zany vintage items to freak your roommate out with, like a giant ticking cat clock? I also love to pick up weird mugs there, like 'Worlds Coolest Grandpa', and so forth. It's also a great resource for all of you D.I.Y.ers out there, myself included.
3. Books?
Alright, so I don't usually buy anything from the book section, I'll be honest. BUT this is probably the most amusing part of the store. Have you seen Celine Dion's baby book collaboration with Anne Geddes? No? Get on it. Truly hilarious.
4. Price isn't everything.
This was probably my biggest thrift shopping issue for a long time, so I feel the need to enlighten you all to it. DON'T BUY SOMETHING JUST BECAUSE IT'S CHEAP. This was the main cause for my closet spiraling out of control in oh, I don't know, 2011? So often would I find something I kind of liked, saw the price, exalted at the oh-so-low numbers, and bought it. Notice the 'kind of liked'. Only buy stuff you truly love, and can see yourself wearing in the future, at least a few times. Thrift shopping should we treated like regular shopping, although the prices tend to differ.
5. Be BOLD!
Thrift shopping has always helped me stand out. At a young age I learned to buy what I like, and not what I thought others would like. Thrift shopping can be unappealing to a lot of people at first. They're not used to buying used, sort of out there items – and some of them want to keep it that way, and that's fine too. But to be a thrift shopper you need to have an open mind and some creative energy – be bold, be you, be brave! Once you've entered the thrifting world, your wardrobe will be forever changed.