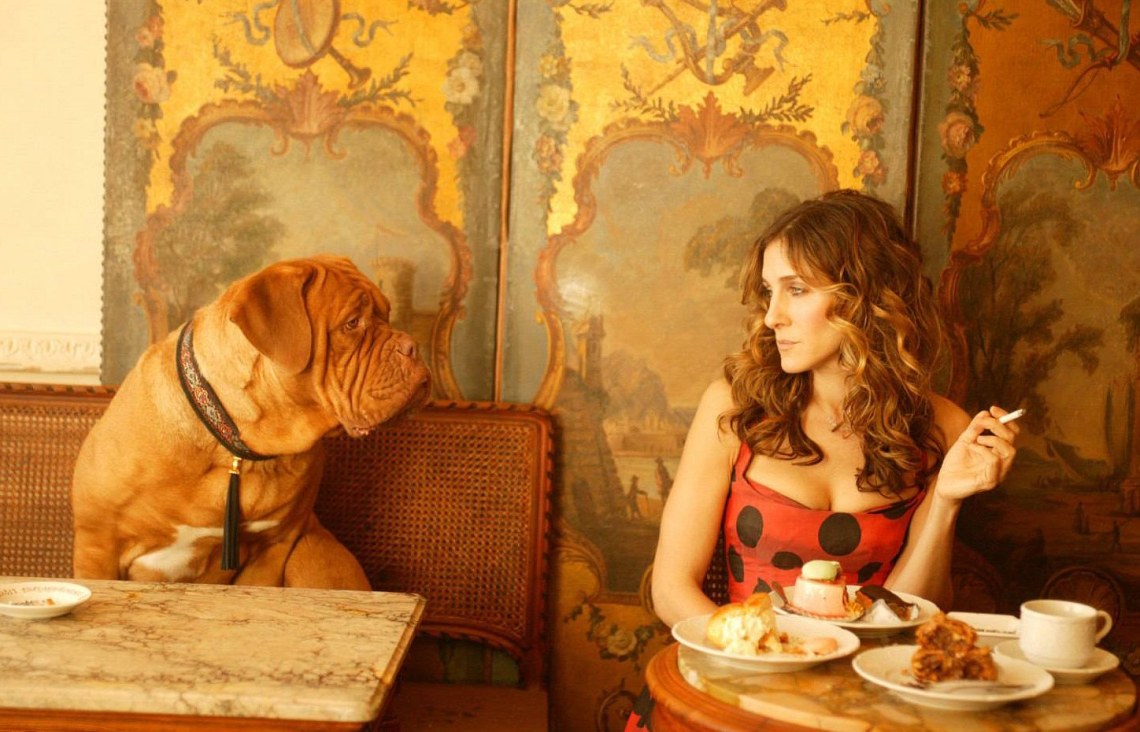 1. DO NOT LISTEN TO ALT INDIE LOVE SONGS ON PANDORA (especially at work).
This is like testing yourself to see how much you can cry in an 8 hour span…and to spare you the tears, I'll tell you it's a lot. You'll find yourself relating every single song to your life….even when it makes no fucking sense. I'm pretty sure one song was about a guy losing his father in a car accident–but at the time it felt like it was about me making too many mistakes and never being happy again. Just don't do it-k? (Edward Sharpe and the Magnetic Zeroes-Home just came on Pandora and I immediately stabbed my computer. See? Will power. Handle your emotions in a healthy way like this.)
2. DO NOT SAD EAT 4 EVER.
It's okay to spend one entire Saturday on the couch watching 500 days of Summer, sympathizing with Joseph Gordon Levitt, and only getting up to eat-but don't do it forever. These writers don't give you a timeline in all those "How to Get Over Your Ex" listicles–they just say like "it's ok to eat lots of icecream and lay in bed." All of our favorite movies show the pretty girl doing this to get over her boyfriend (think Reese in Legally Blonde) but, like, she's already perfect and can afford to do that. You need to (when you're ready) be ready for boy catchin' season. Don't let your sorrow show in your love handles and double chins—only feel bad for yourself for a limited amount of time.
3. DO NOT USE YOUR WIT, INTELLECT, AND WAY WITH WORDS TO TXT YOUR EX.
Actually, this should just be "don't text your ex" but whatevs. Ya know when you just can't shake the feeling that you're the best thing he will ever have? That he probably really deep down wants to kiss you and tell you that your eyes sparkle even more now than the first time he saw you? That your gentle laughter plays on a loop in his head and he will never forget the way your one dimple sticks out when you smile too hard? LOL. Just don't. Don't try to come at this from every angle. Don't try to be clever. Don't talk about old memories. Don't tell him all about "TRU LUV~". Don't confuse your pride for wanting someone back. In your head, you are just "saying how you feel and being honest" in his head "you're being literally psycho and look like an idiot." *hypothetical, no this did not happen to me yesterday at 8 p.m.
4. DO NOT TELL EVERYONE YOU ARE MOVING AWAY AND SEE YA NEVER AND YOU'RE GETTING ON A PLANE TOMORROW.
Don't try to escape from it, just let yourself feel it. Don't be impulsive and especially don't let others know how impulsively you're thinking. Be rational and let yourself sift through the craziness down to what you are actually thinking. I had this idea that if I went to see my bff4lz in Arizona and stayed there for a while that maybe my brain would just erase the last 2 and ½ years and upon exiting the plane I would just feel an immediate rush of happiness and relief. This is stupid. I mostly know because my dad laughed a little when I told him, and he tries really hard not to laugh at me when he knows I am being serious.
5. DO NOT EVEN THINK ABOUT HOOKING UP WITH OTHER GUYS OR DATING OR ANY OF THAT BULLSHIT.
"The best way to get over someone is to get under someone else" is the most ridiculous garbage I've ever heard. Unless you're a savage with no feelings and would like to continue burying your true feelings and self-worth, then this is the worst idea possible. I hate when girls are like "OOoo0o single, I'm just gonna do my thing and go out and meet boyz no strings attached!". No. No bitch. You're going to go out and get hammered and have a one night stand then cry the entire next day because you're an emotional train wreck and then convince yourself that Kyle from UConn was the love of your life and it was fate that you met him and you really felt a connection even though he called you the wrong name when you guys were hooking up. Don't do this. You'll regret it immensely and in the meantime will just be going backwards in the whole healing process.
6. DO NOT STALK ANY NEW GIRL YOU THINK THE EX IS HANGIN WITH.
Though it is wired into every woman, as true instinct, to study and become familiar with any creature that has taken our latest prey–we must fight this urge and stop being psycho. Once or twice is fine (three or four times won't hurt you) but to continually do this is absolutely pointless. First of all-you don't even know this broad and whatever fantastical picture you paint of her is only your own insecurities and warped way of thinking doing it. Don't tell yourself she isn't pretty (because chances are she probably is) and don't compare yourself to her. As my boi Jay-Z put it, "Remind yourself, nobody built like you, you design yourself."
Any girl who pretends she doesn't or hasn't done this is a liar and kind of pathetic. Also know that this new girl is also stalking you. So don't feel bad about a moment of weakness but just don't put yourself through that bull shit. You didn't want it anymore, so just because someone else does, don't second guess yourself. Also remember: he is on that POF and MeetMe dating site and messages any girl who has her boobs showing a little bit in their prof pic, so I don't think he's looking for true love just yet. Plus, you were there before, and anyone else who comes after has to deal with that (you pretty, funny, intelligent son of a bitch, you.) You're a tough act to follow.
7. DO NOT REREAD OLD NOTES, LOOK AT OLD PICTURES, AND OTHER IDIOTIC SHIT.
What are you trying to do to yourself? Psychologists have proven that when a human being is suffering from heartbreak they almost ALWAYS have the tendency to block out any negative memories and hold tight onto the good. A picture that used to make you think "What a douche bag he was that day–I could have fucking pushed him off that golfcart…look at his stupid fucking smile" now makes you think "Wow. Look how happy we look. He's gorgeous. That was our last day golfing together."
It's funny. Laugh. Don't cry about it. Burn all that shit. Anything that makes you second guess yourself—use it to make some s'mores. Unless you're completely over the kid and can confidently say you feel fine, get rid of every sentimental piece of garbage soiling your house.
8. DO NOT BE STUCK IN THE PAST.
Everything that happened has happened for a reason. You can't go back. Stop drilling your mistakes into your head or asking what you could have done differently. Stop blaming yourself–you weren't the only one in the relationship. Stop thinking things can change because chances are, they are the way they are for good. Don't replay any memories just yet, especially good ones. If you're gonna reflect on your relationship-think about the times you wanted to open up the passenger side door and roll onto the high way when you were on a road trip together.
Think about how a lot of times you liked his sister and mom way better than him. Remember the time when you were so embarrassed he was your boyfriend when you went out with all your friends. Think about those times. Even if most times were good at you'll miss the shit out of him, right now think about the times you hated him. It helps.