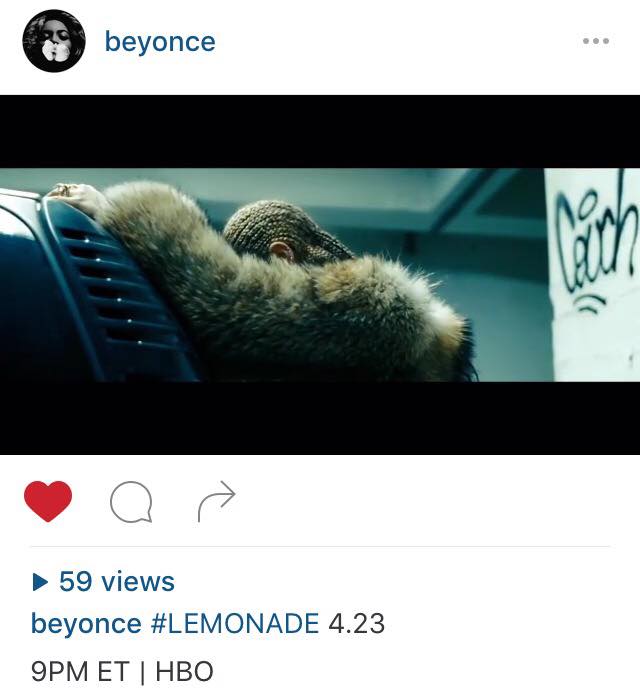 I opened up Instagram today to see that Beyoncé cryptically uploaded a picture of something called "Lemonade" that is dropping on Saturday, April 23 at 9PM on HBO. My social plans for that evening have now been cancelled. Oh my god y'all, what the F is Lemonade?! In the teaser video she said "what am I gonna do?" Yes, betch! What ARE you gonna do! Is it a movie? Is it a recipe?! Is it an album? Lord Jesus.
One blog speculates that "Lemonade" is the title of Beyoncé's new record — I'm already getting my Lemonade t-shirts printed right now!!! — and that the premiere is basically going to be an hour long visual album movie.
LEMONADE is going to fuck ya'll up! The looks, the dancing, the story. We've sat on it and won't spoil it. But fuck! 🐝🍋

— THE BEYHIVÉ (@TheBeyHiveTeam) 16 April 2016
The Beyhive did warn back in February that Beyoncé was working on an album movie:
https://twitter.com/TheBeyHiveTeam/status/701183997699891200?ref_src=twsrc%5Etfw
Lemonade has got to be an album. What else can you do with an hour of television? It all makes sense given her "Formation" tour starts on April 27th. If this is all true it will be BEY-ond brilliant. Beyoncé already did the surprise album release out of the blue thing. Too many queens are doing it now, it's tired. But an album released as a movie on HBO?
WORK!
In case you forgot how awesome Beyoncé is (lol) and to tide you over until those lemons are squeezed, here are five live Beyoncé performances to get you TOGETHER.
1. Beyoncé, Ed Sheeran & Gary Clark Jr. Tribute Stevie Wonder
https://www.youtube.com/watch?v=WaoF9SbCzs0&ebc=ANyPxKrjZXa6cXARmWVQOtoc6dLOs5UIZ5aUq32E0G3uR7FuCv4rX1M1sd-RqR-xtWKEUpUTydrN9djrQ6RO3XSikPU5jMB0Ag
Yas.
2. Ring The Alarm, 2006 MTV VMAs
Yaas!
3. Prince & Beyoncé Medley, 2004 Grammys
https://www.youtube.com/watch?v=dO6xoYeHU_g
Yaaas!!
4. I Care (Live at Rosaland)
Yaaaas!!!
5. Beyoncé at the 2014 Superbowl
YAAAAAAAAAAAS!