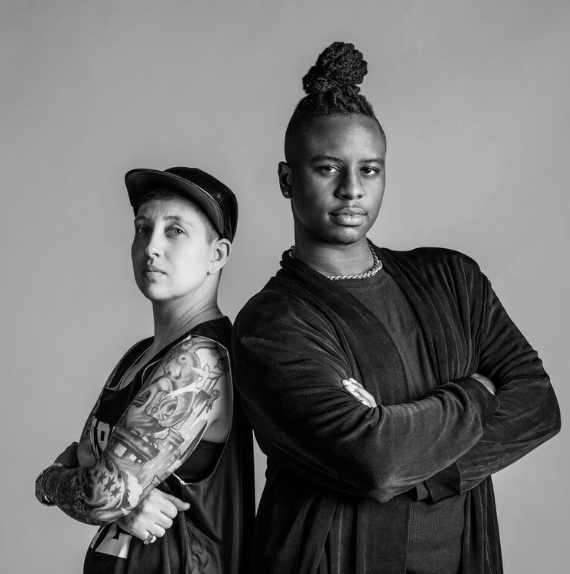 Face the Truth, a new EP by Shaun J. Wright and Alinka, out now on London-based Crosstown Rebels, is underground house music at its best. And for good reason. Chicago-bred, Berlin-based DJ and producer Alinka cut her teeth for eight years as a resident at Chicago's smartbar, and Shaun, a DJ, vocalist, producer and Hercules and Love Affair alum has house music in his veins as well as on the 15,000 or so tracks he carries on his USB stick.
The four track set explores the universal themes of love, pleasure and the ebb and flow of relationships, and includes the sensual bangers "Pleasure" and "My Heart Is Sincere" along with the title track "Face the Truth" plus a remix by Audiojack. The whole EP is nasty. It's music you'll want to sweat to.
We caught up with Alinka and Shaun and talked about working on Face the Truth, parties, Berghain, and where to get the best fried chicken in Chicago. All of the important things basically.
—
You're both from Chicago, a city rich in musical history. That's a big heritage that must have impacted what you do now.
Alinka: The stuff that I'm into is still like that '90s Casual Records stuff. I grew up watching Derrick Carter so technically the way that I play is very much based on me watching those people and learning from standing behind in the booth and watching how the crowd reacts, seeing what they do with their hands, all the EQing. The way that I DJ is completely from Chicago. Taste wise it's still my favourite music, although being in Berlin your taste starts to shift in all sorts of directions. But what I like is that sound that's very early Chicago stuff.
DJing like you're from Chicago? Can you spell that out for us?
Alinka: You take a lot of risks and it's all feeling based. I would see Derrick on turntables mixing a hip hop a capella over some track with a saxophone – you're always being creative. It's this kind of feel of, "I'm just gonna do this." There's no sitting around and waiting if that makes sense. Taking a lot of risks. They used the turntable and the mixer as instruments. It wasn't like, "I'm gonna play this record. I'm gonna wait. And then I'm gonna bring in the next one!" It was a show.
Music aside, what's the most Chicago thing you can think of?
Shaun: Pizza puffs.
Girl, what? Pizza puffs!?
Shaun: See! If you're from Chicago, you know pizza puffs.
Alinka: Hot dogs!
Shaun: The Chicago hot dog is so known but if you live in Chicago, you know pizza puffs.
I'm really into fried chicken and my cousin who lives there took me to Harold's once.
Shaun: Harold's!
Alinka: Harold's!
Shaun: I'm more of an Uncle Remus kind of girl. R-e-m-u-s, like Uncle Remus. Another Chicago thing is I used to go to parties at Route 66, a skating rink.
I studied advertising and quit to be a DJ. Thanks, Mom! — Alinka
Yesss! I miss skating rinks so much. My mom used to take my sister and I skating all the time. You just don't find these places anymore.
Shaun: They weren't parties, they were more like ballroom parties, like mini balls and stuff like that. That's something that's very Chicago. The Route is where I won my first trophy at a ball. Route 66, well, we call it the Route, it was the hood, it was crazy. It was a skating rink, but they would have all kinds of parties, gay parties, straight parties, raves, everything.
Alinka: I always got robbed every party. Every party my car got broken into and I just didn't care. I was like, cool! I'll deal with that tomorrow. Oops! Don't have a coat anymore, oops! Gotta go back to college! No gas money! We drove to Champaign Urbana, Illinois, two hours away, with $7 of gas. I fell asleep and my roommate drove us to Indiana, the wrong way! No gas left in the goddamn car to get back to school! So many parties.
I went to raves in Bloomington, Illinois and we would drive to Chicago. You would get a flyer and you would call this hotline and there would be a message and the message would tell you to go to Ashland and North to the gas station and then there would be a guy and they would tell you where the party is. Or sometimes the guy got arrested, so you'd have to get back in your car, get away from there, then call the toll line again waiting for them to tell you where the party is.
That does sounds amazing…
Alinka: And then you would find the party, you'd park at Route 66 and then all of a sudden there's like thousands of people waiting to get in. It was magical. You felt like you were a part of something really cool that nobody knows about. And it was really special.
[soundcloud url="https://api.soundcloud.com/tracks/256725681″ params="auto_play=false&hide_related=false&show_comments=true&show_user=true&show_reposts=false&visual=true" width="100%" height="450″ iframe="true" /]
Speaking of parties and dance music your Face the Truth EP dropped on Crosstown Rebels earlier this month. I can't stop dancing to "Face the Truth!" — it's so nasty. You two have known each other forever and I'm wondering what it's like working together?
Shaun: Very intimate — a bottle of wine and laughs and ideas.
Alinka: I think we were just ready to make new stuff. From start to finish, I think every track took a few hours. It was very smooth. Most of the time if it's not smooth or efficient then we start over until it is.
Shaun: Yeah. We'll let stuff go. Sometimes you have a song and you haven't lived out enough of it to complete it. Sometimes you need just a little bit more experience with the musical content or the arrangement.
But you're both travelling so much — where did you actually do the record?
Alinka: We recorded this in Chicago. I had a studio in my apartment. Almost all our tracks were done there except for some new demo stuff. And now we have a studio in Berlin so we're going to be working on new stuff here. But it's always been home studio.
You also run a party and record label based out of Chicago called Twirl. What's your vision for the Twirl project?
Shaun: We wanted a critically conscious label. We wanted to make sure there was an emphasis on gender equality or sexual diversity and representing the trans, queer, multiracial aspects of our lived existence. We don't just live in a bubble of white guys or black men. There's women and transwomen and Asians that are part of our universe.
Alinka: Basically we wanted a friends and family label with people we like. It was also a really good way for us to have control creatively. Shopping demos can be stressful because you never know what people are going to like. And you don't want to wait a year or two for tracks to come out while you're trying to establish yourself. With Twirl, we were able to release stuff every eight weeks that had full press and really connected our music and helped us get to a level where we should shop things.
I don't know what life would be like if I hadn't grown up in Chicago. — Shaun J. Wright
Running your own label must offer you a lot of creative freedom.
Shaun: There's so much homogenous music coming out, there's a sound of "now," and I think that the way Alinka and I were approaching our music was not fitting into that square, which is not a bad thing. Having a label gives us the liberty to put out what we want as we want. A lot of artists don't have that leverage unless they have their own label. There's so many people telling you, "Change this, change that, do this, do that." Sometimes that critique is good, but sometimes it makes you sound like everyone else. And that's not interesting. That was another good thing about Crosstown. Damian [Lazarus] took it as is. He was like, "I like it, let's take it."
[soundcloud url="https://api.soundcloud.com/tracks/257975212″ params="auto_play=false&hide_related=false&show_comments=true&show_user=true&show_reposts=false&visual=true" width="100%" height="450″ iframe="true" /]
I'm wondering if either of you feel that the broader gay culture has forgotten its roots in underground dance music in favor of more commercial stuff? You both go out a lot and play a lot of parties. What have you noticed?
Shaun: Assimilation takes away the edge. Though you get the benefit of not getting bashed when you walk down the street, it does take away some of the edginess and the thirst for what sets you apart. There's a general shift from queerness in the gay community because being gay, and I'm using the term "gay" specifically, is so capitalistic now. It's all about sponsorship and the pink dollar. But there will always be an underground segment that will always support the underground. You see that at Men's Room in Chicago, you see that at Homopatik, you see that at in Honey Soundsystem, you see that with Twirl.
But what does queerness mean for you?
Alinka: It feels a bit freer than trying to label everything. It's more inclusive.
Shaun: It's whenever you situate yourself outside of the dominate space. You can be queer – if you're a straight woman but if you're a drag queen, you're still queer. It's the context of how you subvert or inject a twist on a theme.
Alinka, you've just relocated to Berlin and Shaun you pump through pretty regularly. What is it about Berlin that is so appealing to creative people?
Shaun: Berlin to me is a city where everyone meets. Berghain is the Grand Central Station. You're going to see someone you know there, whether they be in the industry or someone you know from around the world. I've literally run into a friend from Australia. I was coming into the club, didn't know they were in town, saw them and they were like, "Hey!!! I'm leaving. Catch you later this week?" Of course we didn't because they were in the Berghain bubble for the next two days. That kind of stuff is happening in Berlin. It's inexpensive. There's always someone interested in collaborating on something cool. Every time I'm in Berlin there's a work prospect. I'm always working on music or working on a project, going to a vogue ball now.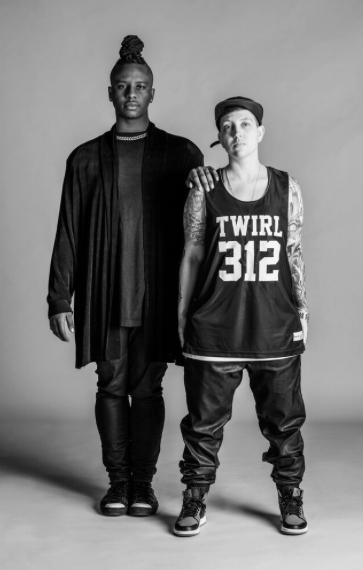 And you're also judging the Tit Bit Ball at Südblock this week!

Shaun: I'm going to be judging this one, yeah! And that's really cool.
I love the categories this time. TV Realness! So good.
Shaun: Yeaaah. It looks cuuuute.
What look are you gonna be giving? Personally I would do the First Aunt Vivian lol.
Shaun: BeaLatifah: Bea Arthur and Queen Latifah!
Sickening! And for you, Alinka? How has Berlin been? I know you love tacos, and I know this based purely from all the taco pictures on your Instagram. Have you found good a good taco spot?
Alinka:: I had good Mexican food yesterday at Santa Maria in Friedrichshain. I was in a bad mood and the food was good and there was nothing to complain about. This tastes good! The margaritas, its Happy Hour, they're four euro. This is ideal. I'm gonna come here a lot. They even gave us free tequila shots. It was proper.
Okay, noted.
Alinka: Now every time I leave I just want to be back in Berlin. It's really starting to feel comfortable. I think it took me a while, obviously when you move to a whole new country and you don't speak the language it's insane for the first two months. But generally I find it very inspiring and it does feel like this huge community. People want to work together and artists want to work together, and anything you need it seems like people are open to helping you. You go to Panorama Bar and you run into people whose music you've listened to for god knows how long and you just have drinks with them. And then all of a sudden that's your buddy that you have lunch with the week after. It's a nice community feel. You meet interesting people. For dance music and for DJing I don't think there's a better place. It's sort of like do whatever you want and the crowd loves it. It feels more genuinely diverse and underground musically.
Shaun: Berlin is definitely a place I look forward to playing. The people who are going out in Berlin have a certain expectation of bringing fun as much as having fun. They come there ready to go. DJs go there with their A-game. At Panorama Bar I get to be free, I get to be all of myself. I get to sing. Whereas with less participatory audiences it can feel more like work. In Berlin it just feels like we are sharing something together.
Alinka: The focus isn't so much on the DJ, so it takes that superstar DJ shit out of it. The focus is on the venue. People go to the same club every weekend, they don't care about who's playing, they go there because they love that club, they know it inside out, they want to dance there, and they know they're going to have fun. People are obsessed with Chalet or whatever. It's about the space and the good time, not so much about putting pressure on the superstar DJ experience.
It's true. People do love the garden in ://about blank. Everyone talks about how much they love it in the summer.
Shaun: Exactly. People say they love CockTail d'Amore during the year but they can't wait for the summer because then it becomes magical.
You're both playing upstairs at Berghain/Panorama Bar this weekend. It's great you'll be playing together! Do you get nervous before you gig there?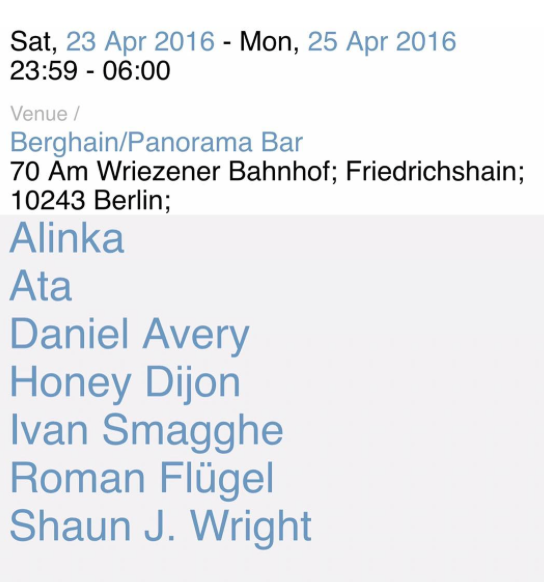 Alinka: I was really nervous the first time mainly because I had to open the place. When you're opening you really have to think about the first hour and the second hour and the third hour and look around the room. You really have to plan it. This time I'm excited to just be more free. I'm trying to really learn the tracks I have in my collection and preparing for playing several hours. And I'm also excited that Shaun's going to be there!
Shaun: Every time I play Panorama Bar I have a dream that something goes wrong and I'm not able to do my set.
Alinka: I had my first DJ nightmare. I showed up there and the CDJs were too high, I coulnd't reach them. They were too far apart, the screens were different than on every other CDJ where you couldn't scroll and play your songs. I had a song playing that was about to run out and I couldn't find the next song and I was running around, jumping up and down trying to find the next track! I can't do this for two hours!

Be sure to check out the duo's latest mix for DJ Mag. It's literally everything. Count all of the things and it's pretty much that.