When I lived in New York I used to go to the Balmain section at Barneys just to breathe in the latest collection. I knew I could never afford one of those fabulous $5,500 power shoulder sequin jackets, but I always imagined if I did I would be the most fabulous queen in every single direction and I'd wear that puppy all day, everyday. I love the way Balmain takes fashion to excess, to the over-the-top of over-the-topness. The Balmain Girl is so exciting, but the label is famous for being really expensive, so expensive that the price tag seems like a part of the performance of the brand.
But on November 5th, in stores and online, Balmain drops its latest fashion collaboration with fast fashion giant H&M for a collaboration that will make fashionistas LOSE IT. Based on these images of the collection, plus the video above, Balmain x H&M looks like it's going to be killer. So whatever you had planned on November 5th gurl cancel it and get your ass to an H&M.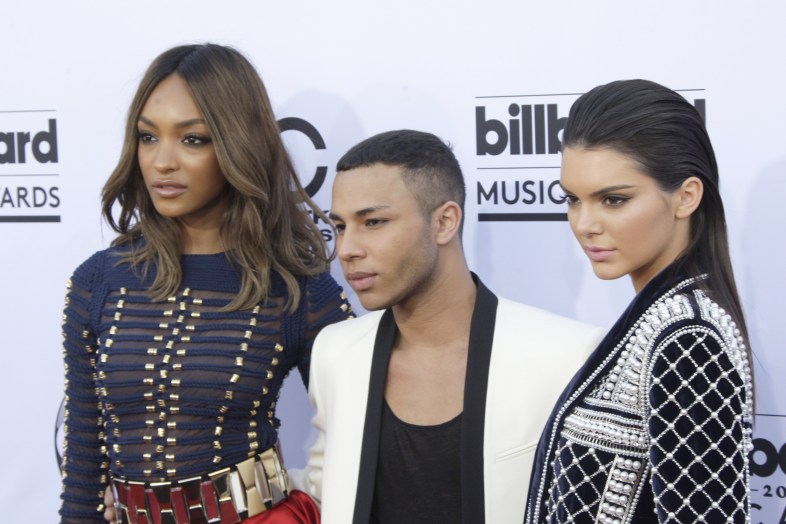 Over the last ten years H&M has partnered with the world's hottest luxury brands for one-off collections, from Karl Lagerfeld and Lanvin to Alexander Wang and Margiela. The upcoming line with Balmain, though, is one of its most exciting design collaborations and shows how Olivier Rousteing, Creative Director of the label with cheekbones for the gods, is helping to change the fashion industry.
The consumption of luxury fashion has long been about buying your way into the brand by any means necessary. That's why luxury retailers always have a range of products that go from the most exclusive $10,000 headpieces or whatever the fuck to $400 t-shirts. $400 is pretty damn expensive for a t-shirt. I mean it's not like that $400 t-shirt white will be immune to pit stains like every other t-shirt in your closet. But compared to the rest of the items in the place $400 seems like nothing, the added bonus being you're now a part of the brand. You've bought your way into the lifestyle.
Olivier Rousteing, 30, who became Balmain's Creative Director in April 2011, has worked hard to democratize luxury fashion. He and his cheekbones have 1.5 million Instagram followers plus Balmain's 2.6 million, the most of any French fashion house. He's embraced pop culture, and he's on record talking about how important it is for Balmain fans, people who can't afford the main label, to feel fabulous through the Balmain DNA, creating couture for the Instagram generation.
Clothes and pop culture anti-elitist ethos aside, I just love the way he embraces diversity on his catwalks and in his advertising campaigns. He regularly works with black models, and not to spice up the collection but because diversity is important, making him one of the few designers to make such a point about race and fashion every collection, every season. He's showing the industry that you don't have to be exclusive to be popular, and that images of black and brown people in fashion ads do sell clothes.