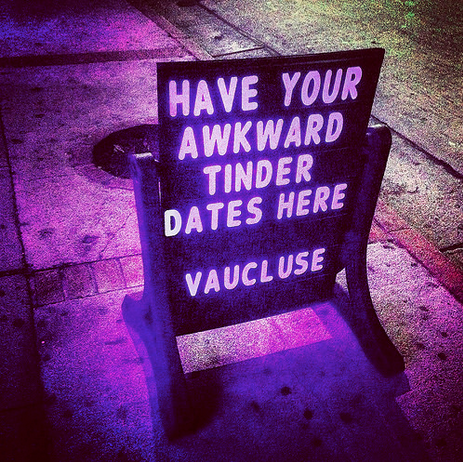 1. You know what they look like and you're attracted to them as they are
When we craft our identities online we're actually trying to tell the best story about ourselves that we can possibly tell. But no matter how much you've perfected your profile, the person on the other side of the screen already has ideas and fantasies about what you'll look like in real life. There's nothing worse than chatting with some hot guy online but when you meet him in person you're like oh…lol. Somehow he just doesn't do it for you in real life, even though you've seen all his carefully cropped and edited photos and torso pics. When you flirt with someone in real life, right now, you can see his bald spot and you know how tall he is and you want him just the way he is. No elaborate Instagram filters needed.
2. Going on a date so often feels like a job interview
How many times have you gone on a date with someone from online and felt like the person was just so boring, like you were having a job interview? Sure, we've all been on dates with people we sparked connections with immediately, but that's lucky. You never know what someone who you've only been loosely chatting with in WhatsApp is going to be like in person. If you strike up a convo with a guy or a girl you saw at a bookstore, in a cafe or in an art gallery, chances are the actual date won't feel like a job interview.
3. You probably already have a few things in common
If you take yourself offline and meet someone in real life, chances are you have at least one thing in common. If you're reading a book in public and someone else knows that book, or maybe doesn't know it all but just wants to flirt with you, you've already got something in common. You learn how to connect with people in a real, human way. Maybe the flirtation goes nowhere but at least you'll have had an interesting conversation, one based on real interaction, not algorithms.
4. What if you would have swiped left on the cute, interesting guy who saw you reading "Infinite Jest" in a coffee shop and came over to say hi?
Online dating is a lot like shopping, like when you need to pick up items for that stir fry you're making tonight. You scroll through faces and you swipe right on people you think you'll match with, ex-out the people you're dubious about. I suppose in someway dating is always like shopping, but at least when you meet someone in person, not online, all their information isn't already out there. You can't automatically swipe them left — unless they're a total asshole. Then you should definitely say, "Yo I'm swiping left" and GTFO.
5. More apps doesn't necessarily mean different people
Hello! Everyone is on the same apps! In general the same guys you see on Scruff are also on Grindr and OkCupid and Hinge and Tinder and Jack'd and Manhunt and Adam4Adam and GayRomeo and Gaydar. Does having a profile on every single app increase your chances of meeting someone? PLUS OMG WHAT IF THERE'S NO ONE "NEW" AROUND U :o :o :o ?
6. Everybody's just ignoring everybody anyway
Some people love to collect likes. You message them and they never message back, or you have a few great exchanges and then they disappear into thin air. Meh. We like dating apps and online dating sites because they're video games — it's fun, the gaming console is with you everywhere and there's nearly nothing as exciting as a notification that someone is into you. SCORE!!!!!!! But when we rely too much on smartphones and algorithms to match us with the person of our dreams we never know what we're missing out on. Or who we're swiping left.