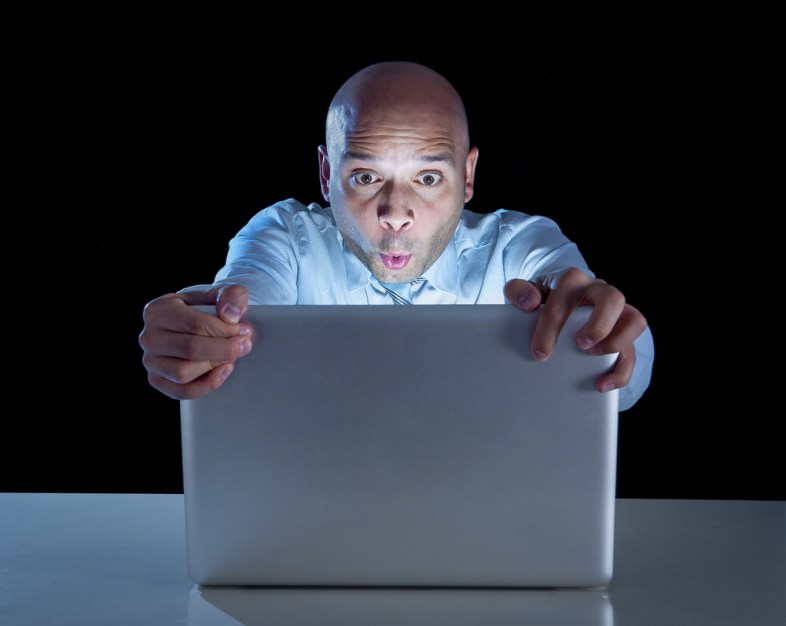 The other day this guy with an obfuscated face writes me on Grindr, a fabulous place to be if you want to learn the nitty gritty of human behavior, and I'm reluctant about responding to him because his profile pic is of just like the side of his head, like not even a full face, pretty much just an earlobe and a sliver of bang. Oh ok. Right away he sends me two pics, both headless torsos where not very much is going on so why, and starts asking me to send him pics.
Lol wut?
I told him I wasn't sending him any pics until he showed me what he looked like. He wrote back, "Not until you send me something." What am I, an idiot? What is this, 3rd grade? At this point I realized either he's a pic collector or he's really foot fungus ugly with something to hide.
Guys on Grindr can be so demanding when it comes to pics, but the most demanding people are almost always the ones who don't have any pics in the first place! I mean seriously there's no reason in 2014 for you to be on any online dating platform — OkCupid, Grindr, Tinder, etc. — and not have an up-to-date face pic. No, not a pic from 1996 when you had all of your hair and were 20 pounds lighter. No, not a pic of u in the far distance slightly covered up by a tree. No, not a pic of you that has been run through like 35 Instagram filters where you are staring longingly into the sun. If you're too scared to show your face should you even be online?
I know some people need discretion and are all on the DL or whatever and don't want their coworkers to know that they are busy swiping left or right during important business meetings or to find out that they are going on glory hole meet ups during lunch break. That much I get. But by the time you've shown interest in someone by sending them a message I mean the least you can do is send a nice, clear face pic homie.
Everyone hates online dating because you really are judging a book by its cover. Dating online is convenient because you can pick and choose. A Grindr screen is pretty much just a grocery shelf of dudes and you're scrolling through for the right one. But it also means you're reduced to how many messages you get, how many profile views you score. The same thing goes for Tinder, where a carefully chosen picture is the thing you need to get your foot in the door.
Despite all the convenience of online dating, sometimes I wish we could go back to what dating was like when you had to chat with someone face-to-face, when you had to have a spark with them. There are lots of people I would probably swipe left who I would see in real life and be all, "Oh, he's cute!" At least if you meet someone in real life you know what they look like right away and have no need to ask them for pics — unless, of course, you want some stuff of the XXX kind, and then by all means, send those Ps and those Vs.