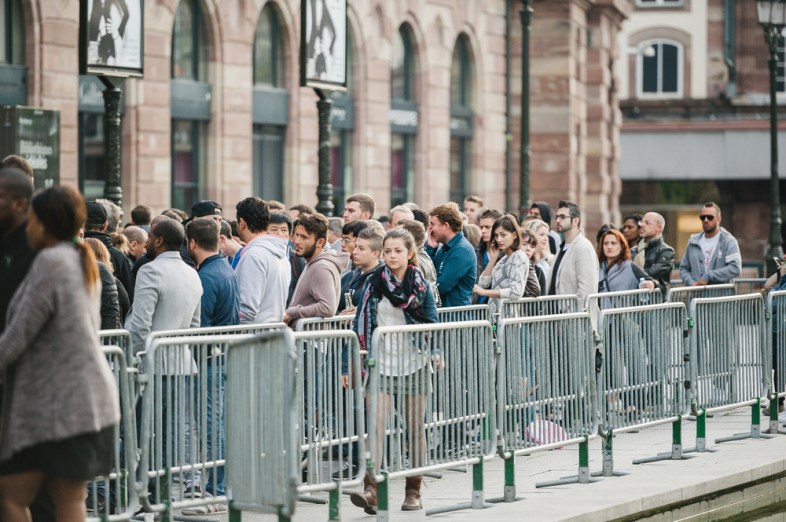 1. Just finished Thanksgiving dinner, everyone's taking a nap before they go out for Black Friday.
2. Really don't understand all the fuss about Black Friday in the first place.
3. Just gonna sleep in.
4. Oh what's this, an email from (FAVORITE STORE) about a special online Black Friday sale.
5. Oh, looks like (ANOTHER FAVORITE STORE) is having an online sale, too.
6. OH SHIT EVERYTHING IS 50% OFF, EVEN NEW STUFF.
7. Might as well just have a quick look, I can just chill at home and eat some turkey while I shop.
8. Just going to put a few things in my cart.
9. I hope they have things in my size.
10. OoOoOooOh! That oversized heather grey poncho is so cu — fuck it's sold out!!
11. Everything's the worst.
12. I'm determined to find something.
13. My cart is at $200 but I have over $500 worth of stuff in there. SUCH A STEAL.
14. Since I'm already at it might as well see what is going on at Target.
15. UGH THERE'S NO PARKING.
16. Guess I'll just circle the parking lot like a vulture for 25 minutes until a spot opens up.
17. Oh god this line is so long.
18. Good thing I have 22 Beyoncé videos to comfort me through the wait.
19. Lol people are stealing shopping carts. What the fuck are you gonna do with a shopping cart?
20. Why is everyone in their pajamas? People are so lazy.
21. Been waiting 1 hour, might as well keep waiting to see if I'll make it in.
https://www.youtube.com/watch?v=8PpJMjGYIUw
22. Finally get inside.
23. THA FUCK?
24. Omg omg omg omg GET OUT OF MY WAY.
25. Where are all the fucking shopping carts?
26. Oh no they are out of popcorn how will I keep my energy levels high?
27. LOL wow there are police here.
28. Is this a store or a consumerist police-state?
29. These people are animals.
30. Where is the toilet paper in the bathroom?
31. Why is everyone fighting? It's just a television set.
32. WHOA IT'S 95% OFF THAT'S BASICALLY FREE.
33. This Crockpot is $9. Never used a Crockpot before but might as well get one today.
34. Someone literally just beat me to the last $9 Crockpot.
35. WTF someone just screamed at an employee because they are out of the iPhone 6.
36. A person seriously just asked me to watch their kids while they run to the other side of the store.
37. Okay I have to videotape this and post it on Youtube.
https://www.youtube.com/watch?v=WfJezF8diUg
38. Someone seriously just reached in my cart and took the iPad because they said they didn't know the cart was mine. Didn't give it back either.
39. I hate everything.
40. People are such animals.
41. How can people act so crazy the day after being thankful for what they have?
42. WHY!
Ah, the power of consumerism!