There's nothing better than a singer so convincing that the second you hear her voice all you can do is go, "YES GURL!!!" Fiery South London-bred Jessie Ware, whose sophomore record Tough Love dropped today on Universal, takes you all the way there. "Tough Love," the title track on the album, opens with a boomy, neo-retro bass line but before you know it Jessie flies in and hovers above the slick production — way above it.
Produced by Miguel, Ed Sheeran and BenZel, Tough Love lives between the vocal and the electronic, and it's beautifully minimal. "Desire," with its booming, wide open pastures, seduces you from the start and might be the track that sums the whole record up. Exploring the theme of tough love, a universal human emotion if there ever was one, these addictive late night electro-soul groves echo every relationship you've ever been in, from those "Champagne Kisses" to that one special "Midnight Caller." In case you forgot, Jessie reminds you: "You should know by now/I keep you waiting/Mess you around like you're my plaything." Who hasn't been there before? BLOOP!
We caught up with Jessie and talked about reality television, donuts, and why she keeps making songs about unrequited love.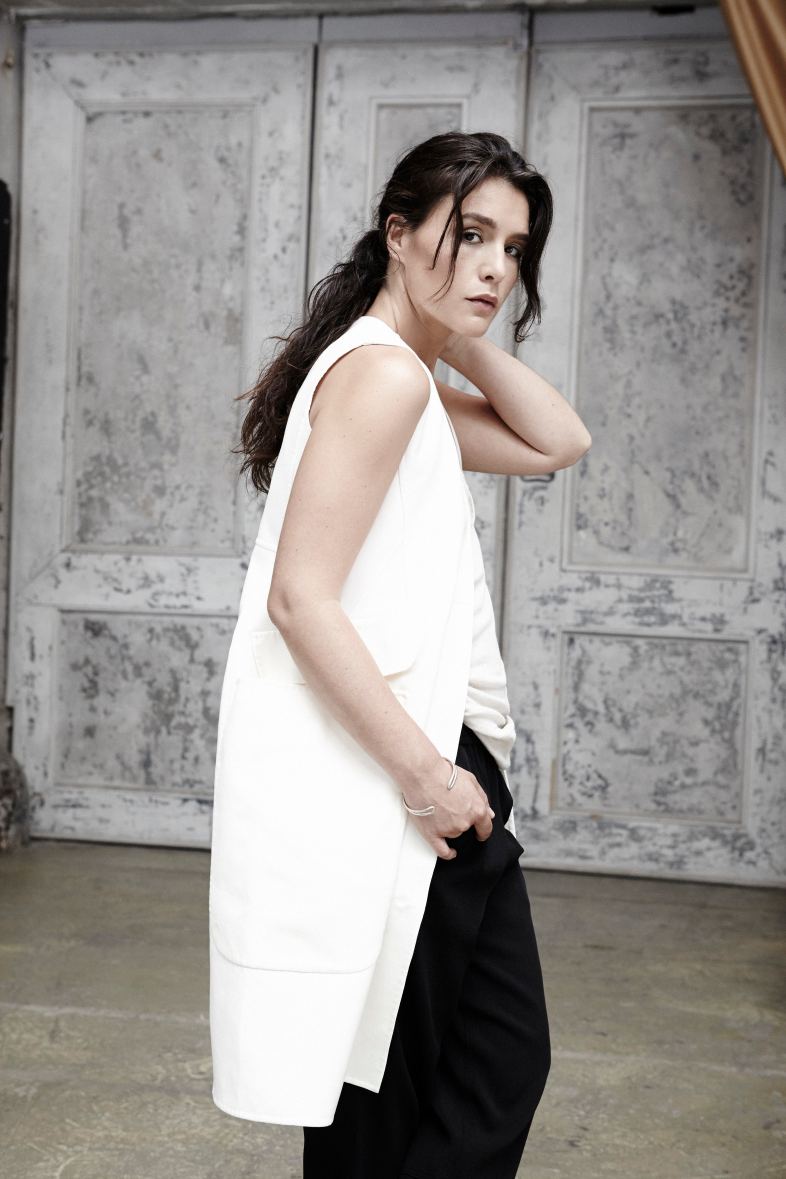 So I am really into how much you love huge earrings!
[laughs] Thank you! I love gold so I pretty much only wear gold. I've kind of toned down my big earrings, though. They're a bit less big this time – I'm sorry!
Oh no!
I know – I'm sorry! Well if I get the chance to meet you I'll wear really big earrings.
Or you could just give me ones you're not going to wear anymore, that's fine too.
I remember I was on tour in the States and I was wearing these hoops and there were these guys outside my show and they were like, "Oh my god we love your chola earrings." I was like, "What does 'chola' mean?" And they were like, "Oh my god it means Latina!" That's all I've wanted – I just want to look like Jennifer Lopez' sister.
You were in Berlin for the Berlin Festival. How was that?
It was great! I love Berlin as a city, it's very exciting to be there, and I feel like it's so culturally rich and exciting and they really have their own thing going on. It's just really nice to be playing music to people which is all I could really ask for is to present my new album to people.
I love Berlin so, so much. What did you do while you were there?
My friend always takes me out when he's there so we went for a beautiful meal on the canal. I had a singing lesson and I went to flea markets. I went to a food festival at Berghain and we toyed with the idea of going there at 8am but we couldn't be arsed to go at that time. But yeah it was lovely, I felt like I had a city break.
Do you have any performance rituals or things you have to do to psych you up before you hit the stage?
I warm up and I'm changing my technique so it's becoming more of a full-body warm up now. I drink lots of throat coat tea, and I try not to speak too much before. I mean, I'm still really worried I'm going to forget the words just because like I haven't played the new songs for 18 months yet.
Okay now I want to get really serious. What's the last TV show you binge watched?
Probably Orange is the New Black but I need to watch the new True Blood. I've watched Made in Chelsea which is like the worst program but I love it.
I remember I was on tour in the States and I was wearing these hoops and there were these guys outside my show and they were like, "Oh my god we love your chola earrings." I was like, "What does 'chola' mean?" And they were like, "Oh my god it means Latina!" That's all I've wanted – I just want to look like Jennifer Lopez' sister.
What is it about?
It's kind of like our version of The Hills, but it's about very rich kids in Chelsea, in London, so it's basically the same as The Hills but in Chelsea. It's fucking awful. So good but so awful.
Do people send you love letters or do your fans send you weird things?
My fans aren't that weird, which I'm quite happy about. They seem rather normal, which is always quite a blessing. When I'm in the States they seem to give me presents. The Americans are always very generous and I always get really beautiful letters from my Polish fans.
You're huge in Poland and you even did a performance in my old neighborhood in Greenpoint, Brooklyn, which is a super Polish area.
Oh yeah, in Warsaw. It was great – we had Pierogis afterwards.
Did you get a chance to grab a donut from Peter Pan Bakery?
No…what am I missing! I'm missing out on something.
Yes! There's an old school Polish bakery on Manhattan Avenue with the best donuts. Like seriously, the line on a Saturday morning is down the block.
Oh wow. Next time I'm in.
What is it about the theme of unrequited love that is so appealing to you lyrically?
It just makes me want to sing about it. It's that feeling, that frustration. I can never really get enough, it makes me want to perform better. I think it's this nostalgia of watching too many teen films where the girl never gets the guy that she wants. Maybe that's why.
There's also something pretty timeless and human about unrequited love.
Yeah, totally. Maybe feeling like you're not good enough for something or you're not getting the respect or the thing that you want, and I think it's a universal language to be able to sing in.
But now you're happy and married!
To be honest it's not any different! It's just kind of like now I don't have to call him my fucking fiancé, which is a stupid word.
LOLOL
It's really nice. We're a team, and we've been together forever so it's not kind of like, Oh! I've got to learn about you now. It's like, I know him. He knows me. We just know that now we have to put up with each other for the rest of our lives. It's fun, it's really good, it's nice to call him my husband. I got married and literally we haven't been able to enjoy the fact that we got married because I'm constantly not home.
You're a huge Prince fan, aren't you?
Prince has really, really inspired this record. I don't think that it necessarily sounds very "Prince," but it does have the sassiness of Prince and the unique way he delivers something. I always love a bit of an 80s edge. There's a song called "Tough Love" on the album, which definitely sounds a bit like "Pink Corvette."
Were there any surprises in the studio?
It was really easy. It felt far less painful for me, and I think that's because I felt more ready to write this album. It was really fun and it actually came together very, very quickly. The idea flowed and there were no dramas in the studio at all.
The song I keep going back to is "Kind of…Sometimes…Maybe."
Good. I'm so glad, because that is my favorite.
Really! Oh my god. I know we're talking about Prince and the 80s but to me that song has a very 90s R&B, "Red Light Special" TLC kind of scenario.
Totally. It's really fun that record. It's a song that unashamedly confident. When I talk about the content it's not unrequited at all it's completely the opposite, which is a quite new way for me to write a song because I'm so into the bitter sweet. But this one is very confident, and I wouldn't have written a song like that if it wasn't for Miguel, because he was like, "I want to show everyone you are a sassy and very confident woman. People should know that." I was like, 'Oh god, do people want to know that?' He was like, 'Yeah, fuck yeah!' So it was really with the help of Miguel that that kind of persona came out, and I'm very, very happy that he made me do it. And it's so fun live, too!