In June of 2015, a threatening post was shared on the joint Facebook account of Dee Dee and Gypsy Blancharde. It read "That bitch is dead!" Dee Dee was found stabbed to death in her Springfield, Missouri home. Gypsy, her disabled and terminally ill daughter, was nowhere to be found. The case took a tragic, twisted turn when it was discovered Gypsy was not as ill or disabled as the public had been made to believe, she was 4 years older than reported, and she was under arrest along with her boyfriend Nicholas Paul Godejohn for her mother's murder.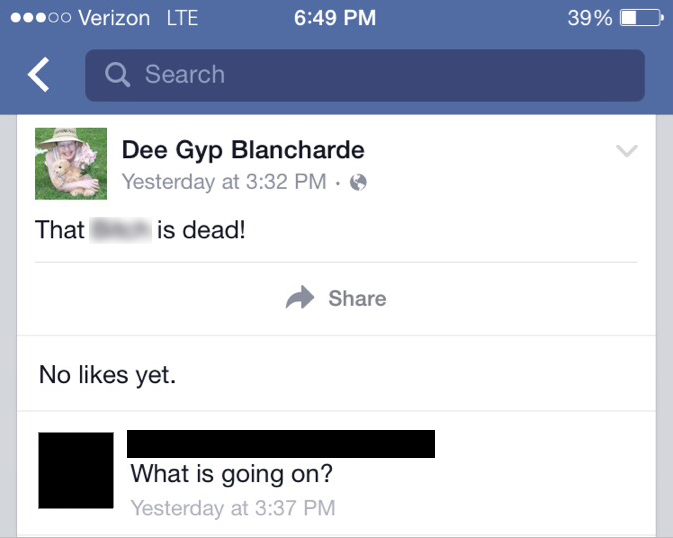 Latest Update
November 9, 1:46pm CST
Hello, friends. After allowing things to settle down after the madness that was those few weeks last June, I have returned to cover the Gypsy Blancharde murder case as it progresses towards trial.
I spoke with a great many people regarding this case, from major media outlets to true crime podcasts to Gypsy's own defense attorney and the lead detective. The amount of information I amassed over those weeks was staggering. It was a little surreal to haul all that stuff out and revisit this fascinating, heartbreaking case. But fortunately this particular case seems to be moving forward fairly quickly in terms of setting hearings and dates, so with the knowledge that Gypsy's pre-trial hearing would be held today, I hopped a Greyhound Bus and traveled the winding highway 44 from St. Louis to Springfield, Missouri.
While in town for the hearing, I had the fortune of meeting up with Aleah Woodmansee, a local girl who had been very close with Gypsy for several years. We had been staying in communication via Facebook messages (much like she and Gypsy had been) but it was a pleasure to meet her face-to-face. After chatting about the case a little, we went out for dinner at a local Springfield restaurant.
Aleah described Gypsy as someone she'd shared a special friendship with. In Facebook messages, they referred to each other as "sisters" and even discussed her relationship with Nicholas. There was no mention of the planned murder or any violence whatsoever.
This morning, we attended the pre-trial hearing together. In attendance was the prosecuting attorney Dan Patterson, Godejohn's attorney Dewayne Franklin Perry, Gypsy's attorneys Clate Baker and Mike Stanfield, and Godejohn and Gypsy themselves. (They are currently being tried together.)
The first thing I noticed when Godejohn entered was that he had his hands folded as if in prayer and kept them that way. He seemed very intense and worried.
When Gypsy entered, Aleah was understandably emotional. She hadn't seen her in years, even before the murder took place. I did my best to comfort her.
Gypsy looked somewhat lost. Her weight and health look good and her hair is growing back fast. She now wears a more modern pair of glasses, as opposed to the huge glasses that are featured in the pictures where she's "ill".
The first issue that was addressed was the death penalty, which explained why Nicholas was so nervous. The prosecution announced they would be waiving the death penalty for both cases and had no plans to pursue it in the future.
At this, Nicholas mouthed "Thank you, dear lord, thank you."
After that, the prosecution announced that there was an alarming amount of information and evidence that they've provided the defense, who need more time to go over it. He suggested another pre-trial hearing where more questions could be answered/addressed upon the defense completing their review. The defense agreed, and a new pre-trial hearing was set for January 11, 2016, at 1:30pm.
It was a noticeably short hearing but given the amount of evidence it makes sense the defense would need more time. The suspects were escorted out and well, that was that.
I, for one, am relieved the death penalty was waived. I believe considering the circumstances it was not necessary. From there, though, we'll have to see where the prosecution goes. With the death penalty off the table, the next harshest punishment would be life in prison without possibility of parole.
In the meantime, I will continue to do research and follow this case as it progresses. It's moving along quickly, as I said. So it looks like in January I'll be back to Springfield and hopefully the next hearing will have a little more meat to it.
As stated before, if anyone has any information they'd like to submit regarding the case (anonymous or otherwise), feel free to email me at mj@thoughtcatalog.com.
Springfield, it's been a pleasure.