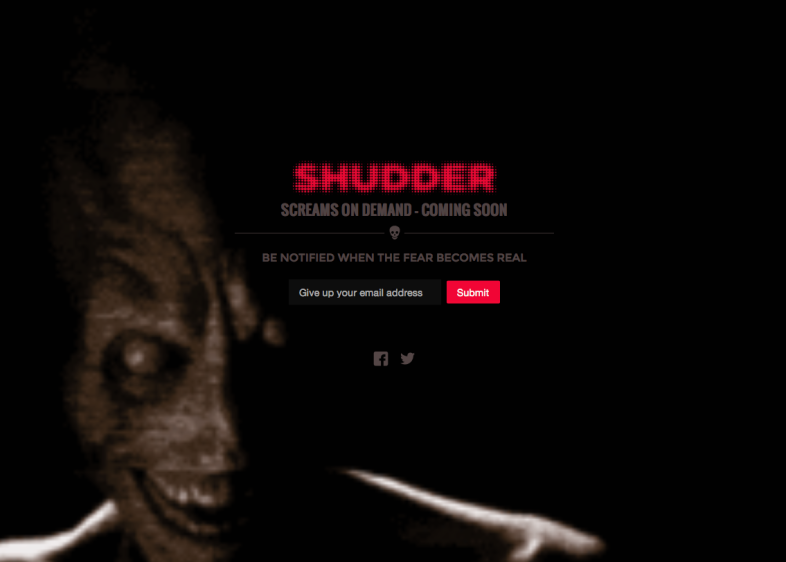 Fellow horror fans, prepare to shriek with delight when I tell you this: AMC is currently beta-testing an ALL HORROR MOVIE streaming service called "Shudder". That name! I love it already.
It's currently invite-only (*ahem* yo AMC, hook a gal up) so we'll have to wait to get the dirty details until it's out of beta but here's what we know, courtesy of Variety:
Invited beta users are currently receiving emails to sign up for the service, wherein they'll get two free months to start.

When opened to the public, Shudder's streaming service will be $4.99 a month or, alternatively, $49.99 a year.

There is no date planned to release Shudder from beta.

Current available movies include "A Tale Of Two Sisters", "Nosferatu", and the original Swedish "Let The Right One In".

You'll be able to choose from different themes of horror films, like "Psychos and Madmen", "Gross Anatomy", and "Romantic Bloodsuckers".

I really really really want it.
Okay, that last part wasn't exactly reported by Variety but it doesn't make it any less true. So to kill some time while I wait in agony for my beta invitation, I thought I'd cover some of my favorite horror films that I hope Shudder will have waiting for me once I get my grubby little hands on it.
The Masters Of Horror Series
These aren't your standard full-length horror movies but oh my god do I ever love them. I found this former Showtime series on Netflix back in 2009 around Halloween and they've become a Halloween tradition every year. I always kick it off with my favorite, "Jenifer", which in turn sparked a very confusing Twitter exchange with its star and screenwriter, former "Wings" star Steven Weber. (P.S. He's going to be in the next season of "American Horror Story"!)
"Masters of Horror" is essentially an anthology series of standalone films directed and written by some of the greats in the genre, including John Landis, Dario Argento, John Carpenter, Tobe Hooper, and so so many more. I'm serious when I say you need to check them out; they range from funny to downright terrifying. Also, it was created by Mick Garris, who wrote "Hocus Pocus" — another solid Halloween tradition.
If this collection shows up in their service, binge watch away; there are two full seasons to enjoy.
Texas Chainsaw Massacre (2003)
https://instagram.com/p/31WRirl7-0/
I've always loved scary stuff, ever since I was a kid. (Ask my mom. She'll tell you how weird I was/am.) That being said, while I enjoyed scary stuff, nothing ever really SCARED me. I never had that experience like my friends did where they accidentally watched "Child's Play" when they were 3 or had a clown come to their birthday who traumatized them irreparably. For me, horror movies are usually just fun and maybe a little unsettling.
Then I saw the "Texas Chainsaw Massacre" remake.
Jesus Christ, that movie. I might be the only one who was terrified throughout the entire thing. It took me a while to realize why that film I saw on Halloween of 2003 scared the shit out of me but I think I know now: have you ever had a nightmare where no matter where you go, you're not safe? Something is following you and it doesn't matter how far you run or where you hide, it's going to find you. THAT'S what this movie is like. Every time you think poor, sweaty Jessica Biel is safe, finally out of Leatherface's grasp, YOU'RE WRONG! YOU'RE GOD DAMN WRONG!
I used to have a copy of this but I don't anymore so if it was on Shudder I'm pretty sure I'll watch it. I mean, maybe. During the day. If someone comes over to watch it with me.
Paranormal Activity
https://instagram.com/p/31xuB_iBri/
Get outta here with your convoluted sequels and confusing storyline, I just want the first one. The one where you watch as that clock counts up in fast-forward and then suddenly stops — and your eyes are frantically scanning the screen, KNOWING something is coming, KNOWING something's about to happen but helpless to stop it. "Paranormal Activity" exemplified something that the horror genre had been sorely lacking for a long time: true suspense.
No cheap shots, no blood and guts, no CGI monsters. Just good old-fashioned terror. This is a great one to watch with friends, especially ones that haven't seen it yet.
Children Of The Corn II: The Final Sacrifice
Yes, number 2 of this honestly quite awful Stephen King adaptation series. What I liked about this movie — other than the fact that the villain, Micah, was fine as hell to my 15 year old self — was that it didn't take itself too seriously. It tried to be unsettling, and that's not too hard when you're working with creepy-ass kids in Amish clothing, but it was funny at parts too. Watch it just for the "Old Lady In Wheelchair VS RC Car Controller" scene (and also Micah's thick, luxurious black hair).
It Follows
In my opinion, "It Follows" was this year's "The Babadook". It had people talking because it's not just an excellent horror film but an excellent film period. Between the fresh premise, fantastic cinematography, and Disasterpeace's spookily stellar soundtrack, this movie lived up to the hype.
And it was SCARY. Again, it's pretty hard to freak me out, but I swear to god I looked behind me on my run today and saw an old man walking very slowly towards me — I NOPED THE HELL OUT. I don't even care if he saw me fleeing like I was being chased by a cloud of killer bees, there was no way I was letting him get anywhere near me after watching "It Follows".
Additionally, it's got a weird mesh of generations in regards to decor, clothing, and technology. Keep an eye out for the cool smartphone that looks like a 1940s vintage compact (which I covet desperately). This one is definitely a must-see… and hopefully I'll be seeing it on Shudder! (Seriously, AMC, waitin' on that invite.)