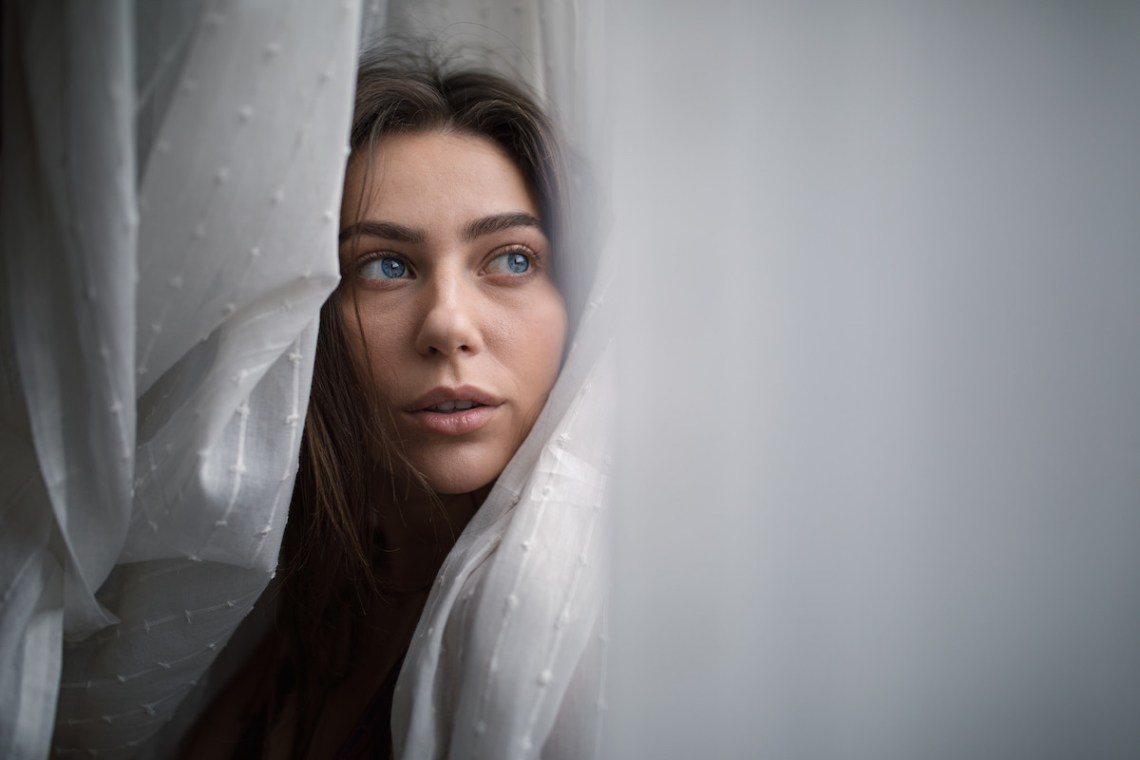 ---
1. GETTING ON THEIR TIPTOES TO REACH SOMETHING
"Going up on their tiptoes to reach something. Or bending over to reach something. Just reaching for things in general I guess."
---
2. INCIDENTAL ARMPIT-FLASHING
"When she shows her underarms. For example when she puts up her hair. Fuuck that gets me going!!"
---
3. INCIDENTAL ASS-JIGGLING
"When she walks and her ass jiggles. Daaaamn."
---
4. PUTTING HER HAIR UP
"Putting her hair up….Pavlovian conditioning."
---
5. LETTING HER HAIR DOWN
"I really love it when she takes her hair down from a bun and shakes her head to get it to sit right. I also love when we're laying down, and she's on her side, resting her palm on my chest."
---
6. ARM-PATTING
"If a girl lightly touches my arm while talking to me, or brushes her hand over my bicep or shoulder."
---
7. PLAYING WITH MY HAIR
"Plays with my hair."
---
8. TILTING HER HEAD SLIGHTLY WHILE LOOKING UP AT ME
"When she tilts her head down slightly while looking up at me."
---
9. HUGGING FROM BEHIND
"Hug me from behind, push boobs on back, head on my shoulder, and says something like, 'I'm just trying to see what you're working on.' She's just chilling' on my shoulder for what seems to be forever, and she smells good. usually doesn't matter which girl 'cause they all smell pretty good since the shampoo smell just sits in their hair forever. Thanks for ruining my concentration for the remainder of our time in the library."
---
10. GENUINE SMILING
"A genuine smile. Call me old-fashioned."
---
11. BITING HER LIP
"Lip bite, for sure."
---
12. PUTTING HER HEAD ON MY SHOULDER
"Laying her head on my shoulder, so cute."
---
13. BEING CLEAN
"Being clean, and generally attempting to be funny. Love that shit."
---
14. WEARING DEM APPLE-BOTTOM JEANS
"When she wears dem apple-bottom jeans, boots with the fur (With the fur)."
---
15. SHY STARING
"That weird little moment where you look at her and you realize she was staring at you and then she realizes you realize she was staring at you but she doesn't look away she just keeps staring just a moment longer and it feels like all time just stops and the world around you just fades away until it's just you and her and in those few seconds you feel your souls connect before she lets out a shy little laugh and breaks the eye contact but holy shit you just feel the connection you just made and then all your insecurities and doubts vanish and it fills you up with so much happiness and your entire body feels especially warm inside because you just know from those few seconds of eye contact that you feel the same way about each other and she's the one.
You know, just subtle little things."
---
16. PROLONGED EYE CONTACT
"When her ear sticks out through her hair when it's down.
When her shirt comes up enough to reveal just a little bit of skin on her hip.
If she has cute lips, just watching her talk.
Prolonged eye contact.
Simply wearing a tank top.
When her hair is up, and she puts it down.
There are many, many more."
---
17. PUSHING HER GLASSES UP HER NOSE WITH HER FINGER
"When she wears glasses and does the thing where she pushes them up her nose with her finger."
---
18. TALKING DIRTY
"When she's dressed all classy, and looks like a sweet innocent girl, but she has the mouth of a sailor and makes dark/dirty jokes. Hnnnngg."
---
19. GRABBING MY FOREARM
"I'm going to assume this is all in relation to a girl I'm pretty close with and have SOME attraction toward;
Lingering eye contact, playing with my hair, grabbing my forearm to get my attention, grabbing my forearm in response to the conversation, grabbing my forearm, genuine smile, sitting in silence with me without NEEDING to talk, playing together, laughing, Hair normally tied up, let it down, Hair normally let down, tie it up, Her aroma.
If it's a random hot girl at a bar, I guess buying me a drink would do it."
---
20. WEARING ONE BIG T-SHIRT AND NOTHING ELSE
"Pajamas. One big T-shirt, preferably mine, no bra, no makeup, hair down."
Fuck me, that gets me going something fierce."
---
21. SAYING MY NAME
"Saying my name. Most people call me by nicknames or my first name (father's) and I am comfortably with it,but when a girl start addressing me by my own name I get really interested on her."
---
22. BRAIDS AND GLASSES
"Braids and glasses."
---
23. STRETCHING IN SMALL CLOTHES
"Stretching and especially so if their clothes are a size or two too small."
---
24. TAKING IN A DEEP BREATH
"How their chest grows big when they take a deep breath."
---
25. PONYTAIL THROUGH THE BASEBALL CAP
"I really like it when girls wear hats and have their ponytail through the opening. No idea why. Drives me nuts."
---
26. PULLING UP SAGGY PANTS
"Pulling pants up, like when they've sagged a bit."
---
27. KNEE-HIGH SOCKS
"Knee-high socks, no idea why. Long legs in general make me diamonds. Braided hair, so glad that is in fashion ATM."
---
28. TIGHT T-SHIRTS
"When she wears T-shirts that are too tight."
---
29. RUSSIAN ACCENTS
"Was having a conversation with this girl last week and noticed she had a bit of a Russian accent and asked if her she could speak any other language, she spoke Russian and Ukrainian instant turn-on."
---
30. FLIPPING THE ICE-CREAM SPOON UPSIDE DOWN
"This is going to sound weird. But when a girl is eating like ice cream with a spoon and she flips the spoon upside down when she puts it in her mouth. Turns me on for whatever reason."
---
31. WEARING MY SHIRTS
"Wearing my shirts."
---
32. HAIR-FLIPPING
"Flipping their hair, walking, breathing, existing. In complete seriousness, I really love seeing a girl flipping her long beautiful hair."
---
33. USING MY NAME
"Use my name a lot; A person going out of their way to use your name is a clear sign of interest in you."
---
34. BURPING
"Burping. Not sure why, but it's great, especially if they nail a really nice one."
---
35. MESSY HAIR
"When their hair is just a little messy. When my SO sneezes and it makes their hair fall forward into their face it always puts me in a better mood."
---
36. CIVIL DISOBEDIENCE
"Get arrested for civil disobedience, organize spontaneous strikes, burn billboards."
---
37. UNINTENTIONALLY REVEALING HER NECK
"Revealing her neck, like moving her hair to one side or whatever. It has to be unintentional. I'm not like beating off to neck pics, but tilt your head to the side for a stretch and I'm basically Dracula. The neck and collar bone turn me on more than titties and a butthole."
---
38. NOSE-CRINKLING
"They crinkle their little noses."
---
39. DOING A 'MAN VOICE'
"I have a very strange attraction for when girls try to imitate my voice and do that thing when they try to make their voice really deep (but really it never gets deep). That 'I'm a big strong man and I do man things' mocking voice girls do. That's super hot to me. Makes me feel like they view me as some super masculine god."
---
40. BENDING OVER THE SINK TO BRUSH HER TEETH
"Bending over the sink to brush her teeth. Sexy never tasted so minty fresh."
---
41. DRIVING HEAVY EQUIPMENT
"Driving heavy equipment.
Wear 90s style overalls, preferably with 1 strap left unbuckled. + 1 for stomping the yard in said outfit.
Humming softly while doing any task."
---
42. CONFIDENCE
"Confidence. Cutesy gestures and general clumsiness are complete turnoffs for me. If I catch you looking at me, but you keep staring regardless, I'll shy away out of social awkwardness, but I do think it's attractive on the lady's part.
That said I'm a sucker for befriending people who are natural born leaders. My best friend is like that, constantly deciding what to do. I'm the type of person that accepts my environment, rather than try to change it to fit me."
---
43. STARING OFF IN THE DISTANCE WITH HER INDEX FINGER ON HER LOWER LIP
"Put their index finger on their lower lip and stare off into the distance."
---
44. WALKING UP THE STAIRS FIRST
"Letting yourself go up the stairs first so I can admire the view. Works better with tight fitting clothes of course."
---
45. LICKING HER LIPS
"If a girl licks her lips, wears bright red or black lipstick, does that thing where she points her head down and looks up at you with her eyes or does a sultry laugh (that kind of laugh that sounds like it's half moaning), ESPECIALLY the first two, lips are about 60% of the sexiness of a woman to me, I will immediately want to smother her with kisses and rip her clothes off."