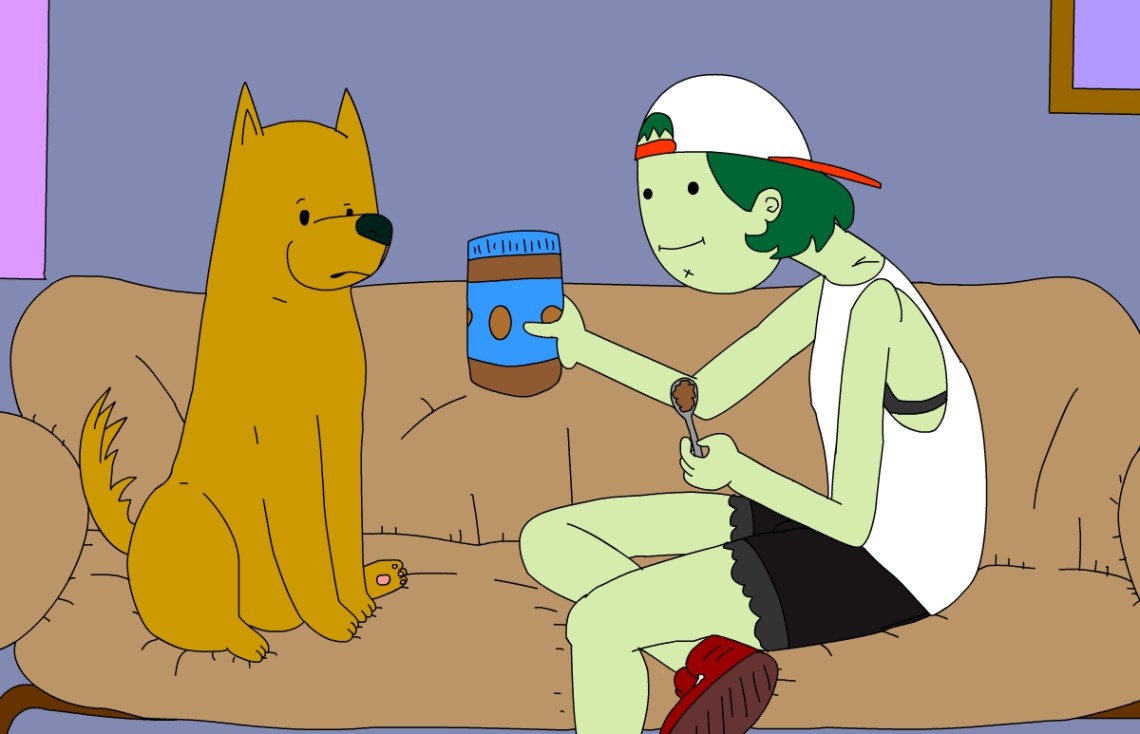 ---
1. I, um, let a dog lick peanut butter off my balls once.
"I, um, let a dog lick peanut butter off my balls once."
---
2. Put a ginger root up my ass.
"Have you ever put ginger root up your ass?"
---
3. Tried to fuck a Gatorade bottle. Tried.
"Tried to fuck a Gatorade bottle. Tried."
---
4. Fucked a potato.
"Fucked a potato. I do live in Idaho. It was not that great."
---
5. Inserted a pen cartridge into my dickhole.
"Was curious if sounding could actually feel good. Lubed up a thin pen cartridge and slowly inserted into my dickhole. Got maybe an inch before I felt a sharp pain and noped the fuck out. Didn't dampen my spirits still finished off the jerk sesh."
---
6. Broke the key on my chastity-belt lock.
"I have a light chastity fetish. One night I decided to put my device on, drink a lot, and look at porn. Well, my drunken mind thought it'd be super-hot to break the key off into the lock, which I did. Sexy sexy panic set in, but I decided I couldn't do anything until I was sober. Wound up breaking the lock and buying a new one later."
---
7. Got fucked with a horse dildo after answering a Craigslist ad.
"Responded to a Craigslist ad from a guy saying he was wanted to gag and tie someone up and use a dildo on them.
I answered. I ended up tied, gagged, and being worked a bit until he brought the dildo. Which was a horse dildo the size of my arm. It was weird but the feeling of it popping in with its size felt awesome."
---
8. Shoved a spoon in my ass.
"Shoved a spoon in my ass."
---
9. Fucked the soil in a flower pot.
"I completely forgot to prepare some tissues and realized it just as I was about to come. In a rush I ended up grabbing a flower pot and finished in there by thrusting my dick into the soil. I could not believe myself after I came back to my senses."
---
10. Found a random white guy on Craigslist to fuck my wife hard.
"Searched on Craigslist, found a random white guy to come fuck my wife, had him come over and fuck her on our marital bed, all within 2 hours. Fuck! It was hot how hard she got fucked."
---
11. Fucked a balloon.
"Made a balloon ass. Stupid in the 'why would you do this' but actually genius if you wanna fuck a balloon. Not a girl, a balloon."
---
12. Fucked a sex doll in a cemetery.
"Found a sex doll tightly sealed in the original packaging just laying in the middle of the street one night. I put it in my trunk thinking of a way to prank someone with it.
A few weeks later I was out from work getting lunch and I ran into the sexiest girl I know in real life, this girl is near Jessica Alba hot, we always casually flirt it up. This time it was getting pretty heavy but we both had to get back to work. I got in my car with a nuclear boner. I drove slowely it was a throbbing painful boner, something had to be done. Then it clicked, that doll was still in the trunk. I looked around and saw traffic and people everywhere. Thats when I remembered the quit cemetery on the back way back to work. I fucked that doll like a crazed beast in the back of the place. That's the only time I've ever fucked a sex doll but it was amazing.
Fun Fact: After I came out of cumcoma I looked over at the nearest tombstone and I'll never forget the names Harvey and Ida Miller, they sure got a show that day."
---
13. Stuck my dick in an apple and got it stung by a bee that landed on the tip.
"I stuck my dick in an apple I found on the ground and got it stung by a bee that landed on the tip."
---
14. Used a hand-mixer to masturbate, almost mutilated my lady bits.
"I decided it was a good idea to use a hand-mixer to masturbate. It had hooks for kneading dough, and it pierced one of my labia's. So close to having my lady bits mutilated…. I only have a minor scar though, childbirth did a lot more damage in the pleasure department….Also, that was the night I decided I should buy a vibrator."
---
15. Accidentally sexted my ex's mom.
"I was having trouble getting off while my ex was at work, so I went to text him about it, hoping maybe some sexting could help. I went into explicit detail about how long I'd been trying, how desperate I was…only to find out I'd texted his mother. She laughed and told me to buy a vibrator, but god was I mortified."
---
16. I fucked the couch once.
"I fucked the couch once."
---
17. Rubbed one out during a business meeting.
"My boss is an extremely dignified gentleman, distinguished in his career and has a confidence mien. His voice evokes images of erudition and belongs hovering over dusty tones in an ancient library, it's sonorous and resonates with something primitive inside me. It has its own decadence, my hips flex and thighs squeeze together as if of their own volition when his voice fluctuates from a whisper to a domineering command. That tender ache between my legs begins, the yearning to be filled and I know I'm in trouble with my salacious thoughts. When he conducts the weekly meetings, it's my prelude to sexual gratification, afterwards I'm like this in the bathroom.
So I once I acquiesced to my baser instinct and vigorous rubbed my clit at the back of the meeting hall, my folder of notes impetuously throw across my lap to obscure my hand movements. And I let his voice enthrall my imagination, eliciting the most powerful orgasm I've ever given myself whilst simultaneously biting my folder to restrain my moans. My co-workers were ignorant to my indecorous activities but someone commented on "What's that smell" as they queued up to leave.
He commented on the bite marks along the edge of the folder a few weeks later, inquiring what they were to which I gave a bashful ambiguous remark. It's a shame he's married."
---
18. Put Icy Hot on my penis because I thought it'd feel great.
"Put Icy Hot on my penis because I thought it'd feel great. I was writing in pain in the bathtub trying to wash it off, with a rock hard raging boner. So i guess it kind of worked?"
---
19. Fingered my girlfriend while her dad was sitting less than three feet away from us.
"I once fingered my ex-gf while her dad was sitting not even three feet away from us on a different seat. It was under a blanket and I can't even remember what movie we were watching."
---
20. Had sex in a motel room while her sister was on the next bed and her brother was on the floo0r.
"Me and the high-school sweetheart made the sex in a hotel room with her older brother (laying on floor between beds) and younger sister (laying on the other bed) both awake and watching a movie. At the time I think we both 100% thought we got away with it, but I learned a few years later from the younger sister that the all totally knew, but didn't want to make a scene so they just let it happen and didn't give us crap for it."
---
21. Rubbed an American flag against my clit in a church storage room.
"When I was about 14, I may have once been wearing shorts made of a very thin material and got left alone in the storage room at a church. Inside the storage room, there was an American flag (don't know why some churches have flags in the US, they just do). Now, I didn't penetrate myself with the flag, but I tilted it over, was looking at it, and slowly started to ride it and rub it against my clit. I only did it for about a minute, then I realized someone could walk in at any moment and I walked out. It wasn't on Sunday, I think there was a bake sale or something being organized, but there were still a few people around the church that day.
Probably the most patriotic moment of my young life, even if I didn't fully understand what I was doing ;)"
---
22. Jacked off in a utility closet at a Catholic church while performing community service.
"Jacked off in a utility closet at a Catholic church. I was there teaching prayers to 3rd Graders on Wednesday nights as part of my community service for breaking and entering (all I was doing was stealing beer from people's garage fridges), and I had a break, so I went to the closet and rubbed one out."
---
23. Got married.
"Got married."