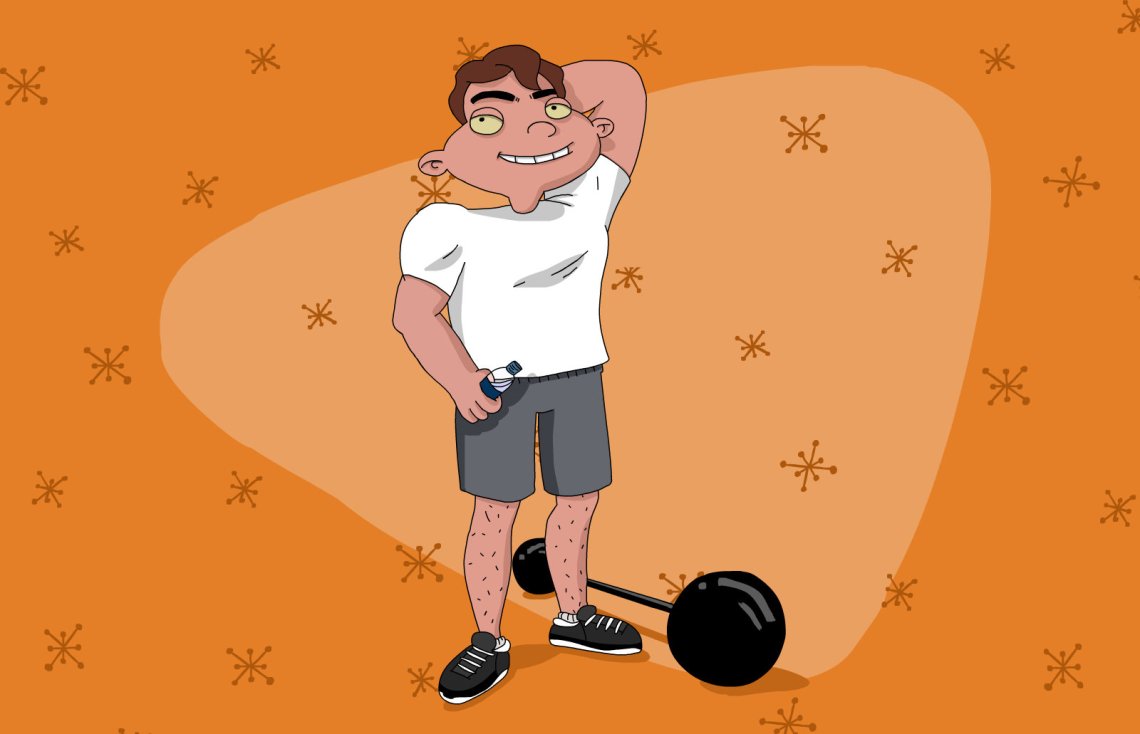 ---
USA
"Basic white guys in the US wear:
• New Balance shoes
• Gap/Levi's jeans
• Band T-shirt
• College hoodie."
---
United Kingdom
"In the UK I'd say those tight jeans/chinos that stop at the ankle, extra-long white T-shirt that goes past the butt and hair that's too short on the sides and too long in the top."
—GdJk
---
United Kingdom, cont.
"In the U.K. at least: undercuts, air maxes, and overuse of the word 'sesh.'"
---
England
"Hopping over the pond:
• England football shirt
• Matalan or George Jeans
• buzzcut
• grey hoodie
• can of Heineken or Steller."
---
Scotland
"Here in Glasgow you just need to go to your local Nando's to see the fuckery of basicness in guys:
• Quiff/undercut/topknot hairstyle or ball cap of an American sports team they've never heard of. Usually backwards sitting too high on the forehead.
• Ripped knee skinny jeans or joggers.
• Bomber jacket with neutral color T-shirt underneath.
• White New Balance trainers or huaraches.
• Don't get me wrong, dress how you want but it's cringey to seem them all dress the exact same fucking way."
---
Australia
"In Australia I'd say it would be a singlet, board shorts and thongs."
---
Canada #1
"Canada: roots sweatpants or chinos with timberlands and a plaid shirt with a beanie. Bonus points for a bubble vest from like Columbia or North Face."
---
Canada #2
"In Canada: backwards hat, lifted truck, Tapout shirt."
---
Canada #3
"In Canada it's a flannel shirt, a pack of MacDonald's smokes, poutine, toque, and a 2-4."
---
Rural Canada
"In rural Canada it's khaki pants, AEO T-shirts, and a Bass Pro Shop hat."
---
New York City
"I got this, here is the NYC fuckboi starter package:
Vape Herschel bag Canada Goose down jacket Daniel Wellington watch Ray-Ban Clubmasters Adidas track pants, notably Tiro 15s Any sort of Nike/Adidas athletic shoes Supreme/Adidas hat Latest iPhone Adidas in general J Crew vneck LV wallet. Did I forget to mention Adidas?"
---
Suburban New York
"Here in suburban New York, the answer is Vineyard Vines. Everyone tries so hard to appear as if they or their parents own a yacht. It's pretty funny. Oh, and also Timbs! Apparently those are unironically back now."
---
Utah
"In Utah, its a beard, flat brim hat, lifted Dodge diesel. Bonus for KCCO, Ragnar or elk/deer hunting decal on the back window."
---
Arkansas
"The actual answer here is a 'DMND' brand stupid black shirt that was 50 dollars and has a diamond on the front, a backwards hat, long stupid cargo shorts and vans. That's what basic is I live in Arkansas and see this I've seen it everywhere it's an epidemic and it's much more basic than frat dress."
---
Midwest
"Middle-aged Midwestern version: football jersey, baseball hat 24/7, white guy shaved head to disguise receding hairline, dad jeans, white New Balance, some configuration of a goatee to try and define your double chin. This is my dating pool and this is 99% of the profile pictures on OKCupid. I don't think I could tell most of the guys apart side by side in a lineup."
---
Montana
"In Montana it's stone-washed jeans with decorative stitching, white long sleeve shirt, and a North Face vest. Shoes can vary."
—ASHart
---
Southern California
"SoCal version: Sublime T-shirt, tight jeans, boat shoes."
—atglobe
---
Southern California, cont.
"Southern Cali -> High top classic vans, Nike ankle socks pulled up, khaki/chino shorts, a black or white T-shirt, and a black baseball cap. It's like a uniform around here it seems."
—homesweetocean
---
West Virginia
"In W.Va., it's a Cabela's baseball cap with a fishing hook in it."
—Shishkahuben
---
The South
"Depends on the location: Southern beach basic boys wear Guy Harvey shirts, chubbies, and boat shoes."
—dbirdflyshi
---
Redneck Country
"Where I live there's two basic guy groups: the bro and the redneck, then the normal guys.
Bro: Nike shirt/hoodie/windbreaker, athletic shorts or rock revival pant, Nike sandals or vans both with black Nike socks. With sunglasses and water bottle.
Redneck: Carhartt or Ben Davis shirt/hoodie/coat, wrangler jeans or Carhartt work pants, cowboy or work boots. With pocket knife and chew/smokes. I fall into this group."
—Nutless93