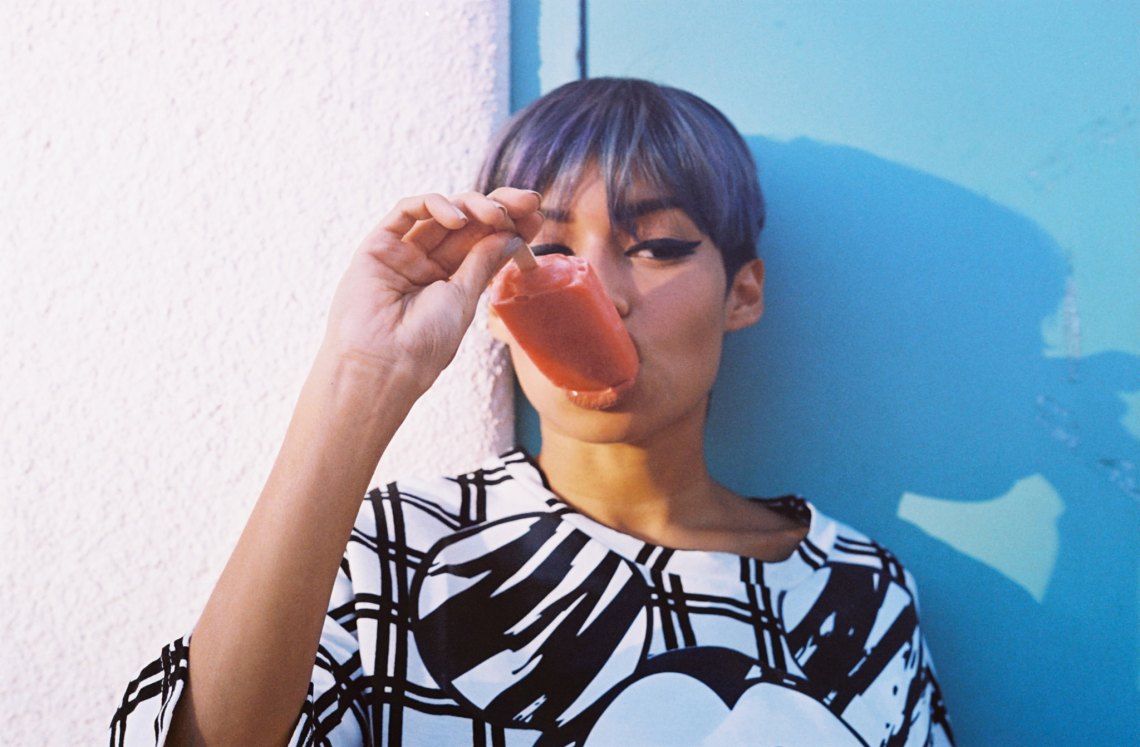 ---
1.
"They can finish a Snack Pak pudding without a spoon."
---
2.
"Those black chokers that girls wear are actually black belts for sucking dick."
---
3.
"Girls who know how to arch their lower back."
---
4.
"The way they kiss. In my experience, the man who puts his whole tongue down your throat is also the one to jam his cock into you without any kind of foreplay and jackhammer away."
---
5.
"I've noticed that empathic people are generally better in bed."
---
6.
"2 things I noticed:
1) People who are good listeners and generous are usually great in bed. If it's not the first time, it will get better.
2) Women that have been in long relationships are usually a lot better in bed than those who've had more short-term relationships."
---
7.
"They don't talk about it. They don't raise their voice or seem pressed. Quiet, modest dudes are always packing and will ruin your life."
---
8.
"When they drop monster condoms for their magnum dong on the floor at the pharmacy."
---
9.
"I find that a good indicator is how willing they are to take the lead. To me it shows that they're confident. If somebody initiates sex or any sort of action then I find that they tend to be a better sexual partner.
Just to clarify, consent is very important. Obviously if somebody isn't reciprocating your advances you gotta respect that. I meant that it's always good when your partner doesn't wait for you to do everything yourself. It's a give and take situation."
---
10.
"In my single days there were three things that were signs a woman was probably the sort of one-night-stand "Yeah, I'll try/wear that" type of girl I was looking for:
• Cracked screen on phone
• Tattoo, especially lower back tattoo
• Big laugh
Not saying that if a woman has all these things they're up for anything, but all the women who were up for anything in my experience had all these things."
---
11.
"Women that want to have sex are better in bed than women that give you sex. You have sex with each other or its masturbation. It's not wrong for a woman to want it to. It's the way it should be."
---
12.
"They don't constantly talk about how good they are in bed."
---
13.
"A man who is genuinely attentive to carrying a conversation, and also attentive as to whether I'm enjoying myself at whatever activity we're out at. Basically, a man who cares about a woman's happiness."
---
14.
"As a straight man with a lot of Lesbian friends, I've had sex with a handful of lesbians(under many different circumstances, but for the most part is was just curiosity on their part), and they are all at the very top of my list for best lays. There's actually science behind why this is true. Women are harder to please sexually than men the vast majority of the time due to the fact that for women, sex is a full body experience, while men really only need focus on the dick. So lesbians are women who typically put in a lot of effort and nuance to how they perform every little action, as they're used to performing them on women, this makes them typically better in bed, at least given my preferences."
---
15.
"I'd say a man who plays a stringed instrument or brass instrument is usually good. My fiance is a former trombone player and I can definitely vouch for him."
---
16.
"If a man can tie a knot in a cherry stem with his tongue he'll lick the fuck out of your sloppy cunt hole."
---
17.
"They are a drummer. The rhythm."
---
18.
"I've had the best sex with men who give intense eye contact while flirting. In that moment, you just know that intensity will be present in the bedroom and that he's made it his mission to have full command of your body. If they stare into your soul while looking in your eyes, chances are the sex is going to be phenomenal."
---
19.
"Ladies with a big nose. Guys, think back and back me up on this."
---
20.
"Someone athletic will have much more stamina and far better control over their body."
---
21.
"If he's not afraid to reach out and touch/rub you at random times of the day. Like you're sitting on the couch and all of the sudden he reaches over and starts massaging your neck without even saying anything. It indicates sexual confidence and assertiveness."
---
22.
"Flexibility – girls who do yoga, dance, gymnastics."
---
23.
"Licking lips. Usually an indicator of attraction, and also shows a slight oral fixation."
---
24.
"Good swing dancer with a clear smooth lead who takes care of his partner on the dance floor (doesn't jerk her around, doesn't crash her into other people).
This is why couple dancing evolved imho – it's the absolute best way to suss out somebody's physical style, their ability to synchronize movements with another person, and the degree to which they are considerate of their partner. Also you can check out how they smell. :)"
---
25.
"Girls that ride horseback. 3/3 great lays so far."
---
26.
"In a post-coital conversation, a girl once told me "I knew you'd be good in bed because of how you eat your food." I asked what she meant and she said she noticed I eat very slowly, relishing every bite, taking my time, not rushing things. That is how I eat and how I, um, get busy :) Later on, an old lady I knew, said something to back that up, she said "If you want to know how a man is in bed, watch him eat, if you want to know how a woman is in bed, watch her dance." I've always found this to be true."
---
27.
"I think watching how someone moves can tell you a lot. Also how they work in physical touches and cues as well as react to them. Like when I want to kiss someone I will glance at their lips and if they do the same then I feel comfortable going for it. If you're awkward with things like that or not confident I won't think you're good in bed."
---
28.
"Usually if the girl is crazy she is good in bed."
---
29.
"Slurred speech, center of gravity being off. I've always had decent luck with girls that have these and similar qualities."
---
30.
"They bother to notice what you prefer, believe in, or are comfortable with — long before the sex stuff starts. They're not self centered or selfish."
---
31.
"A good sense of humor is a big one."
---
32.
"People whose line of work involves a form of dancing. They'll fuck you dry."
---
33.
"I always find that the way someone uses their hands. If someone can caress you, or use their hands to make you feel relaxed – they're usually good in bed."
---
34.
"When a 30 year old woman talks like a 6-year-old girl, they are usually a freak in bed. Most likely bat shit crazy as well."
---
35.
"The trend I've seen is if the guy offers a massage beforehand and he's good at it, he'll likely be good in bed as well. But if he's not wanting to give you one or it lasts for 2 minutes, the guys just in bed with you for his own pleasure."
---
36.
"A man who plays an instrument (particularly piano/guitar in my experience) tends to have very agile and excellent fingers."
---
37.
"She's crazy, for some reason I've yet to meet a woman who's good in bed who isn't on some sort of re-uptake inhibitor.
If you're in a long term relationship the most girls will get "better" as they get to know you, but I think it takes crazy for many girls to just be confident in bed. And not the grate your dick with their teeth 'I think biting makes me confident' bullshit. But actually care free."
---
38.
"Girls with low self esteem and oral fixations are the best. Throw in Daddy issues and you have the perfect woman."
---
39.
"Quiet people."
---
40.
"Nonchalantly confident, smiles easily, listens carefully, isn't afraid to be goofy, rhythm, short men, good kisser, good tongue control, rolls his R's easily."
---
41.
"Massive dong shaped bulge in their jeans, unless they're female."
---
42.
"If she's making you wait a little longer than most girls would, she's probably going to blow your mind. That's been my experience."
---
43.
"Sharp sense of humor—girls who are genuinely witty are usually pretty good in the sack, I find."
---
44.
"The way he looks at you: the way a lion looks at a gazelle right before he strikes. That shows me that he is confident, knows what he wants and knows how to get it. Gives me the feeling that I completely give myself."
---
45.
"For women it is that they are somewhat crazy or have a lot of issues growing up. In my experiences it was the ones who had a lot of issues that were the best in bed."
---
46.
"1. Confidence. People who are insecure are usually inexperienced.
2. Cardio. People who do cardio focused exercises can last longer without needing to rest."
---
47.
"Confidence. If she's self-assured she's more likely to enjoy you exploring her body, whereas a woman with more self doubt will likely get into it less which equals less movement….Also, for some reason I've yet to figure out, eye contact."
---
48.
"If they're good at swimming. Specifically, underwater."
---
49.
"All in the kiss. When you're smooching you can tell. If the kissing is bad, the sex will more than likely be bad."
---
50.
"If a girl can dance, and when watching her dance, you think: That looks really good."
---
51.
"They aren't hot but still have the confidence of someone who is hot. In my experience a lot of the really hot girls I've been with are the worst in bed and least adventurous."
---
52.
"Guys who eat apple sauce and pudding cups without a spoon…."
---
53.
"Any girl I've slept with that has an eccentric personality has been good in bed. The same can probably be said about bartenders in general."
---
54.
"I've noticed it's chemistry and relaxedness around someone that makes great sex. I get that nerves can always get in the way and fuck shit up. But if you feel comfortable with that person then it can all change. In saying that, sometimes it's pheromones. It's just instinct. It's something we just pick up. It might be the way they speak or move their body."
---
55.
"My husband is really good! It's a combination of these:
He listens to me and knows what I prefer and what I don't.
Stamina, he goes long bicycle riding and can withstand long periods of action.
Knows how to dance. He has great rhythm and we play music in the background most of the time. He really enjoys this.
He sweats sooo much. I don't know why, but I love this.
He loves to experiment all the time :-)
Our first time together was great, then the other, then the other…"
---
56.
"Daddy issues. Eating disorders. Extremely destructive past relationships. Always."
---
57.
"Is he's a wrestler, he knows."
---
58.
"They've been to prison."
---
59.
"If they are not willing to sleep with me I take it as a sign they must be good."