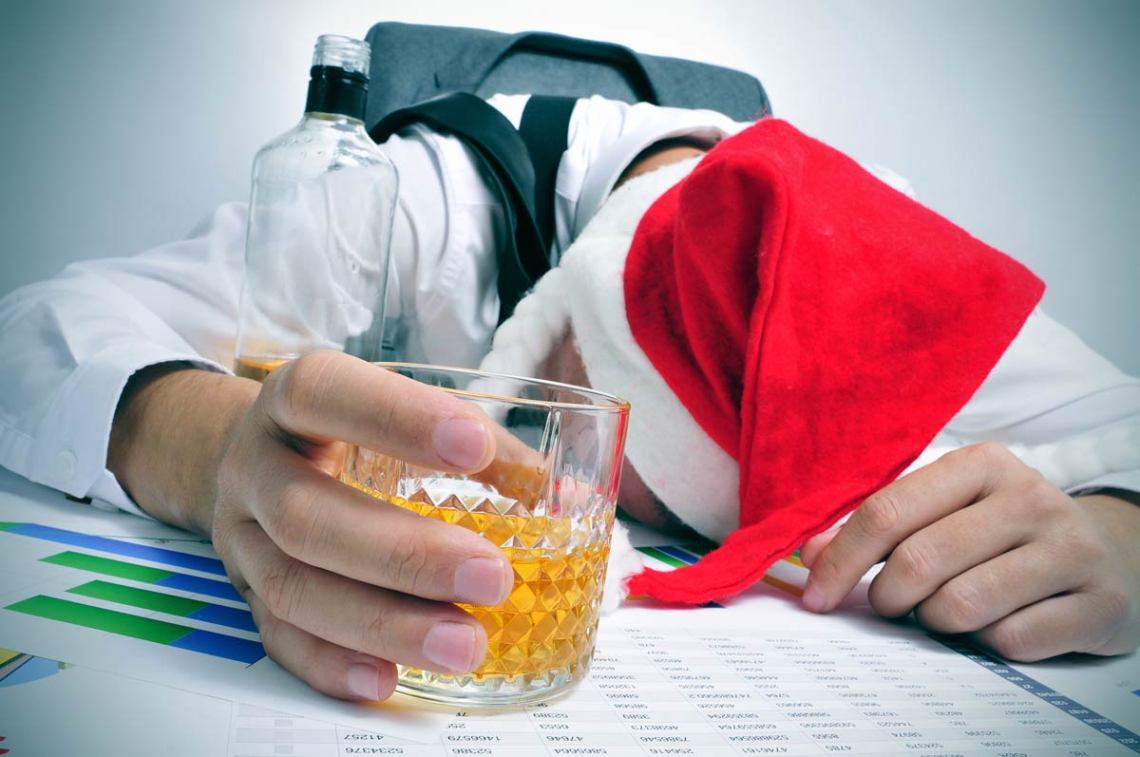 1. IT WAS LIKE WATCHING A TRAIN WRECK
"Do you remember that song by C&C Music Factory 'Gonna Make You Sweat'? Well, picture a full dance floor and a secretary and a male employee dirty dancing so much they were drenched. It was like watching a train wreck. No one could look away."
2. STRIPPER THONG DANCE
"I worked at a spa, and a coworker got super-drunk and started doing a stripper dance and showing her thong to everyone. Then she reamed out another coworker, and got into a fight with her boyfriend, who also worked there."
3. SHE FELL OFF THE BOAT WHILE PEEING
"The restaurant where I waitress organized a rafting trip event. One of the owners, who was drunk, asked me if I would hold her arms so she could pee off the side of the boat. But the minute she crouched over, we hit some rapids, and an oar knocked her into the river."
4. HE DRANK TOO MUCH AND THREW UP SHRIMP COCKTAIL ON THE WHITE CARPET
"The actual party was like a frat house run amok. The A/P director drank too much and threw up shrimp cocktail on the white shag carpet. The plant manager got into a screaming fight with his wife in the driveway. The chemist was found making out with the loading dock supervisor, who was about 30 years her senior and more importantly not her husband. And I accidentally walked in on the sales director peeing in the unlocked hallway bathroom (which I thought was the coat closet; we were both surprised). The president himself got completely hammered and went around telling people totally inappropriate stories, gave me a giant bear hug that lasted a little too long, and broke the sliding door to his patio."
5. HOARDING THE LEFTOVERS
"One coworker came to a Christmas party with a bag of Tupperware so she could pack up all the leftovers."
6. I STILL FEEL WEIRD ABOUT THE PENGUINS
"Every holiday party was memorable, but there was one year that made people feel weird: The company rented penguins for the party. Actual live penguins. I couldn't make this up. It was at the height of the company's heyday, and the penguins were a disgusting representation of extreme excess. We kept saying how fucked up the whole thing was. I still feel weird about the penguins after all these years."
7. A HUGE SILENT-BUT-DEADLY FART
"I work at a very high-end art gallery, and as such, my co-workers are all very sophisticated. Last year, our holiday party was at an upscale restaurant and they served us tons of delicious, fancy eats — truffle fries, mushroom risotto, duck pâté, that sort of thing. It's not often that I get such deluxe food for free, so I went really crazy on it and ate far too much. But silly me, I forgot there was dancing afterwards, so I was forced to hit the floor on a massively full stomach. I was standing around in a dancing semicircle with a couple of my higher-up co-workers, when all of a sudden, I let out a huge silent-but-deadly fart. It was so obvious that it was me, not only because I got all red in the face, but also because the smell was coming directly from my area of the circle. I didn't say anything, and they were all too well-bred to say anything, either, though they did kind of shift around and awkwardly move away from the stench."
8. A COWORKER KICKED MY ASS IN FRONT OF EVERYONE
"In a basement of some chic club by Kensington, our company party got out of hand very quickly. Our newest intern passed out completely. All got quite drunk because open bar, and I got so smashed I wee'd in front of my colleagues and got into a very dramatic screaming match with a colleague who then proceeded to kick my ass in front of a group of other colleagues. The next day I felt like my reputation was ruined, and I feel tremendous amounts of shame."
9. YOU'RE A SERVANT, NOT A PARTYGOER
"I was working in a sandwich shop with only six employees. The owner invited all of us to a formal holiday party at his house. I didn't realize until I showed up—in my only fancy party dress—that I was expected to work the event, serving all the owner's friends and family!"
10. TEMP WORKERS NOT WELCOME
"At my now-years-ago temp job, around mid-December our boss scheduled a holiday lunch at a nice local restaurant. Since it was written on the master calendar and discussed several times in front of us, the other temps and I assumed everyone was invited. Come the day of the lunch, all of a sudden the regular staff stopped talking to the temps, avoided eye contact and kept whispering amongst themselves. Turns out the temps were NOT invited to their lunch, but no one had the guts to tell us. At lunchtime, the regular staff literally snuck out of the office!"
11. NO, I'M NOT MARRIED
"A few years ago at a Holiday Party I was saying hello to a senior manager and I noticed a woman standing slightly behind him who I recognized as his wife from the previous year's party. I said, 'Oh and this must be your wife,' hoping he would tell me her name again. To my surprise (and to the surprise of his wife), he said 'No, I'm not married.' Let's just say that when he realized that his wife was standing behind him the whole time, he knew he was going to be buying a really expensive gift that year for Christmas."
12. PIT BOSS CROTCH GROPE
"This is a story that I love to tell, because it was shocking and hilarious at the same time. Two coworkers arrived at the party drunk (they started early). The theme was casino night and we were gambling for raffle tickets and then there were prizes at the end of the night. What's the point? One of the 'pit bosses' was walking around with pockets full of raffle tickets and the ladies decided to rob him. One got his attention by flirting while the other came up behind him and put both her hands into his pockets. She ended up fondling his crotch and freaking him out in front of the entire office — including the owner of the company. We were on a boat cruise so they were stuck with us for another 2 hours. As they sobered up, they realized just how much trouble they were in with management. Once we all got over the shock, it was hilarious. The poor pit boss didn't recover; he was pissed."
13. IT WAS LIKE 'LORD OF THE DANCE' GONE HORRIBLY WRONG
"We worked at a new insurance company and they organized a very nice, somewhat upscale, holiday party. Everyone got two tickets to use for alcoholic beverages. My boss, who had a newborn at home and probably hadn't been out for fun in a while, harassed people into giving him their unused tickets. Several drinks later, he was sort of stumbling around and slurring, and because he was normally a bit of a jerk, no one tried to intercede. The 'best' part was when he hit the dance floor to rock out. It was like 'Lord of the Dance' gone horribly wrong—gangly arms and legs flying everywhere. I'll give him credit, he did show up to work the next day (looking a pretty sickly green)."
14. I'M TOO SEXY FOR MY SHIRT
"I took it easy on the drinks, since this was our first real corporate party and we hadn't even started our actual jobs yet, but one of my co-trainees did just the opposite. He started slinging back rum and Cokes, and ended up getting so drunk that he did one of those 'I'm too sexy for my shirt' strip dances in front of the entire crowd. By the end of his dance, he'd ripped off his professional button-down and was standing on a table in the middle of the bar in only his nice pants and ratty wife-beater undershirt. A couple minutes later, one of the bartenders dragged him outside, where four cops were waiting for him. He didn't get arrested, but they talked to him for quite a while, and he wasn't allowed back in the bar. Shockingly, he didn't lose his job—only his dignity. He actually still works at the bank to this day—and still gets made fun of for his seasonal striptease."
15. IT WAS COMPLETELY MORTIFYING
"I'm a public relations director, and every year, lots of my clients invite me to year-end holiday dinners to thank me for my hard work throughout the year. Last year, one of my most stylish brands invited me to a super-fancy, white-tablecloth dinner, and I brought my junior assistant, because she'd been a huge, integral part of my success with this particular client. Well. She ended up getting so drunk on the free booze that she threw up on the table…during dinner. It was completely mortifying….Luckily, my client didn't drop us, though this year, we only got invited to a midday luncheon—and they served us iced tea."
16. HEY, DO YOU HAVE ANY WEED?
"There was an aging hippie…who I worked with. We could always tell when he'd had too much to drink because he'd start incessantly asking people, 'Hey, do you have any weed?' Generally, not a big deal…except for the time our board of directors and top volunteers were invited."
17. LIKE A HYPNOTIZED VIRGIN
"Someone decided to bring in a hypnotist and they put several employees under hypnosis. When they awoke one of the women thought she was Madonna, singing 'Like a Virgin' and gyrating on her coworker's lap. When she woke up she had no recollection but none of us could forget it."
18. MY BOSS FELL OFF A CHAIR AND DISLOCATED HER SHOULDER WHILE DANCING
"We celebrated my boss's birthday at an outside venue and it was insane! My boss was dancing around on top of chairs. It was all pretty funny until she fell off a chair and dislocated her shoulder…"
19. YOUR COUCH IS ON FIRE!
"I was talking to someone in the living room with a cigarette in my hand. As I spoke I was gesturing with broad sweeps of my arms. At one point, I accidentally hit the wall with the lit end of my cigarette — the same wall their couch sat against. The party went on. It was time to leave. As I was leaving I smelled smoke and looked over to see a steady plume of smoke rising from the back of the couch, caused no doubt by the embers from the hot ash of my cigarette as it hit the wall. 'Oh look!' I cried out. 'Your couch is on fire!' They ran to extinguish it by pouring water over the smoldering fabric, thanking me profusely for my keen sense of smell and quick reaction to the crisis."
20. THAT 'UNFUNNY OLD MAN' IS MY FATHER
"I was at an office Christmas party and was probably drinking a bit too much. At the dinner table, I sat near my boss and his wife, who worked at a local furniture store. I didn't know much about the store. When his wife started talking about the business and how slow it had been that year, I said that the store would be wise to dump the "annoying old man" who starred in the store's television commercials. The table went silent. My boss's wife said, 'That "unfunny old man" is my father.' Needless to say I didn't say, or drink, much more after that."
21. I TURNED UP HEAD-TO-TOE IN A BEAVER SUIT
"A few years back my work had a Narnia themed Christmas party. To me 'themed' meant fancy dress. To everyone else it meant a room decorated with ice sculptures, fir trees and fairy lights. Unfortunately I hadn't red the internal e-mail saying the dress code was black tie. I turned up head-to-toe in a beaver suit."
22. NAKED SANTA
"On good years we had extravagant holiday parties [but] the very best party came during a lean year. A downtrodden looking Santa was working the crowd, handing out drink chits. 'Alvin and the Three Chipmunks,' supplied by a clueless DJ, were discouraging the dancers. Without warning, the Santa, resplendent with handmade tattoos, stripped to a dirty jock strap, leapt onto a table and began bumping and grinding to the tunes coming out of a tiny tape recorder near his feet. [We] were slack-jawed and the room fell silent. The morning after the Santa show, [my boss] called all of the usual suspects into his office. None confessed to the crime of tastelessness. Turns out some newly hired, low-level assistant got stuck with planning the not very grand party, and when the party house manager offered to throw in a 'naked Santa' for $50, it seemed like a good idea. Friends and I still talk about the naked Santa. A truly genuine surprise [is] the best gift of all."