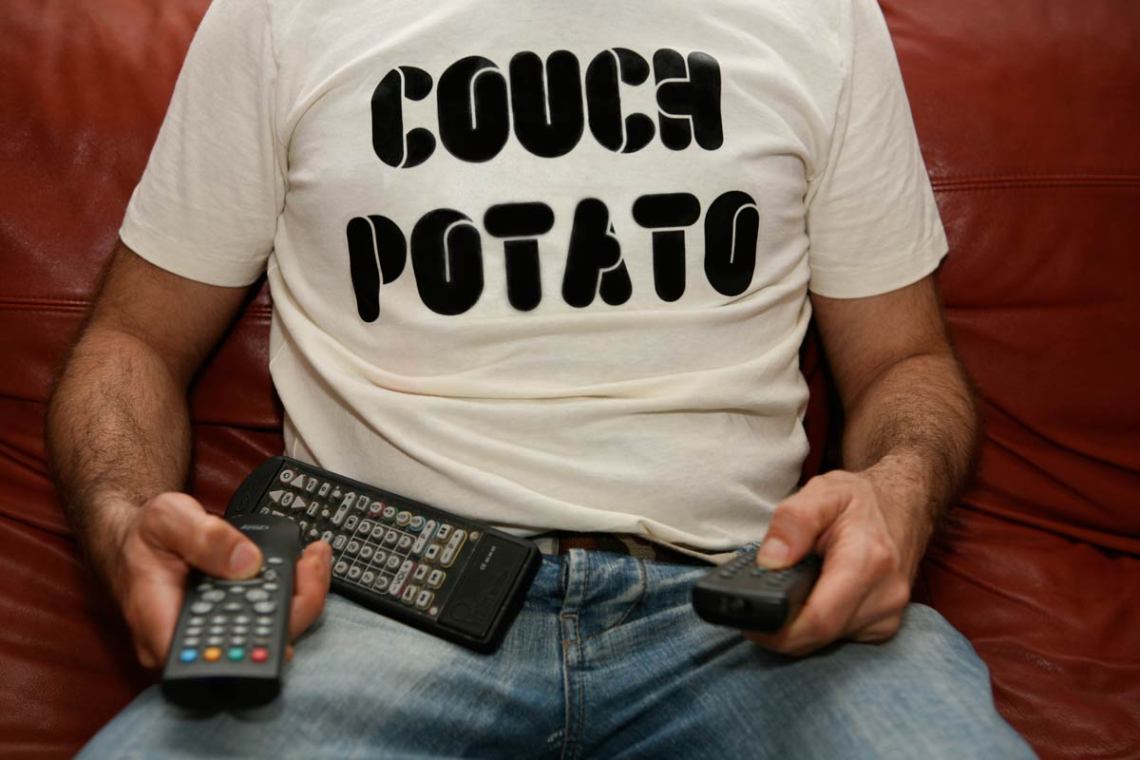 He may be your boyfriend. He may be your brother. He may be your best friend. The problem is that he's a hot mess—or actually a lukewarm mess, because there's nothing hot about him at the moment.
It could be that he's a slacker or he's spoiled or he's just a slob. Doesn't really matter. What matters is that he's the type of guy who never grew up and doesn't know how to take care of himself. He's made quite a mess of the hamster cage where he lives, which in many (if not most) cases is his mother's basement.
But he doesn't need any more toys, and if that's what he wants for Christmas this year, let him ask Santa Claus. You're here to help him, not to enable his perpetual adolescence. These aren't "fun" gifts, but maybe part of the problem is that he's been having just a little too much fun.
And if he complains that you're giving him the equivalent of a bag of coal, it also shows is that he's also an ingrate as well as a baby. He's an ungrateful baby.
But since he obviously won't bother to take care of himself, this is where you pick up the slack. All these gifts are BASIC NECESSITIES. Beyond water, air, and shelter, the necessities don't really get any more basic than these do. These are especially handy if he's getting out of prison right before Christmas and making a new start in life. Enjoy, and spend your money wisely!
(Prices are estimated using sample products from walmart.com)
1. LONG-OVERDUE PERSONAL HYGIENE KIT
During this season of joy, no one wants to be told that they have foul breath and sharp body odor. In order to protect him from being so acutely offensive to the senses, purchase him what is often called a personal hygiene "Blessing Bag"—toothbrush, toothpaste, mouthwash, dental floss, razors, shaving cream, Q-tips, hairbrush or comb, and nail clippers. Within an hour or two, he'll be halfway back toward being a human rather than a caveman. Estimated total cost: $30-40.
2. EXTREEEEEEMELY BASIC PERSONAL WARDROBE
Imagine he's been robbed of every last stitch of clothing he owns and is wandering naked in the snow. This is the personal ensemble you'd buy him just so he can get dressed and become a functioning member of civilization again: a 6-pack of underwear, a 6-pack of socks, 3 T-shirts, 2 sweatshirts, 1 pair of jeans, 1 pair of sweatpants, and cheap sneakers. And a beanie, I guess. Total cost: around $85 and no one ever has to see him naked again.
3. LOUNGEWEAR FOR THE 23 HOURS A DAY HE RELAXES AT HOME
Since he's currently unemployed only ventures outside of his studio apartment an average of one hour per day, a considerate gift-giver might choose to focus on his need to feel comfortable and relaxed while he pretends he's looking for a job rather than playing more video games. His super-plush loungewear ensemble would include one men's bathrobe 12, one pair of pajamas 14 , one pair of slippers 7, exactly one white T-shirt 4, and exactly one pair of matching tighty-whiteys. Total cost: around $40.
4. ONE-MONTH ANTI-STARVATION FOOD SURVIVAL PACK
True, he may have "stocked up for the winter" already by packing on dozens of extra pounds of body fat as a result of never exercising and watching far too much TV all summer, but still, it's the holiday season, so don't be a Scrooge and let him go hungry! First, buy him a bottle of multivitamins. Then a case of Ramen. Four boxes of pasta. A dozen cans of beans. A giant bag of rice. A massive jar of peanut butter. A dozen cans or pouches of tuna. A box of protein bars. A giant burlap sack of peanuts. Maybe even a small box of raisins. If you really want to be a dick about it, buy him some Army-styled K-rations from some online survivalist store. It'll run you around $100 or even a little more, but at least you won't have your friend's starvation death on your conscience during the dark and cold month of January.
5. BASIC TOOLKIT THAT DOUBLES AS A PERSONAL DEFENSE ARSENAL
Since he cannot afford to pay plumbers or electricians or even day laborers to fix things should they go wrong—hell, he can hardly afford this toolkit I'm about to describe—you need to take a large hammer, a large Phillips-head screwdriver, a small flathead screwdriver, and a pair of scissors, then wrap them up tightly in bright-colored gift paper with a sensible bow or ribbon atop it all. He can use these items either to fix small household problems or to kill potential household intruders. Total cost: Around $25 including gift wrap.
6. BASIC KITCHEN SET THAT CAN ALSO DOUBLE AS A PERSONAL DEFENSE ARSENAL
Everyone is getting really tired of watching him eat with his hands. So assume he doesn't always eat alone and buy him two plates, two bowls, two cups, two sets of knives, forks, and spoons, one sharp and sturdy knife capable of stabbing a burglar to death, one frying pan, and one pot. A blender if he asks nice. If you're absolutely overcome with the spirit of the holiday season, you can even throw in a microwave oven. Just show him how to use it the first time so he doesn't accidentally hurt himself. Total cost: around $40 without the blender and microwave. It'd be around $100 for the entire deluxe kit. Is he worth it? That's your call, not mine. He's your friend, not mine. I'm just trying to help, but otherwise I do not want to get involved.
7. STANDARD PRISON-QUALITY BED
It might teach him a moral lesson to sleep on his hardwood floor for a few weeks. On the other hand, it might turn him into a serial killer. So provide him with just the basics so he doesn't go postal: One air mattress, one sleeping bag, and exactly one small and rather unforgiving pillow. If he complains, remind him that there are quite possibly five billion people on Earth right now that don't sleep that well. Then tell him to shut up and go to sleep. Total cost: Around $33.
8. ONE MEDIUM-SIZED TREE'S WORTH OF PAPER PRODUCTS
Are you sick of going over to his place, only to find there are no paper towels, napkins, or—gasp!—toilet paper? Deluge him in a shit-ton of paper products. You said he masturbates a lot, right? Then he'll need them. Total cost for one big-ass package each of paper towels, napkins, and toilet paper—around $35-40. Also buy him some baby wipes, if only to subliminally insult him.
9. PERSONAL ORGANIZATION CENTER
One of his main problems—both in finding employment and in snagging a mating partner—is that his living quarters look like they were ransacked by a dozen masked men in the midst of both a hurricane and an 8.0 earthquake. The mess in his apartment reflects the mess in his mind. So to start fixing both messes, purchase him some sort of general system for de-clutterizing his crib. You can buy him milk crates. Or stacked plastic drawers. Or an elaborate shelving system. Or large plastic storage boxes to temporarily toss many items that he never uses and probably won't miss anyway. But you must never forget that personal organization will be his first step in that long, long road to personal recovery. Total cost: Anywhere from $50 to $50,000 depending on how messy he is.
10. JANITORIAL STARTER KIT
You don't have to come right out and say that he's a slob. You can just passive-aggressively suggest it by purchasing the proper tools to help making that hamster cage he calls his living quarters somewhat inhabitable without spreading infectious diseases such as whooping cough and the bubonic plague. Buy that filthy ingrate a mop or Swiffer, a bucket, laundry and dish detergent, an empty spray bottle, a bottle of bleach, disinfectant, and maybe even some roach trap if his living situation is truly that dire. Total cost could range anywhere from $40 to $70 depending on how soiled his pigpen is.
11. A COFFEE MAKER, A MUG, AND A POUND OF COFFEE TO MOTIVATE HIM
You don't have to say a word. Merely giving him these two presents is a way of silently telling him, "You really need to get off your ass and make something of your life. Here, guzzle a pound of coffee and start writing down your goals." Add a notebook and a pen, and your total cost is around $27.
12. LET THERE BE LIGHT
This is for that monthly event when his electricity goes out again because he's failed to pay his bills again. Buy him one Boy Scout-quality flashlight with an extra set of batteries. Also buy him a large candle and a cigarette lighter. Plus one full pack of light bulbs, because you know he'll never think to buy those anyway until it's too late. Total cost: around $25. Then get out of his way and let him wander into the darkness alone.