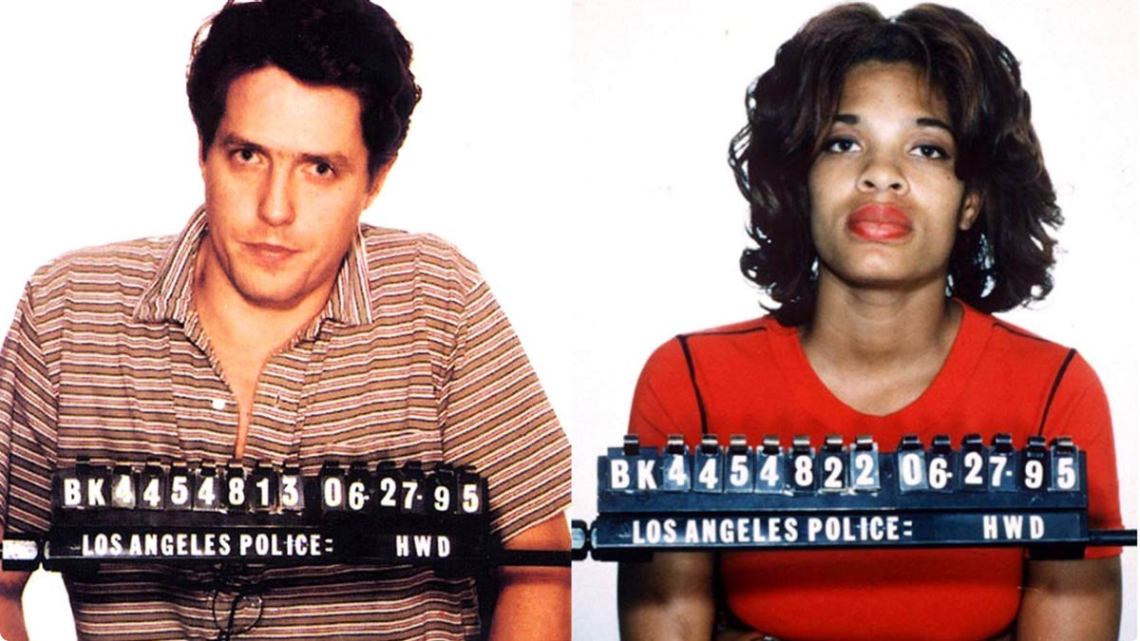 1. HUGH GRANT'S BJ IN A BMW
The handsome, dashing, debonair English actor Hugh Grant was at the height of his fame when he reached rock bottom. While in the midst of a relationship with the impossibly beautiful actress Liz Hurley in 1995, Grant was nabbed by the LAPD in his BMW with his pants down. With him was prostitute Divine Brown, whom he'd paid $50 for a blowjob. Hurley soon dumped Grant, and Brown is now a happy mom of three living in Atlanta on the more than $1 million she made just by granting interviews about her tryst with Hugh. The disgraced actor, who was arrested and charged with lewd conduct in a public place, told Jay Leno, "I think you know in life what's a good thing to do and what's a bad thing, and I did a bad thing."
2. 'PARTRIDGE FAMILY' STAR ATTACKS TRANSGENDER HOOKER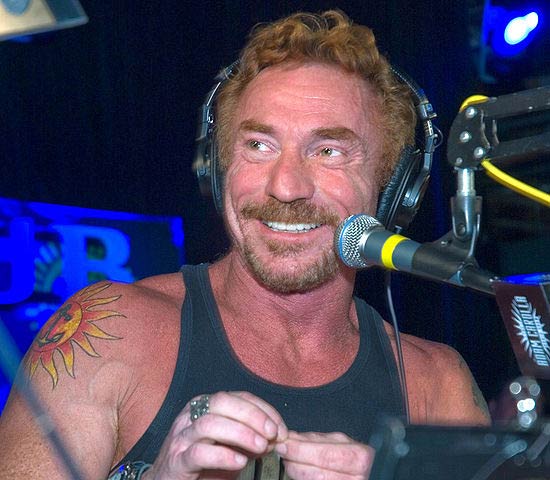 Danny Bonaduce grew up early as the red-headed, freckle-faced child star of The Partridge Family, morphing over the decades into a 'roided-out, drugged-up reality show and radio host. In 1991, Bonaduce was arrested in Arizona on charges of robbing and beating a transvestite prostitute. Police found Bonaduce huddling in a closet, no double entendre intended. Bonaduce explains the incident:
I thought he was a girl. I picked him up, he got in my car. As soon as he got in and the dome light hit him, it was obvious. He wasn't a good transvestite…He gets in the car and I said, 'Oh, sorry, wrong car.' And he says, 'Well you took me off my corner, give me $40.00.' I said 'Dude, wrong car, hop out!' This went on for six or seven minutes and he still wouldn't get out. So I get out of the car, opened his door, and pulled him out of the car. But when I did, I see he's this huge guy, about 220 pounds. I weighed 150 pounds! I attacked him first, not because I wanted to, I just thought I was going to have to and I'm too small to take the punishment from a 220-pound man.
3. TIGER WOODS SWINGS AND MISSES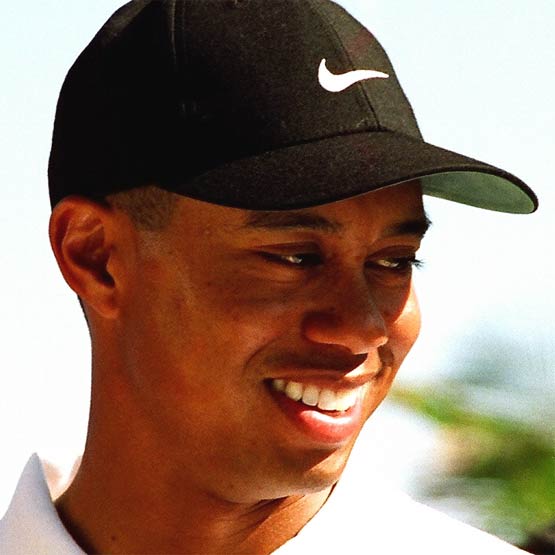 News broke internationally in 2009 that Tiger Woods, the seemingly wholesome golf superstar, had cheated on his wife with more than a dozen women. A Hollywood madam named Michelle Braun told the New York Daily News that Woods had paid her more than $60,000 for threesomes with several of her call girls. According to Braun, Woods "had a pretty big appetite for women. He was rarely with just one girl. He liked three-ways." Joslyn James, who was a porn star rather than a prostitute, claims that Woods impregnated her twice. She also claims he enjoyed two-way analingus, also known as "salad-tossing" and claims he kept his anal region "extremely tidy."
4. CHARLIE LOSES HIS SHEEN
During the ultra-publicized Heidi Fleiss "Hollywood Madam" scandal of the 1990s, Fleiss kept a tight lip about her famous clients. However, police who arrested her found some traveler's checks from Charlie Sheen in her purse that Fleiss hadn't yet cashed. Sheen testified at Fleiss's trial and said he paid her for call girls more than two dozen times. Sheen has also said he lost his virginity in Las Vegas at age 15 by hiring a prostitute using a credit card he'd stolen from his dad. Seriously, is there anyone classier than Charlie Sheen?
5. D'ANGELO GETS D'ARRESTED
The sexy, soulful R&B singer who often performed topless to flaunt his silky abs was arrested in Manhattan in 2010 for allegedly offering a female undercover detective $40 for oral sex. D'Angelo pled guilty to disorderly conduct.
6. ON THE NEXT JERRY SPRINGER: MEN WHO WRITE CHECKS TO PROSTITUTES
The King of Trash TV was a Cincinnati city councilman when he resigned from office in 1974 after a police raid of a Kentucky brothel revealed that not only had Springer frequented the whorehouse, he paid them with a check! Jer-ry, you're a DUM-MY!
7. JIMMY SWAGGART SINS…AND SINS AGAIN
The famously sweaty cousin of rock pioneer Jerry Lee Lewis was a televangelist superstar in the 1980s until he was caught in a hotel room with a prostitute in 1988. Swaggart offered an infamous public apology where he choked back tears while announcing:
I have sinned against You, my Lord, and I would ask that Your Precious Blood would wash and cleanse every stain until it is in the seas of God's forgetfulness, not to be remembered against me anymore.
In 1991, Swaggart was found again with a prostitute, this time in his car during a traffic arrest. After running a ministry that raked in millions of dollars yearly, Swaggart now wallows in obscurity due to his ineffectual dick management.
8. BARNEY FRANK'S LIVE-IN RENT BOY
Perennial Massachusetts Congressman Barney Frank, who made no bones about being gay, was publicly scolded by the US House after admitting in 1990 that in 1985 he'd hired a male prostitute not only as a sexual partner, but as a housekeeper and driver. According to male escort Steve Gobie, Frank was also aware that Gobie had been running a prostitution business out of Frank's apartment, but Frank has steadfastly denied this allegation.
9. EDDIE MURPHY USES THE 'GOOD SAMARITAN' ALIBI
In 1997 comedian Eddie Murphy was arrested in his limo near an LA neighborhood known for trafficking in transgender prostitutes. Murphy claimed that he merely saw a woman in distress and tried to help: "I did nothing wrong. I was trying to be a good Samaritan and this is what happens." But according to transgender hooker Atisone Kenneth Seiuli, Murphy had already placed two $100 bills on her legs at the time of the arrest and was inquiring about engaging in sex with her.
10. FROM SHAMWOW TO SHAMWHOOPS!
Vince Offer is famous only for one thing—being the supremely obnoxious TV pitchman for the "ShamWow" chamois product that supposedly can absorb biblical floods with one easy swipe. In 2009 he was arrested and charged with punching a prostitute named Sasha Harris. Offer told police that he only punched Harris because she "bit his tongue and would not let go."
[youtube https://www.youtube.com/watch?v=4n6Lad0nvd4&w=854&h=480%5D
11. BOY, GEORGE, THAT WAS WRONG!
After becoming perhaps the most famous crossdresser in world history during his time with Culture Club in the early 1980s, Boy George fell on hard times. There were several failed attempts at a career restart as well as a descent into heroin addiction. But his 2009 conviction for falsely imprisoning a male prostitute in his London flat was perhaps his low-water mark. Norwegian male model Auden Carlsen accused George of handcuffing him to a wall fixture and repeatedly beating him. That's even more unforgivable than the song "Karma Chameleon"!
12. JASON BIGGS: THREESOMES ARE THE NEW MARRIAGE
This isn't exactly a "scandal," because in this case the offender's wife didn't find out about his relationship with a hooker—she arranged it! The star of American Pie received quite an odd birthday gift from his wife—she hired a string of hookers hoping that she and her husband could have a threesome. Biggs claims that his performance anxiety ruined the whole event:
I didn't have a good time in the end. It took three ladies over the course of three different days. Let's just say I didn't complete the mission. My wife found the whole thing to be quite hysterical even while it was happening. She was actually on the bed, watching, eating a bag of chips, laughing, so as you can imagine, I wasn't really performing to the best of my abilities. Also, said prostitute wasn't engaging with my wife the way I hoped she would and so it all kind of fell apart, and the rest is in the book.
13. LAMAR ODOM'S OVERACTIVE SCROTUM
These days Lamar Odom is not known as an NBA star, he's known as the severely troubled husband of Khloe Kardashian who's always on the brink of death. Back in 1997 when he was but a teenage college hoops star, he was arrested for soliciting a hooker in Las Vegas. Or at least he thought it was a hooker—it was an undercover policewoman instead. But compared to Odom's life since then, this early arrest seems almost quaint and wholesome.