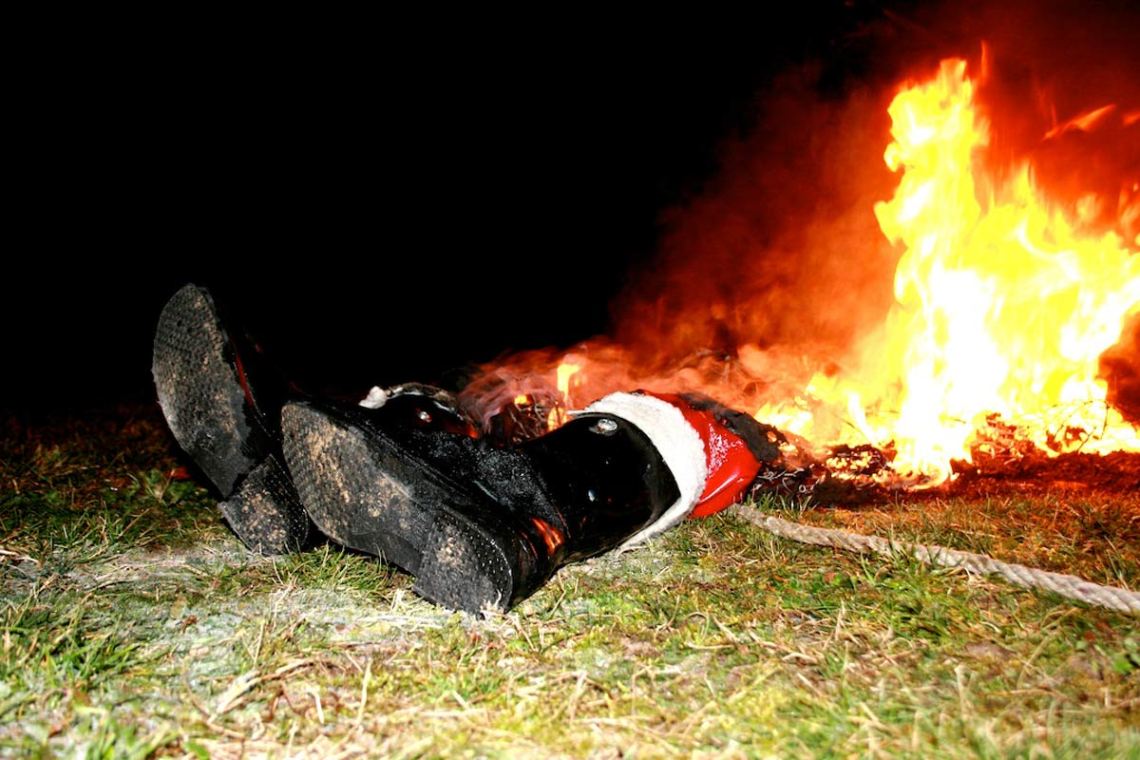 1. FUCK CHRISTMAS!
"Fuck Christmas!
It's a waste of fucking time
Fuck Santa
He's just out to get your dime."
2. TO A GROUCH, CHRISTMAS IS A BUMMER
"I can't think of anything that's dumber
To a grouch, Christmas is a bummer!
Beaming faces everywhere, happiness is in the air
I'm telling you, it isn't fair!
I hate Christmas!"
3. THE GRINCH HATED CHRISTMAS!
"The Grinch hated Christmas! The whole Christmas season!
Now, please don't ask why. No one quite knows the reason.
It could be his head wasn't screwed on just right.
It could be, perhaps, that his shoes were too tight.
But I think that the most likely reason of all
May have been that his heart was two sizes too small."
—Dr. Seuss, How the Grinch Stole Christmas
4. I CAN'T AFFORD TO MAKE IDLE PEOPLE MERRY
"'I wish to be left alone,' said Scrooge. 'Since you ask me what I wish, gentlemen, that is my answer. I don't make merry myself at Christmas and I can't afford to make idle people merry.'"
—Charles Dickens, A Christmas Carol
5. THE WHOLE EVENT IS A SHAM
"The whole event is a sham where everyone is supposed to go along with the illusion 'for the kids.' The kids have basically been lied to from day one; there is no 'Father Christmas'; there is no sleigh or reindeer; there are no elves. Why do we, as supposedly intelligent adults, perpetuate this inane rubbish?"
6. BEARD COMES OFF, ALL THE KIDS START CRYING AND I'M THE BAD GUY
"I hate Christmas. The mall is full of nothing but women and children. All you hear is 'I want this,' 'Get me this,' 'I have to have this'…and then there's the children. And they're all by my store 'cause they stuck the mall Santa right outside ringing his stupid bell. As if you need a bell to notice a 300-pound alcoholic in a red suit. 'Ho, ho, ho,' all day long. So, nice as can be, I go outside, ask him to shut the hell up. He takes a swing at me. So I lay a hook into his fat belly and he goes down. Beard comes off, all the kids start crying and I'm the bad guy."
—Al Bundy in Married…With Children
7. I REALIZED THERE HAD TO BE ANOTHER WAY
Frank Costanza: "Many Christmases ago, I went to buy a doll for my son. I reached for the last one they had, but so did another man. As I rained blows upon him, I realized there had to be another way."
Cosmo Kramer: "What happened to the doll?"
Frank Costanza: "It was destroyed. But out of that a new holiday was born: a Festivus for the rest of us!"
8. I ABSOLUTELY HATE CHRISTMAS MUSIC
"The number one thing I hate about this season is Christmas music. I absolutely HATE Christmas music. Every Christmas I dread hearing the music when I'm shopping and on commercials and anywhere else where they play it. Especially at my job, I hear the same Christmas songs over and over again all day long!!!!"
9. IT'S FULL OF FALSE SENTIMENT
"It's full of false sentiment and expectations that you cannot meet, everyone wants the 'Bing Crosby' perfect Christmas in reality it has the highest suicide rate of any month and family brutality. BAH HUMBUG."
10. I'VE ALWAYS DESPISED CHRISTMAS
"Being an embittered Jew, I've always despised Christmas. Among the many aspects of the season that make me want to yak (the ceaseless, crass advertising; the rancid family films; the floods of stressed-out, manic people) nothing disgusts me more than the frothy holiday music that comes belching out of speakers in malls, on the radio, and fucking everywhere."
11. THE SOONER THE WHOLE THING IS OVER AND DONE WITH, THE BETTER
"These are just some of the reasons why I hate Christmas:
• Awful TV and movies
• Camp music
• Tacky presents that will end up on eBay
• Pressure to eat copious amounts of food, even when full
• Short daylight hours
• Freezing temperatures
The sooner the whole thing is over and done with, the better. I like nothing more than taking a woodland walk in spring, with the bluebells round your feet—bliss!"
12. I DON'T LIKE MINCE PIES AND I HATE TURKEY
"I hate Christmas, I hate the silly music on the radio, I hate the adverts, I don't like mince pies and I hate turkey."
13. I HATE SANTA CLAUS!
"I hate gingerbread houses! I hate presents and toys! I hate reindeer and all of the good girls and boys! I hate the Whos down in Whoville—and all of their songs; I hate their whumpets and blumpets and goobagforbrawns! I hate carols and sleigh rides and falalalalas, but above all things else…I hate Santa Claus!"
14. MORE FAMILY ARGUMENTS, MORE FAMILY BREAKUPS, AND MORE CASES OF DOMESTIC VIOLENCE
"Here's my reasons for not liking Christmas: (1) I dislike the hype over that one day of the year that begins in mid-October, (2) Christmas carols and their rather hollow message of Christian love and peace, (3) Christians hijacking what is essentially a pagan festival to celebrate the Winter Solstice, (4) the horrendous pressure to spend money you don't have on things you don't need, (5) the tortuous ritual of carol singers in the shopping center/railway station/street, etc. that makes one feel like getting a shotgun, (6) the ever more tortuous ritual of the office Christmas party and (7) the game of 'let's play happy families' when unfortunately, not everyone is lucky enough to have a supportive family network. In fact, there are more family arguments, more family break-ups and more cases of domestic violence at Christmas than at any other time of year."
15. CHRISTMAS IS REALLY THE SEASON OF SADNESS AND DESPAIR
"Far from being 'the season to be jolly,' Christmas is really the season of sadness and despair. This period's compulsory merriment, hyper-commercialism, heavy drinking, and undue media emphasis on the idealized, two-child, two-parent, orthodox Christian family makes those who don't share such lifestyles or religious sentiments feel left out, lonely, and even somewhat un-American. And even in so-called normal families, media hype about the season's merriments often raise expectations and sets up many for disappointment."
16. I HATE IT WHEN DECEMBER COMES AROUND
"I hate it when December comes around. I will break fingers if anybody tries to change my car stereo to a Christmas music channel. I make it clear that I want absolutely no gifts, so I don't have to feel obligated to reciprocate. Even as a flag-carrying atheist, I used to enjoy Christmas as a time to get with family and enjoy good times, whether you had gifts to exchange or not. I grew up dirt poor and still loved Christmas, until my insane fucking family—both through marriage and otherwise—robbed me of that. Sigh."
17. CHRISTMAS MUSIC IS CRAP
"How many times can any intelligent person listen to some crypto-conservative like Andy Williams (who swore that Barack Obama is a Marxist) croak out 'White Christmas'? How many times in an average day can anyone listen to the same tired carols bleating over the PA system in every department store, grocery store, drug store, shopping mall, and hardware store in America? Even contemporary holiday gems like The Pogues' 'Fairy Tale of New York' or Joni Mitchell's 'River' become stale after 3,892 plays. Enough already. Cancel Christmas music."
—Mark
18. IT'S THE ATTEMPT AT CONTROLLING CHILDREN THROUGH LIES THAT IRKS ME
"As a kid, I used to hear other children talk about hearing Santa on their roof, or getting the present they wanted after the US Postal Service carried their request to the North Pole. I'd look at them quizzically and think, 'You poor son of a bitch, one day you'll know the truth, and you'll never fully trust anyone again.' More than just the lies, it's the attempt at controlling children through lies that irks me. Telling them that there's this magic man in the sky, watching their every move, observing the morality of their behavior to either award them with gifts or punishment on a certain judgment day…oh, wait…that's just religion, isn't it?"
19. 'TIS THE SEASON TO BE CRANKY
"'Tis the season to be cranky, so let me spit out my eggnog and tell you what I hate about this enforced annual nightmare:
• The fact that it starts earlier and earlier each year. This year, the hype started in October! Next year it'll probably be July….
• The horror that comes when you regift something—to the person who gave it to you last year.
• The conflicting iconography that tears us between two fantasy icons—a religious one (Jesus) and a commercial one (Santa), both with potentially draining agendas. It could make you schizo….
But otherwise, I simply adore the holiday season!…
Shoot me!"
20. THE SAME BORING ROUTINE YEAR AFTER YEAR
"It's not just that I don't like Christmas—I don't understand it. I can't see why people want to surrender their lives to the same stultifying, boring routine year after year, with the longest build-up in history. And what's so ridiculous is that it's all over by mid-afternoon on Christmas Day. A giant, half-inflated yuletide letdown. Then the holiday and discount furniture adverts start on the TV, and we're back onto the hamster wheel of the year again."
—Tim
21. WE GET SOME CHEAP LITTLE PRESENTS
"I hate Christmas. I'm sorry, I just do. They'll make us watch some stupid parade on TV and we'll have to see a bunch of sappy movies with happy endings. All the other kids go visit relatives or find new bikes parked in their living rooms. They get to be tucked by their parents on Christmas Eve. We get some cheap little presents and come back to this crummy room with this crummy little tree. Look at this tree they didn't even give us a string of light to put on it. I hate it. I wish there wasn't such a thing as Christmas….I'm going to sleep, so just leave me alone."
22. I'M SO OVER THIS HOLIDAY
"Fuck Christmas. I'm so over this holiday. Everything has to shut down on and leading up to the 25th of December, and that's absolutely unacceptable to me. Why can't I get my high-school transcripts for the next 2 weeks? Oh, because the kids need a Christmas break, you say? Fine, but why is the school shut down? Why can't I get an appointment with my doctor? Oh, because Christmas? That makes it all better, I'm sure my pain will go away because of the Christmas spirit."
23. CHRISTMAS SONGS MAKE ME WANT TO TEAR MY FUCKING HAIR OUT
"I don't get annoyed by what people decide to do in their own homes as much as the complete saturation of Christmas everywhere—it's fucking horrible. Christmas songs make me want to tear my fucking hair out, the dumb decorations piss me off, the fact the there's Christmas themed everything, everywhere. I can't get away from it, it's in shops, it's on TV, it's even in my fucking video games….I know I come off like a grumpy asshole but that's what Christmas does to me—it turns me into a grumpy asshole every single year."
24. CHRISTMAS LASTS NIGH ON A YEAR
"Christmas isn't a mere 24-hour (or 72, allowing for the 24th and 26th) cycle anymore. The fact is that the lifespan of each separate Christmas lasts nigh on a year. If December is host to the event itself, January and February are spent in financial desolation, June, July and August in preparation and September, October and November in excited anticipation, then March, April and May are pretty much the only moments in which we're Crimbo-free. And even then the battle scars of yet another December 25 can be seen in the clearance sales, extraneous bathroom products and lights that haven't yet been taken down."
25. I HATE CHRISTMAS CARDS
"I hate Christmas cards. I hate it when people send them early, which means you have to buy one for them (where are Woollies boxes of cards when you need them?), find their address, a bloody stamp, and post it. Far too much effort. I hate it when people send cards late, which means they arrive on Christmas Eve and there is no way in hell you have the time or the inclination to send one back. I hate cards with glitter that shed all over your clean kitchen floor. I hate it when people (usually mums; men never seem to notice it's winter, let alone the season of goodwill) sign the names of all their children on a card, as if you cared. I hate that cards fall over when you open the door, creating havoc. I hate email cards even more, where when you click on something a virtual reindeer pops up. How lazy! I don't want that."
—Liz