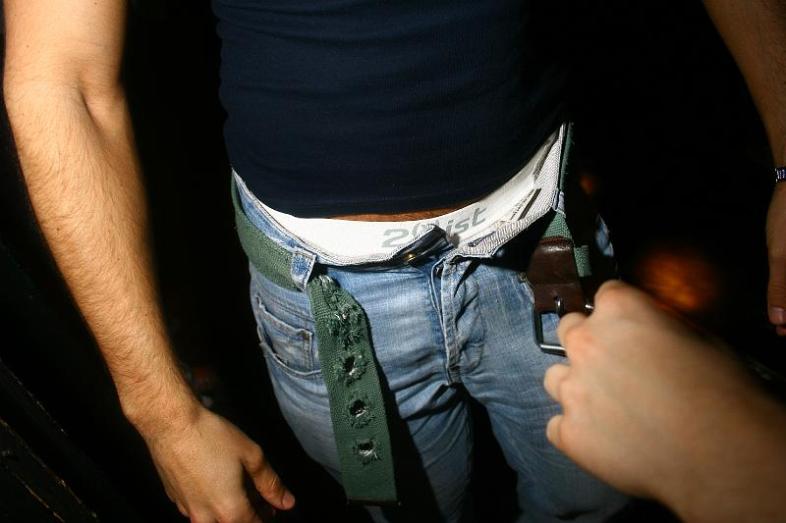 1. I COULDN'T GET IT UP
"It figures that the first time in my life that I failed to achieve an erection, I'd do it in front of a huge group of naked people while trying to show off with my girlfriend. Not only couldn't I get it up, I was so nervous that the whole thing pretty much shrunk up and hid inside me like a baby kangaroo inside its mother's pouch."
—Tony, 26
2. SOMEONE TOOK A SHIT IN THE HOT TUB
"Someone took a shit in the hot tub. I saw it floating in the hot tub and I almost retched. One of the owners came and fished it out with this big saucepan. I left the party soon after. Wasn't in the mood for group sex after seeing a turd floating in the hot tub."
—Rhonda, 27
3. UNWANTED BLOWJOB
"A squat little mushroom-faced woman started blowing me and kept blowing me even after I made it clear that I didn't want her to blow me. I pretty much had to push her off me. She looked dejected, but c'mon. Consent is a two-way street."
—Geoff, 29
4. I THINK I BLEW A GUY
"I think I blew a guy. I'm not sure. I was drunker than I've ever been in my life. Who's going to refuse free champagne? And I'm not sure if I swallowed, either. It's all really fuzzy. But I'm pretty sure I blew a guy."
—Greg, 24
5. DEALING WITH 'THE SMELLY PERSON'
"The smelly person. There's always one at these soirees. Good fucking GOD was this guy rancid-smelling. Like a wastewater treatment plant. He wilted every boner and dried up every vadge in his vicinity. Someone finally took him aside and suggested he take a shower."
—Melinda, 22
6. PSSST—YOU HAVE HERPES
"After having sex with this woman, she whispered in my ear that now I have herpes and she hopes I enjoy it. What the fuck? It wasn't true. I got tested a hundred times and I don't have it. What kind of mindfuck is that? Who says that kind of thing?"
—Ted, 31
7. WERE THE HORS D'OEUVRES REALLY VEGAN?
"This woman got in an argument over the hosts over whether the hors d'oeuvres were actually vegan. I think it had something to do with eggs, I don't know, I don't follow that stuff, I'm one of those people who'll eat a raw steak for breakfast and won't care if it kills me because it tastes so good, you know? But this little odd woman with a square head got into what was almost a shouting match, accusing them of being fake vegans who were providing party treats that weren't actually vegan. C'mon—I thought we all came to fuck, no?"
—Brad, 28
8. MY BOYFRIEND BROKE HIS ANKLE
"My boyfriend broke his ankle. There was someone passed out on the floor and he tripped over them while he was carrying drinks back to us buck-ass naked. We had to get dressed and go to the emergency room. Talk about ruining the mood!"
—Danielle, 27
9. A WOMAN HAD A SEIZURE
"This older woman who was there with her husband had a seizure. She was taken away in an ambulance. The events were somber after that. Not much fucking at all. Quiet talk, pleasant talk, but not really a 'sex party' anymore. That'd definitely be the most bizarre thing I've ever seen happen at a sex party—no sex."
—Bella, 24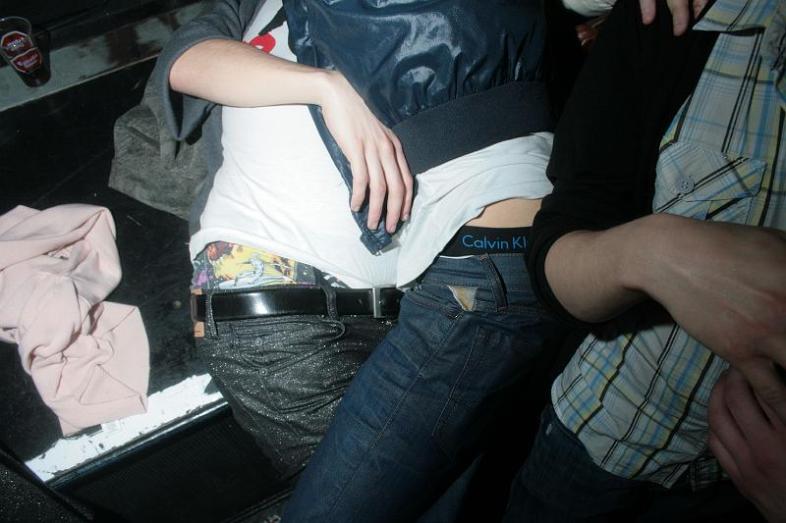 10. I NEARLY BLINDED MYSELF WITH MY OWN SEMEN
"Shot myself in the eye with my own cum. That means two things: 1) I had a very powerful orgasm to be able to shoot it that far; 2) I pretty much had to run naked and half-hard into the bathroom to wash it out of my eyes, because that shit stings!"
—Tim, 24
11. GUY ACCIDENTALLY JIZZED ON OTHER GUY
"Two guys got into an argument because one of them jizzed on the other accidentally. There were all these cushions and bean bags and throw pillows, and I guess things got a little complicated and it was this huge squirming ball of flesh and at one point one guy squirted his load on another guy's legs. The argument got pretty heated until everyone around them figured out what was going on and started laughing."
—Deb, 23
12. UNCONTROLLABLE BOUT OF COUGHING
"Did you ever accidentally swallow some spit and it, you know, goes down the wrong pipe or whatever, and it leads to this embarrassing bout of coughing where it sounds like you might choke to death? Yeah. That happened to me. During a threesome. It quickly became a twosome, with me the odd man out."
—Kent, 27
13. I STOLE ALL THE CONDOMS AND TISSUES
"I stole all the condoms and Kleenex out of every room. I had a big purse and it was easy. I was in a bad mood, had just gone through a really bad breakup, and to take out my aggressions I stole all the condoms and tissues I could find and left the party. If I wasn't going to have a good time, nobody was! I know it wasn't exactly mature, but I thought it was funny at the time."
—Brenda, 29
14. ARGUMENT WITH NUDE PHOTOGRAPHER
"A bit of a spat broke out because this creeper guy was walking around taking pictures, which was completely forbidden and explained to everyone the minute they get to the party. Trust me, you haven't lived until you've seen nude people argue with a nude photographer about how they don't want to be photographed nude."
—Lexi, 30
15. IT BROKE MY HEART
"Watching another guy fuck my girlfriend—and especially watching how much she enjoyed it—I got up out of the bedroom I was in, went into the apartment vestibule, got my clothes, got dressed, and went home and never talked to her again. She tried contacting me saying it was all a misunderstanding, but I think the problem is that I understood all too well. I guess I'm a lover, not a swinger."
—Clint, 25
16. I WOKE UP AND REALIZED I WAS THE ONLY NAKED ONE
"I passed out and woke up to find out it was about 6AM and I was the only naked person in the place. For some reason I thought it'd be wise to pass out underneath the dinner table curled up in the fetal position. The party was long over. There was a maid cleaning up—she was fully dressed. I couldn't even find my clothes so I snuck into a guest room and got dressed wearing someone else's clothes. My clothes, cell phone, keys, wallet—all gone."
—Kenny, 29
17. I STAYED DRESSED—JUST TO BE ANNOYING!
"I didn't get laid. Not once. I didn't even try! That was the whole point. I didn't take my clothes off the entire time. I just walked around nodding at people and sometimes giving disapproving glances. It was hilarious. I didn't understand any of the terminology. What's the difference between an orgy and a sex party and a swingers' get-together? Poly swingers, etc. Pansexual? The fucking 'lifestyle'? None of it. I just kept my clothes on and hoped I was embarrassing everyone. It was fun!"
—Milo, 30